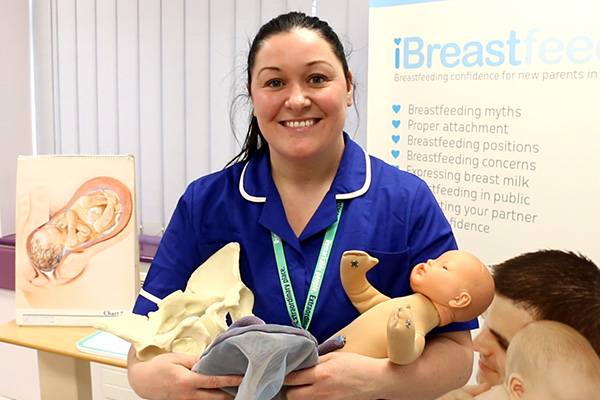 Book your antenatal classes now
Antenatal classes (sometimes called parent education or a birth preparation course) help you get ready for your baby's birth and give you confidence and information.
They are fun and free to attend!
Book Your Place Now
Week 2
Healthy Lifestyles and Postnatal Care and Support
Week 3
Infant Feeding and Safety
Week 4
Breastfeeding Awareness (optional)
How will the course help me?
Learn about labour and birth, make a birth plan, and discuss your choices.
Prepare for life with a new baby.
Find out how to stay healthy during and after pregnancy.
Get information on infant feeding and safe sleeping. We look at infant feeding in Week 3, but if you're interested in knowing more about breastmilk and breastfeeding your baby, including position and attachment, how to know your baby is getting enough, and where to seek support, then we recommend also booking onto Week 4.
Meet some new parents-to-be and discuss your plans and any worries with professionals and other parents. These friendships can help parents through the first few months with their new baby.
Who can attend?
Weeks 1-3 are for parents-to-be who are registered with a Hull GP or living within the Hull city boundary. The optional Week 4 session can be booked by women from both the Hull and East Riding areas.
Where and when are the classes held?
The main course consists of 3 sessions, one each week for 3 consecutive weeks, between 6pm-8pm in the following areas:
East Hull – Monday evenings
North Hull – Tuesday evenings
West Hull – Wednesday evenings
Central Hull – Thursday evenings
The optional Week 4 breastfeeding course can be booked in addition to the 3 sessions, or as a standalone sessions, perhaps if this is not your first baby but is the first time you are considering breastfeeding, or if you're attending East Riding antenatal classes and just want to access this class.
Please note that the breastfeeding awareness session is held once a month at the Hull and East Yorkshire Women and Children's Hospital only.
If you would like to book onto a course, please complete our online booking form. For further information or assistance please email heybaby@hey.nhs.uk or call HEY Baby on 07769671449.
Take a virtual tour of our hospital…