Following our CQC inspection in March 2023 and the subsequent action plan, we have been working hard to review the service provision through the Antenatal Day Unit. We are aware that many pregnant women, birthing people and their families have had long waits to be seen, and a less than ideal experience, due to the demand and acuity through this department of both planned and unplanned work.
From 20 November 2023 we are separating the work to try and improve the service and experience for all.
Antenatal Day Unit (ADU)
Open Monday to Sunday, 8.30am-5.00pm
This area will be used for all planned work for example appointments for LV and Doppler (measuring the water around baby, and the blood flow through the vessels to the baby), planned presentation scans (after 36 weeks), routine blood tests for elective caesarean section, raised blood pressure, obstetric cholestasis, routine repeat regular CTGs (recording of the baby's heart rate) etc.
This area will work as a clinic and you will be given a specific appointment time to attend.
If you need to re-arrange or cancel an appointment, please ring the single contact telephone number and choose the ADU (Antenatal Day Unit) option.
New Maternity Triage
Open Monday to Sunday, 8.00am-10.00pm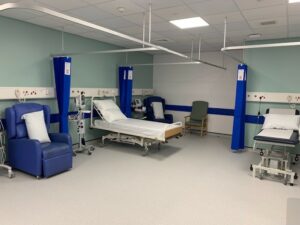 This new department located on the ground floor of the Women and Children's Hospital, along the corridor from the Ultrasound Scan department, will be for any urgent or unplanned work for example, reduced fetal movements, vaginal bleeding, waters have broken, any pain or discomfort or any concerns about yourself, your baby or your pregnancy etc.
When you ring the single contact number for Maternity Services please select the Maternity Triage option, this will direct you to our telephone triage midwife who will take your details over the telephone and a history of what has been happening. Following this discussion, you will decide together if you need to attend the hospital for any investigation or assessment by one of our midwives or doctors. If attendance is not required, the midwife will be able to provide you with the necessary support and advice required to help you.
Out of Hours
Open Monday to Sunday, 10.00pm-8.00am
The Maternity Triage phone line will be diverted to the Labour Ward where a midwife will continue this service. If you need to attend out of hours this will either be to the Labour Ward, Fatima Allam Birth Centre or Maple Ward (antenatal Ward) depending on reason for attendance.