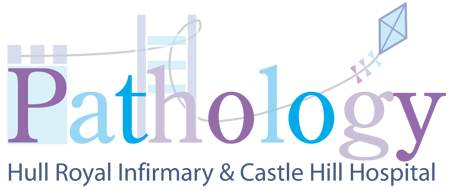 The Hull and East Yorkshire Pathology Service is committed to providing a high quality, scientific and evidence-based analytical service with clinical and scientific advice to meet the requirements of health professionals and patients throughout Hull and East Yorkshire.
Pathology investigations are used to screen for potential disease, confirm clinical diagnosis, to monitor disease processes and control treatment. Consultant Pathologists and Clinical Scientists are available at all times to give advice to other healthcare professionals relating to the selection of appropriate tests and the interpretation of results.
Around 70% of diagnoses and treatment decisions are dependent on Pathology results.
The Pathology service is based primarily at Hull Royal Infirmary where Biochemistry, Haematology, Immunology and Blood Transfusion work together in an area designated as Blood Sciences.
Blood Sciences also have a laboratory at Castle Hill Hospital which analyses the common tests throughout the normal working day at this expanding hospital site.
Histology and Neuropathology operate together as Cellular Pathology at Hull Royal Infirmary. The Microbiology Service is based in the main tower block at Hull Royal Infirmary. Virology is located at Hull Royal Infirmary in the Pathology Building.
Pathology plays a crucial role in medical research enabling the Trust to provide services essential for the continuation and expansion of modern medicine.