A team of staff helping to treat patients for cancer has been named Hull University Teaching Hospitals NHS Trust's most festive department of 2018.
For the past three years, wards and patient-facing departments across Hull Royal Infirmary and Castle Hill Hospital have been competing for the prestigious title and, more importantly, to win custody of the now famous Dr Hermon Cup.
The Dr Hermon Cup dates back to 1938, when the then-famous radiologist presented the shiny silver trophy to the best decorated ward in the old Anlaby Road Hospital.
For reasons unknown, the cup then became 'lost' alongside other photos and artefacts in the hospital archive, until it was found last year by Mr Colin Vize, Consultant Ophthalmic Surgeon.  The trophy, which celebrates its 80th birthday this year, was then dusted off, polished up, and used as an incentive for staff to go the extra festive mile for patients.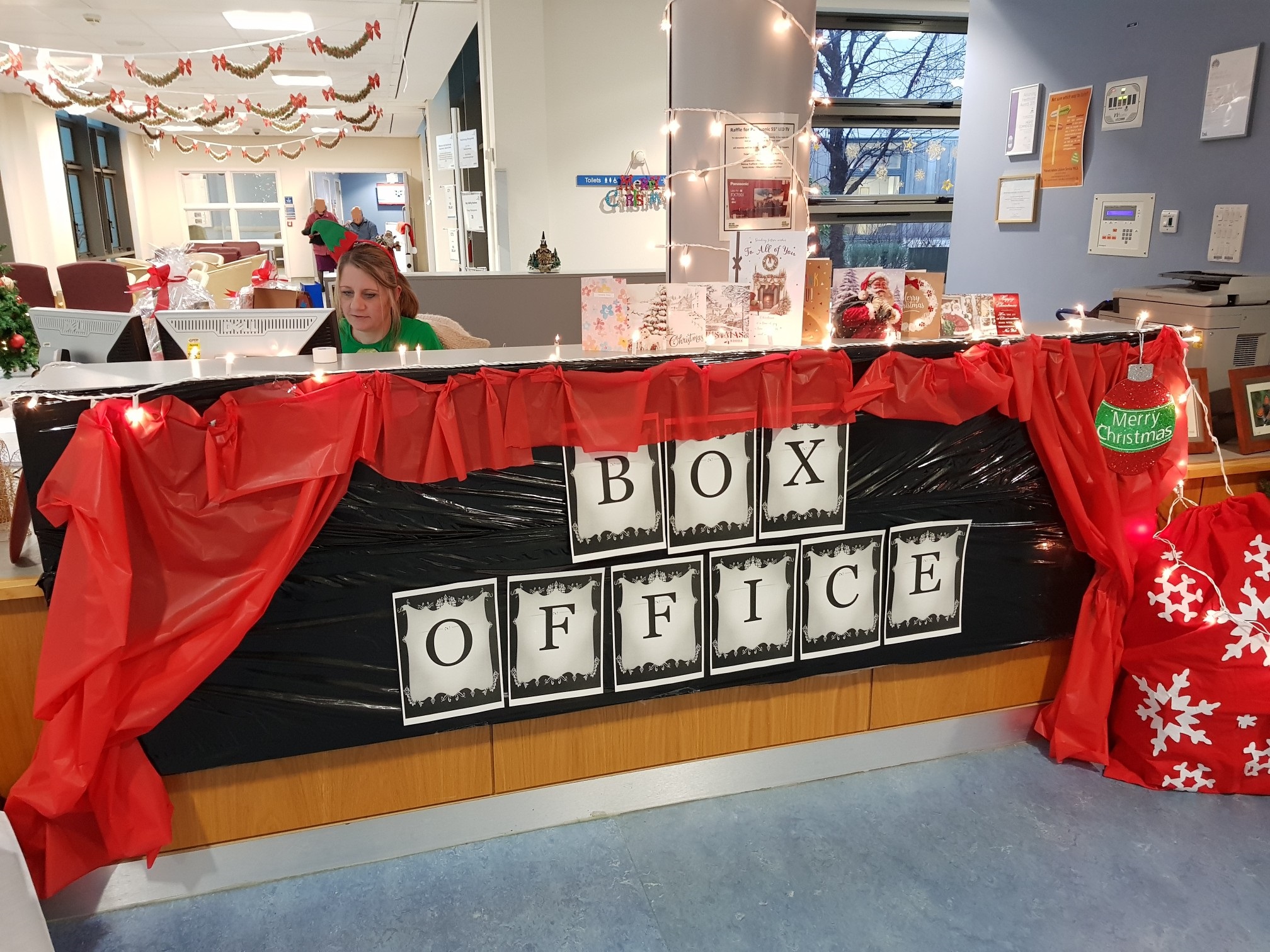 Teams have certainly risen to the challenge this year, with hot chocolate carts, glittery casts for broken bones, and a special pet Christmas tree for patients who are missing their own animals while in hospital.
Yet in the face of stiff competition, the Radiotherapy Team at the Queen's Centre, Castle Hill, has emerged triumphant thanks to 'panto-therapy' which sees all patients offered a ticket, programme and popcorn at the Box Office (reception) before receiving their treatment at one of five 'pantomimes' (treatment rooms). Temporarily renamed the 'Queen's Theatre', patients in the Radiotherapy Department can also step into a special pantomime photo booth complete with props, take part in the Christmas Quiz and even sing along with one of several daily carol singing (or bagpipe playing!) sessions.
Now in its third year, the Trust's festive ward competition continues to bring teams together and create festive cheer for patients who find themselves in hospital at Christmastime.
Mr Vize, who is also a member of the competition judging panel, says:
"Christmas is never a good time to be in hospital, so it's fantastic to see so many staff across both Hull Royal Infirmary and Castle Hill going the extra mile to create festive cheer and ensure patients' time here is as enjoyable as it can be.
"Our competition is designed as a bit of fun to raise some smiles among staff, visitors and patients, but it also has other benefits.
"Many staff end up sacrificing their own time with friends and family over the festive season because they're busy caring for others, so this is also a good way of bringing people together and rewarding their efforts to provide patients with a more positive experience while they're here.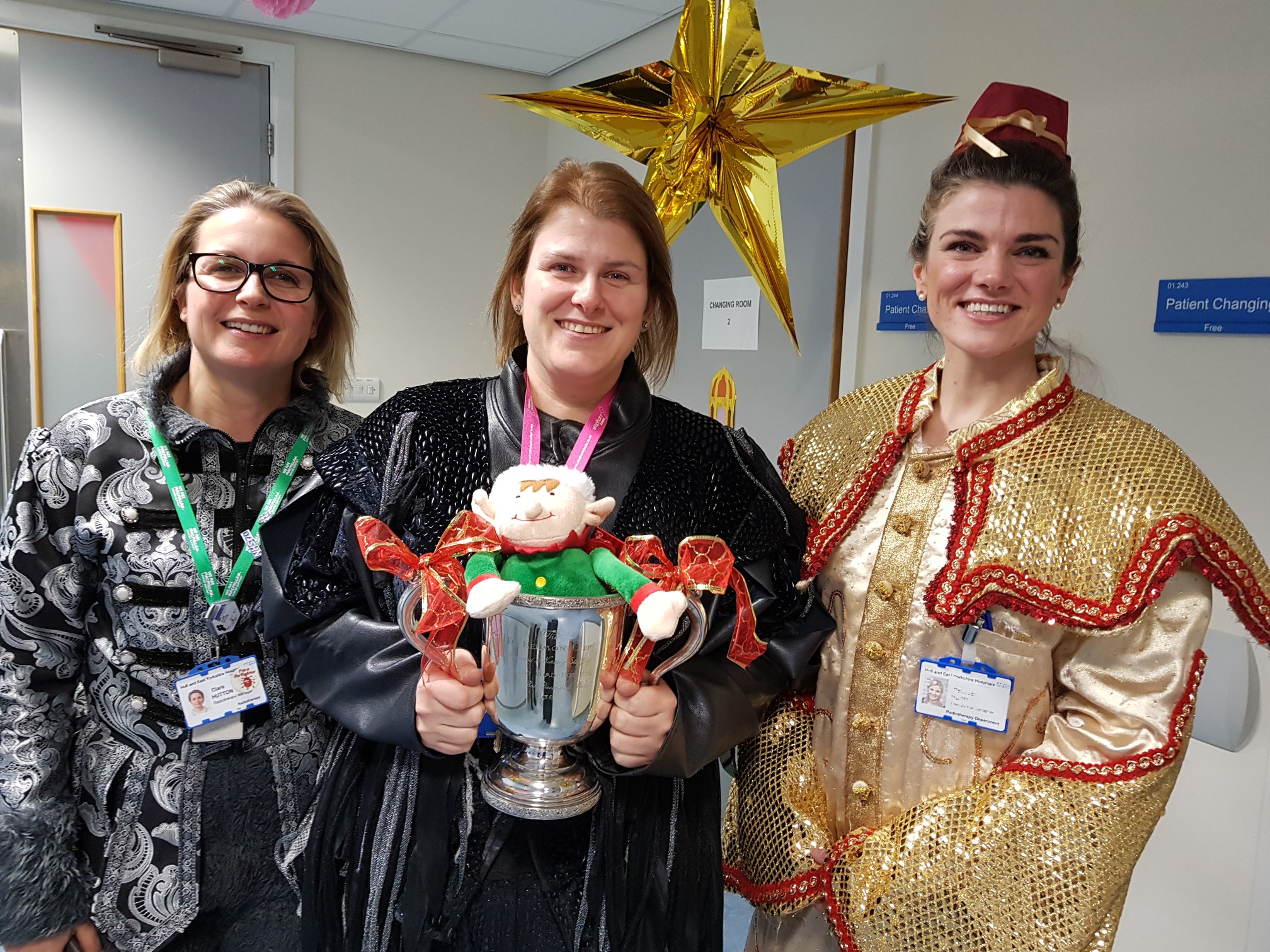 "Competition was fierce this year, but the Radiotherapy Team just edged it with their quirky take on treatment. We've been very clear that we weren't just looking at decorations, we were looking at how teams are engaging their patients, making them feel included and making their time in hospital that bit more pleasant. It's amazing the lengths some teams have gone to; it just shows how well our staff can pull together and how much they really do care about their patients.
"In the case of the Radiotherapy Team, I have no doubt that all the work and the planning they've put in will be helping to boost the spirits of their patients receiving cancer treatment, and maybe even contributing to a quicker recovery for some."
Barbara Whitaker, Deputy Radiotherapy Manager (pictured right, holding the Dr Hermon Cup) says:
'The Radiotherapy team is delighted to have been named this year's winners of the Dr Hermon Cup. It was amazing to see the cup and the hamper being delivered and to find out that we had actually won! The staff have put in a mighty effort to bring festive joy to all of their patients and have had a great deal of fun in the process. It has been a real pleasure to receive some wonderful feedback from patients and other staff and has really made all of the effort worthwhile. Now staff and patients will  set about enjoying all of the goodies in the hamper and begin the planning for defending our title next year."