Reference Number: HEY-438/2019
Departments: Breast Services
Last Updated: 1 October 2019
---
You can translate this page by using the headphones button (bottom left) and then select the globe to change the language of the page. Need some help choosing a language? Please refer to Browsealoud Supported Voices and Languages.
---
Introduction
This leaflet has been produced for patients who have been diagnosed with secondary breast cancer to give you general information about the Macmillan Breast Care Nurse Specialist Team and how they can support you. The Team is based at Castle Hill Hospital.  They work closely within local and national guidelines to provide ongoing practical and psychological support for you, your family and close ones.  If after reading it you have any concerns or require further explanation, please discuss this with a member of the healthcare team caring for you.
What is secondary breast cancer?
Secondary breast cancer (sometimes referred to as metastatic breast cancer) is when breast cancer cells from the primary (original) breast cancer have spread to another area in the body through the lymphatic or blood system.  The most common areas that are affected are the bones, liver and lungs.
Treatment
A specialist Breast Care Multi-disciplinary Team led by a consultant oncologist will decide the most appropriate treatment for you.  This will be specifically tailored to your needs and you will be able to discuss your treatment options and what they might mean.  The treatments may include hormone therapy, chemotherapy, radiotherapy, bisphosphantes and targeted therapies like Herceptin.  Surgery is not generally an option however it may be discussed in some cases.
Sometimes a clinical trial may be appropriate for you and if you are a suitable candidate for the trial this will be explained in detail to see if you wish to consent to participate.  The aim of treatment for secondary breast cancer is to control and slow down the spread of the disease, to relieve symptoms and to give you the best quality of life, all of which will be closely monitored.
Support
In addition to the hospital medical team, the Breast Care Nurse is your key worker and will support you and your family or carer depending on your needs. The Breast Care Nurse will be able to liaise with other professionals to ensure you have appropriate help and support.
Your Breast Care Nurse (Key Worker) is called             …………………………………..
Useful Contacts
The Macmillan Breast Care Nursing Team works Monday to Friday. Messages can be left on the answer phone and will be dealt with between the hours of 9.00am to 4.00pm Monday to Thursday and 9.00am to 12 noon on a Friday.
The team will endeavour to return your call within 48 hours (unless messages are left outside of these hours, over the weekend or on Bank Holidays when calls will be returned on the following working day).
Should you require further advice on the issues contained in this leaflet, please do not hesitate to contact the MacMillan Breast Care Nursing Team on tel no: (01482) 622013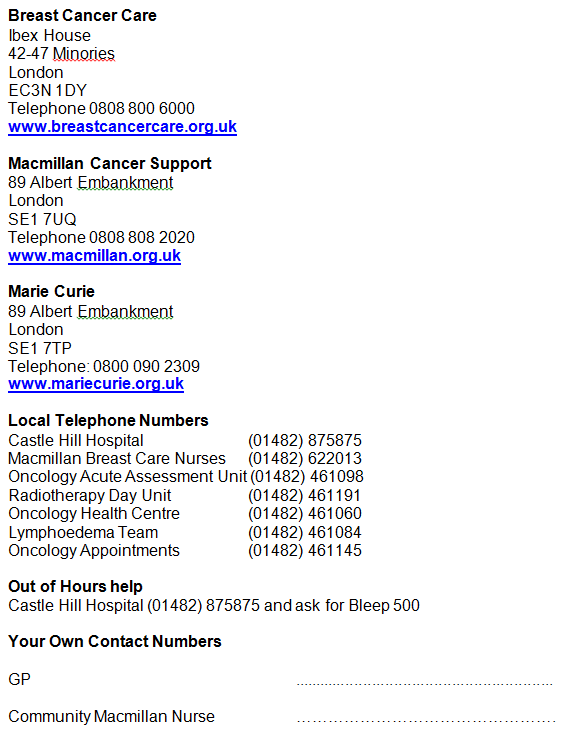 General Advice and Consent

Most of your questions should have been answered by this leaflet, but remember that this is only a starting point for discussion with the healthcare team.

Consent to treatment

Before any doctor, nurse or therapist examines or treats you, they must seek your consent or permission. In order to make a decision, you need to have information from health professionals about the treatment or investigation which is being offered to you. You should always ask them more questions if you do not understand or if you want more information.

The information you receive should be about your condition, the alternatives available to you, and whether it carries risks as well as the benefits. What is important is that your consent is genuine or valid. That means:

you must be able to give your consent
you must be given enough information to enable you to make a decision
you must be acting under your own free will and not under the strong influence of another person

Information about you

We collect and use your information to provide you with care and treatment. As part of your care, information about you will be shared between members of a healthcare team, some of whom you may not meet. Your information may also be used to help train staff, to check the quality of our care, to manage and plan the health service, and to help with research. Wherever possible we use anonymous data.

We may pass on relevant information to other health organisations that provide you with care. All information is treated as strictly confidential and is not given to anyone who does not need it. If you have any concerns please ask your doctor, or the person caring for you.

Under the General Data Protection Regulation and the Data Protection Act 2018 we are responsible for maintaining the confidentiality of any information we hold about you. For further information visit the following page: Confidential Information about You.

If you or your carer needs information about your health and wellbeing and about your care and treatment in a different format, such as large print, braille or audio, due to disability, impairment or sensory loss, please advise a member of staff and this can be arranged.