Reference Number: HEY-428/2016
Departments: Tissue Viability
---
You can translate this page by using the headphones button (bottom left) and then select the globe to change the language of the page. Need some help choosing a language? Please refer to Browsealoud Supported Voices and Languages.
---
Introduction
This leaflet is designed to provide you with information regarding the prevention of pressure ulcers. It is important to us that we work together in partnership to prevent unnecessary deterioration of your or your friend/relative's skin.
Our nurses are responsible for the care of all our patients however, we would appreciate your help in working together to prevent pressure ulcers in you or your friend/relative whilst in our hospitals.
Our hospital uses the SSKIN bundle, a national recognised way of preventing pressure ulcers. (SSKIN – Skin inspection, Surface selection: mattress or cushion, Keep moving, Incontinence management, Nutrition).
What is a pressure ulcer?
A pressure ulcer is an area of damage to the skin and underlying tissue. They are also known as pressure sores or bed sores. They are usually caused by sitting or lying in one position without moving over a period of time. A pressure ulcer can develop very quickly over a few hours, especially if you are ill.
The first sign that a pressure ulcer may be developing is that your skin will start to change colour. It may appear slightly red or darker than usual and does not fade when pressure is removed. In some cases it can appear purple or maroon and can be confused as a 'bruise'.
In people with darker skin tones, it is not easy to see a reddened/purple area. In this case, it is best to check by touching areas of the body that are at risk from pressure ulcers (see following diagrams). The area may also feel warmer or cooler to touch, firmer or spongy or swollen.
Our nurses are responsible for preventing pressure ulcers. Your help in detecting the early signs of an ulcer can alert our staff, helping prevent pressure ulcers getting worse.
If the early signs of a pressure ulcer are not treated quickly, it can develop into an open blister, which can then lead to a more serious pressure ulcer.
If you notice any signs of pressure damage, you must notify a healthcare professional immediately.
Which areas of the body are most likely to develop a pressure ulcer?
The common places for pressure ulcers to occur are on parts of the body that take your weight and where bone is near to the surface of the skin. For example, bottom, heels, hips, elbows, ankles, shoulders, spine and the back of the head.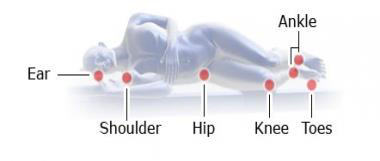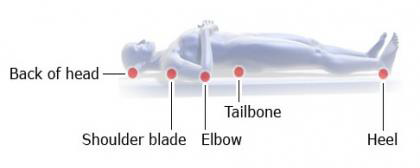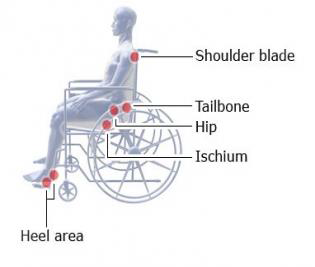 Images used by kind permission of Informed Health Online:
www.informedhealthonline.org
Are you at risk of developing a pressure ulcer?
Anyone can develop a pressure ulcer but some people are more likely to develop a pressure ulcer than others.
You are at risk of developing a pressure ulcer if you:
have to stay in bed for a period of time
have problems moving your own position without help
are in a wheelchair
spend a long time in an armchair or on a sofa
are seriously ill (even for a short period of time)
are undergoing surgery
are incontinent
have lost your feeling in part(s) of your body (e.g. after a stroke or spinal cord damage)
have poor circulation
are not eating a balanced diet or having enough to drink
have previously had a pressure ulcer
are very old
Unfortunately pressure ulcers can develop very quickly in some people. Damage may not involve just the skin but also deeper into the tissues beneath.
Pressure ulcers can be painful and you are more likely to develop an infection which can then make you seriously ill. They can cause you to stay in hospital for longer and can take a very long time to heal.
If you have a cast or stockings in place, please advise the nurse so that care can be given to prevent pressure ulcers. The following leaflets may be helpful to you 'Lower Limb Cast Care', 'Upper Limb Cast Care' and 'Helpful Hints Following Surgery for Patients Wearing Embolic Stockings'.
How to avoid developing a pressure ulcer
In order to prevent pressure ulcers it is important that you and your carer work with us. Every time you are admitted to hospital we need to assess your risk of developing a pressure ulcer. This will involve asking you or your carer some questions and looking at your skin. We can then plan the care you need. This may involve a different mattress (one with air in), regular positional changes, nutritional supplements and looking at your skin.
Our staff will check patients regularly for the early signs of pressure ulcers, however you can help by carrying out the following advice, if you are able to and let our staff know if you see any changes.
You can help yourself by doing the following:
Skin Inspection
Inspect your skin regularly for the signs of early pressure damage. You may need to use a mirror to see difficult areas. If you notice early damage please tell someone as soon as possible. If you are unable to do this, the nurses will inspect your skin at regular intervals. The length of the intervals will depend on your risk level. Please allow the nurses to inspect your skin as this is very important.
If you already have a pressure ulcer, this will be assessed, dressed and documented regularly. This will allow us to monitor if it is improving or getting worse, in which case we will suggest a change in treatment. This may be by increasing the frequency of turns, a different mattress, food supplements or clinical dressing.
Keep Moving
Moving around and changing your position as much as possible will help reduce the risk of you developing a pressure ulcer. Your healthcare professional will be able to advise you on how best to relieve or reduce the pressure.
If you already have early signs of a pressure ulcer or have one already, you will be provided with a special air mattress and/or cushion.
Within our hospital, we have different types of mattresses and cushions, which will help reduce the pressure of your skin. All our foam mattresses are of high quality foam but if you need a more specialised mattress or cushion, the staff will assess you for this.
Change your position, regularly alternate between your back and sides. This may be difficult for you to do on your own and a nurse will help you. It is important that you remind staff that you need to be turned. Please help us by you or your carer reminding us that you need to be turned.
If you have red/blistered heels we may need to raise your feet off the bed.
If you are sitting out of bed but cannot move yourself around or stand up, it is important that you do not sit out of bed for more than two hours at a time. Our nurses will assist you if you need help to get back into bed.
If you are in a wheelchair:-
Try to take your weight off your bottom every half an hour by leaning to one side or pushing up on the arms of your chair.
Regularly roll from buttock to buttock a few times every half an hour.
You should not sit in your wheelchair for more than two hours at a time, even with a specialised cushion.
What else can you do if you are able to help prevent pressure ulcers?
Eat a healthy diet and drink plenty of fluids. We may refer you to a dietician and provide supplements.
Keep your skin clean and dry, including under your breasts, in between the cheeks of your bottom, under your scrotum.
Moisturise your skin.
Cooperate with any moving and turning programme we plan for you.
Your pressure ulcer may need other treatments to help heal it. This could include dressings and referrals to other health professionals.
Where to find further information
If you require further information regarding pressure ulcer prevention or treatment, please ask your nurse, doctor or any member of the team.
Adapted from guidelines produced by the National Institute for Clinical Excellence (NICE, 2015). You can download further information from www.nice.org.uk
The Tissue Viability Team are available to offer advice and can be contacted Monday to Friday 8.00am – 4.00pm on Telephone No: (01482) 674239.
Answerphone is available outside of these times and messages will be answered as soon as possible.
General Advice and Consent

Most of your questions should have been answered by this leaflet, but remember that this is only a starting point for discussion with the healthcare team.

Consent to treatment

Before any doctor, nurse or therapist examines or treats you, they must seek your consent or permission. In order to make a decision, you need to have information from health professionals about the treatment or investigation which is being offered to you. You should always ask them more questions if you do not understand or if you want more information.

The information you receive should be about your condition, the alternatives available to you, and whether it carries risks as well as the benefits. What is important is that your consent is genuine or valid. That means:

you must be able to give your consent
you must be given enough information to enable you to make a decision
you must be acting under your own free will and not under the strong influence of another person

Information about you

We collect and use your information to provide you with care and treatment. As part of your care, information about you will be shared between members of a healthcare team, some of whom you may not meet. Your information may also be used to help train staff, to check the quality of our care, to manage and plan the health service, and to help with research. Wherever possible we use anonymous data.

We may pass on relevant information to other health organisations that provide you with care. All information is treated as strictly confidential and is not given to anyone who does not need it. If you have any concerns please ask your doctor, or the person caring for you.

Under the General Data Protection Regulation and the Data Protection Act 2018 we are responsible for maintaining the confidentiality of any information we hold about you. For further information visit the following page: Confidential Information about You.

If you or your carer needs information about your health and wellbeing and about your care and treatment in a different format, such as large print, braille or audio, due to disability, impairment or sensory loss, please advise a member of staff and this can be arranged.