Reference Number: HEY-943/2022
Departments: Pain Medicine, Pharmacy
Last Updated: 30 November 2022
---
You can translate this page by using the headphones button (bottom left) and then select the globe to change the language of the page. Need some help choosing a language? Please refer to Browsealoud Supported Voices and Languages.
---
Introduction
You have been given this leaflet because you have been prescribed Buprenorphine patches.
What is Buprenorphine and what is it used for?
Buprenorphine patches are used to treat some types of persistent pain.
Buprenorphine patches contain the active ingredient buprenorphine which belongs to a group of medicines called strong analgesics or 'painkillers'. They have been prescribed for you by your doctor to relieve moderate, long-lasting pain that requires the use of a strong painkiller.
This may reduce the level of your pain and allow you to increase your activity.
How do I apply the Buprenorphine patch?
Before applying the Buprenorphine patch
Choose an area of non-irritated, intact skin on your upper arm, outer arm, upper chest, upper back or side of the chest. Ask for assistance if you cannot apply the patch yourself.

The Buprenorphine patch should be applied to a relatively hairless or nearly hairless skin site. If no suitable hair free sites are available the hairs should be cut off with a pair of scissors. Do not shave them off.
Avoid skin which is red, irritated or has any other blemishes, for instance large scars.
The area of skin you choose must be dry and clean. If necessary, wash it with cold or lukewarm water. Do not use soap, alcohol, oil, lotions or other detergents. After a hot bath or shower, wait until your skin is completely dry and cool. Do not apply lotion, cream or ointment to the chosen area. This might prevent your patch from sticking properly.
Applying the patch
Step 1: Each patch is sealed in a pouch. Just before use, open the pouch by tearing where indicated and take out the patch; do not use the patch if the seal is broken.
Step 2: The sticky side of the patch is covered with a silver, protective foil. Carefully peel off half of the foil, trying not to touch the sticky side of the patch.
Step 3: Place the patch on to the area of skin you have chosen and remove the remaining foil.
Step 4: Press the patch against your skin with the palm of your hand and count slowly to 30. Make sure that the whole patch is in contact with your skin, especially at the edges.
Wearing the patch
Butrans patches should be worn for 7 days and Transtec patches should be worn for 4 days. Provided that you have applied the patch correctly, there is little risk of it coming off. If the edges of the patch begin to peel off, they may be taped down with a suitable skin tape. You may shower, bathe or swim whilst wearing it.
Take special care
Do not expose the patch to extreme heat (e.g. heating pads, electric blanket, heat lamps, sauna, hot tubs, heated water beds, hot water bottle etc) as this may lead to larger quantities of the active ingredient being absorbed into the blood than normal. External heat may also prevent the patch from sticking properly. If you have a high temperature this may alter the effects of Buprenorphine patches as described above.
In the unlikely event that your patch falls off before it needs changing, do not use the same patch again. Stick a new one on straight away (see 'Changing the patch' below).
Changing the patch
Take the old patch off.
Fold it in half with the sticky side inwards.
Open and take out a new patch, using the empty pouch to dispose of the old patch. Now discard the pouch safely
Even used patches contain some active ingredient that may be harmful to children or animals, so make sure your used patches are always kept  out of sight and reach.
Find an alternative site to stick your next patch, you should not apply a new patch to the same site for 3-4 weeks.
Remember to change your patch at the same time of day, to help you remember this make a note of the date and time that you change the patch.
Do not suddenly stop taking your medicine. The dose should be lowered gradually. Call your doctor or nurse for advice.
Don't run out of medicine
Remember to ask for a repeat prescription before your patches are finished
How long will I need to take Buprenorphine?
This will depend on why you are taking this and how your pain responds to treatment. You can continue to take buprenorphine for as long as it helps your pain if you are not having any side effects. It may be necessary for your doctor to change the dose during your treatment.
Can I drink alcohol?
The combination of buprenorphine and alcohol can cause significant drowsiness. We would advise you to avoid alcohol when using a buprenorphine patch.
Can I take other medicines together with Buprenorphine?
Buprenorphine patches must not be used together with a type of medicine known as a monoamine oxidase inhibitor antidepressants (examples include tranylcypromide, phenelzine, isocarboxazid, moclobamide and linezolid) or if you have taken this type of medicine in the last two weeks.
If you take some medicines such as phenobarbital or phenytoin (medicines commonly used to treat seizures, fits or convulsions), carbamazepine (a medicine to treat seizures, fits or convulsions and certain pain conditions), or rifampicin (a medicine to treat tuberculosis) the effects of Buprenorphine patches may be reduced.
Buprenorphine patches may increase any side effects experienced when taking other medicines that produce the same effects These include certain medicines to treat pain, depression, anxiety, psychiatric or mental disorders, medicines to help you sleep, medicines to treat high blood pressure such as clonidine, other opioids (which may be found in painkillers or certain cough mixtures e.g. morphine, dextropropoxyphene, codeine, dextromethorphan, noscapine), antihistamines which make you drowsy, or anesthetics such as halothane.
Buprenorphine patches must be used with caution if you are also taking benzodiazepines (medicines used to treat anxiety or to help you sleep). This combination may cause serious breathing problems.
Pregnancy and Buprenorphine
You should not use Buprenorphine patches if you are pregnant or are breast-feeding, think you may be pregnant or are planning to have a baby. Ask your doctor or pharmacist for advice before taking this medicine.
Are there side effects from using Buprenorphine patches
Constipation. Your GP can prescribe a laxative to overcome this problem.
Nausea or vomiting. This should wear off after a few days. Your GP can prescribe an anti-sickness medicine if it causes problems.
Poor concentration, drowsiness. This should also wear off after a few days.
Buprenorphine patches may make some people unusually drowsy and breathe more slowly or weakly than expected. If you or anyone else notices that this is happening, take the patch off immediately. Call a doctor straight away. While waiting for the doctor, keep moving and talking as much as possible.
Dry mouth, sweating, dizziness, head ache, mood changes, irregular heartbeat, confusion, facial flushing, hallucinations, bronchospasm (wheezy) and colic.
 On rare occasions there have been reports of patients having a lower blood pressure and a slower heartbeat. Some patients may suffer from an allergic reaction such as rash or itching.
A rash, redness or slight itching of the skin caused by the patch. This is usually mild and disappears after you have removed the patch. If it does not, or if the patch irritates your skin, tell your doctor.
If you have a fever you may experience increased side effects.
If you have any other problems, please get advice from your GP.
Side effects usually improve with time. If you are concerned about any of these side effects or if you have any other problems you should discuss this with your GP.
If you apply too many patches or someone else accidentally applies your patch contact your GP or attend accident and emergency.
Can I drive while wearing a Buprenorphine patch?
If you are drowsy do not drive or operate machinery
There is a new Drug driving law which came into force March 2015. This drug driving law affects buprenorphine patches. The new law states it is an offence to drive if you have over the specified limits of certain drugs in your body whether your driving is impaired or not.
You could be committing an offence driving with buprenorphine in your system unless you are;
Taking the medication in accordance with provided information or advice given by the prescriber.
AND your driving is NOT impaired by your medication
The law will then provide you with a "medical defence" and you will not be breaking the law.
If you are taking a prescribed medication and it impairs your driving then you are not fit to drive and will be breaking the law if you do so.
What do I do if I forget to change my patch?
Stick a new patch on as soon as you remember. Also make a note of the date, as your usual day of changing may now be different. If you are very late changing your patch, your pain may return. In this case, please contact your doctor.
Do not apply additional patches to make up for the forgotten application.
What do I do if I use more patches than I should?
As soon as you discover that you have used more patches than you should, remove all patches and call your doctor or hospital straight away. People who have taken an overdose may feel very sleepy and sick. They may also have breathing difficulties or lose consciousness and may need emergency treatment in hospital. When seeking medical attention make sure that you take this leaflet and any remaining patches with you to show to the doctor.
Where should I keep my patches?
Keep this medicine out of the sight and reach of children.
Do not use Buprenorphine patches after the expiry date which is stated on the carton and on the pouch. The expiry date refers to the last day of that month. After the expiry date, take any unused patches to a pharmacy.
Do not store Buprenorphine patches above 25°C.
Do not use the patch if the pouch seal is broken.
Used patches must be folded over on themselves with the adhesive layer inwards, and discarded safely out of sight and reach of children.
Do not throw away any medicines via wastewater or household waste. Ask your pharmacist how to throw away medicines you no longer use. These measures will help protect the environment.
Who should I phone if I need advice urgently about my Buprenorphine patches?
If you have any queries, do not hesitate to contact the pain clinic Monday to Friday 9am till 4pm.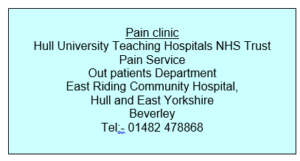 Outside the normal pain clinic hours (Monday to Friday 9am till 4pm) you can contact your own GP within their working hours.
Out of these hours if you have any queries, contact NHS111 and inform them that you are using a taking Buprenorphine patch. They will then be able to contact the pain/palliative medicine consultant on duty for advice.
Further information on Drug driving can be found at  https://www.gov.uk/drug-driving-law
This leaflet was produced by The Pain Service and Pharmacy department, Hull University Teaching Hospitals NHS Trust and will be reviewed in October 2025

General Advice and Consent

Most of your questions should have been answered by this leaflet, but remember that this is only a starting point for discussion with the healthcare team.

Consent to treatment

Before any doctor, nurse or therapist examines or treats you, they must seek your consent or permission. In order to make a decision, you need to have information from health professionals about the treatment or investigation which is being offered to you. You should always ask them more questions if you do not understand or if you want more information.

The information you receive should be about your condition, the alternatives available to you, and whether it carries risks as well as the benefits. What is important is that your consent is genuine or valid. That means:

you must be able to give your consent
you must be given enough information to enable you to make a decision
you must be acting under your own free will and not under the strong influence of another person

Information about you

We collect and use your information to provide you with care and treatment. As part of your care, information about you will be shared between members of a healthcare team, some of whom you may not meet. Your information may also be used to help train staff, to check the quality of our care, to manage and plan the health service, and to help with research. Wherever possible we use anonymous data.

We may pass on relevant information to other health organisations that provide you with care. All information is treated as strictly confidential and is not given to anyone who does not need it. If you have any concerns please ask your doctor, or the person caring for you.

Under the General Data Protection Regulation and the Data Protection Act 2018 we are responsible for maintaining the confidentiality of any information we hold about you. For further information visit the following page: Confidential Information about You.

If you or your carer needs information about your health and wellbeing and about your care and treatment in a different format, such as large print, braille or audio, due to disability, impairment or sensory loss, please advise a member of staff and this can be arranged.