Reference Number: HEY-805/2016
Departments: Neonates
Last Updated: 1 July 2016
---
You can translate this page by using the headphones button (bottom left) and then select the globe to change the language of the page. Need some help choosing a language? Please refer to Browsealoud Supported Voices and Languages.
---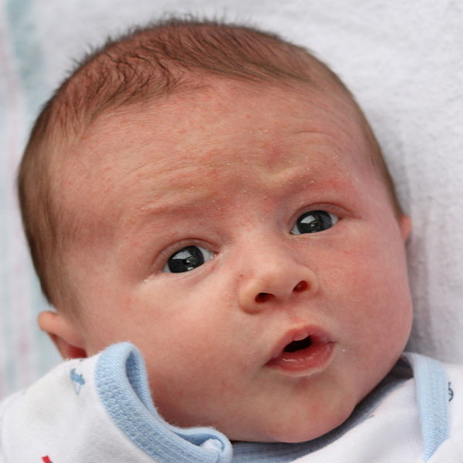 Introduction
Congratulations on the birth of your beautiful baby.
The purpose of this leaflet is to provide you with some general information about the Neonatal Intensive Care Unit (NICU) which we hope you will find useful. We realise that adjusting to being a new parent under what can be emotional and stressful circumstances requires a great deal of support, and all the staff on the Unit are here to help and support you as much as possible. The following guidelines have been developed in order to provide an optimal environment for the well-being of our patients and their families and to reduce the risk of infection. If you have any questions or concerns about these guidelines please do not hesitate to discuss these with the nursing staff on the Unit.
Hand washing
Premature and sick newborn babies cannot easily fight infections and therefore it is vital that staff, parents and visitors do all they can in order to minimise these risks.
At the entrance to the Unit there are two sinks and an alcohol gel dispenser. We ask that everyone who comes onto the Unit washes their hands/uses the gel before entering. On entering the Unit please leave any outdoor coats/jackets on the coat hooks situated near the waiting room, please do not leave any valuables in your coat as we cannot take responsibility for these.
If you are going to touch and handle your baby, the nursing staff will ask you to wash your hands before doing so; this is necessary even after using the alcohol gel on entering the Unit. In order for hand washing to be effective it is advisable that all jewellery and watches (except wedding rings) are removed. Drying your hands thoroughly is an essential part of the procedure. When disposing of any waste in the waste bins please use the foot pedal, do not lift the lid with your hands as this is not considered as clean and you will be asked to wash your hands again. If you touch or do anything that is considered as unclean, e.g. blowing your nose, it is necessary to wash your hands again.
Please help us to minimise the spread of infection by ensuring both you and your visitors comply with these guidelines.
Quiet time
Every day on the Unit there is quiet time to allow babies to rest and have undisturbed sleep. On each door in Special Care, High Dependency and Intensive Care there will be a time displayed when this will be taking place. During this time, we dim the lights and try to keep noise to a minimum, therefore please whisper and avoid slamming doors and moving chairs around the room.
Visiting
Please seek advice if you or any member of your family has an infection, or suspected infection including coughs, colds, vomiting, diarrhoea, shingles, cold sores, childhood diseases such as chicken pox etc. We request that you do not visit until you have recovered fully. If you have any doubts or concerns about whether you should visit please ask the staff on the Unit.
When visiting we ask that there are only two people at the incubator or cot side at any one time, one of which must be a parent unless parents have specified on the nursing care plan that grandparents may visit without them being present.
There is a visitors' waiting room situated near the main entrance of the Unit which we politely ask all visitors to use when not at the cot side, please do not wait in the corridors as this can cause problems in the event of an emergency.
Siblings of the baby are the only children less than 16 years of age allowed to visit the Unit and they need to be under the control of a parent at all times. We are aware small children can easily get bored or distracted so we have a small supply of toys in the waiting room to help occupy them.
Visiting times
Parents have open access and can visit at any time. We do request that visiting after 10pm is kept to a minimum to establish the day/night divide. Please ensure grandparents/siblings keep to the following visiting times to avoid refused admission.
Afternoon: 4pm – 5pm.
Evening: 6pm – 7pm.
It may be necessary for the Neonatal Unit to restrict visiting access at times, in line with Trust guidance. Information on any current restrictions will be posted at the entrance to the Unit.
It is very tempting for visitors to a baby Unit to 'visit' other babies, but it is important to respect the other babies and their family's right to privacy and we therefore ask that you do not allow any of your visitors to ask questions or intrude into other family's private time. We thank you for your assistance with this.
How the unit works
Within the Unit there are 3 areas, Intensive Care (Red Room), High Dependency (Blue Room) and Special Care. Most babies will progress through each area, however there are sometimes changes in this, for example if the baby does not require a certain level of care or if the baby becomes unwell they may go back to an area requiring a higher level of care. The staffing levels vary in each area, depending upon the level of care needed.
Your baby will have a named neonatal consultant, who will be the consultant of the week at the time of admission to the Unit. The consultants have a weekly rota for covering intensive care, high dependency and special care. Your baby will be cared for by consultants on the ward other than their named consultant.
You will be updated on your baby's progress at regular intervals during their stay on the Unit by the consultants, junior doctors and nursing staff. If at any point during your baby's stay you specifically wish to see your baby's consultant, please tell your baby's nurse and they will arrange an appointment for you. All of the Neonatologists are supported by a team of doctors including, Specialist Registrars, Advanced Neonatal Nurse Practitioners (ANNP's) and Senior House Officers (SHO).
The Unit consists of a large team of specially trained nurses who will care for your baby. Your baby's nurse will change depending on shift patterns and your baby's needs. The allocated nurse for your baby will introduce themselves at the beginning of each shift. The nurse will be able to fully update you when you visit and answer any questions you may have.
On the Unit we also have Student Nurses and Student Midwives. They may help to care for your baby alongside a trained nurse, or students who are further on in their training may care for your baby on their own, but all students are closely observed when working on the ward by a practice mentor/supervisor.
Breastfeeding
If you wish to breastfeed but go home before your baby, we have electric breast pumps on the Unit. These may be available to help you express your breast milk until your baby is ready to go home, please see the feeding coordinator on the Unit for more details.
There is a breastfeeding/expressing room on the Neonatal Unit and the use of cold water sterilisers are also available for mums to keep their breastfeeding kits sterile. We have breastfeeding link nurses on the Unit who can also offer support and help to establish breastfeeding. We have the facility to offer Donor
Expressed Breast Milk to supplement your supply if needed, until your milk is fully established again, please see the feeding coordinator for more details.
Touching your baby
We do try and reduce the number of people who touch and handle your baby; this is to reduce the risk of infection. To assist with this while your baby is in the intensive care or high dependency area of the Unit touching and handling is limited to parents only, as babies in these areas tend to be the most vulnerable. This also has the benefit of allowing maximum periods of rest to assist with growth and development. Once your baby is progressing and goes to the Special Care Baby Unit, if parents are in agreement, we do allow grandparents and siblings to touch baby and have cuddles as long as the baby is no longer on continuous monitoring.
The hand washing guidelines mentioned previously apply to anyone touching a baby on the Unit.
While it is natural for parents to want to share their new baby with visitors, it is preferable that the total number of visitors entering the Unit be limited to grandparents and siblings only.
Kangaroo care
Kangaroo care is skin to skin contact with your baby. Baby can be placed on either parent, chest to chest and tucked inside your top. A hat or blanket might be necessary for smaller babies to give them extra warmth.
Benefits of Kangaroo care include:
Improving lactation and helps to establish breastfeeding.
Helps parents to feel closer to baby and establish a bond.
Helps to calm and soothe baby and regulate their body temperature.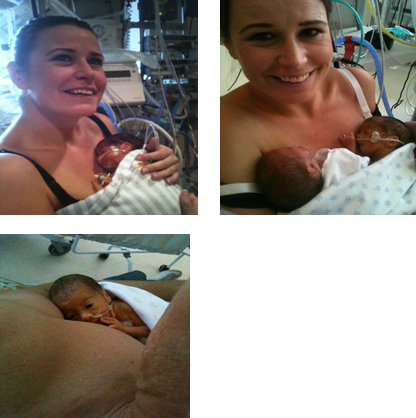 Confidentiality and privacy
Information about your baby's condition will only be given to parents, unless it is clearly stated in the nursing care plan what information can be given and to whom. It is preferable for you to keep family and friends informed of your baby's progress as this also helps limit the number of calls to the Unit.
There is a medical ward round every morning in the red and blue rooms of NICU when your baby's condition and progress is discussed. You are most welcome to be present while the medical staff are discussing your baby. This gives you the opportunity to ask questions if you are unsure about what is happening. For confidentiality reasons we ask that you leave the room while the medical staff are discussing other babies. On NICU, the ward rounds start in the intensive care area first and then progress to the high dependency area. The nursing staff will be able to give you an approximate guide as to when your baby is likely to be reviewed but exact times are difficult to predict. On the Special Care Baby Unit, ward round times are more variable so please ask the nursing staff for more information.
Other reasons you may be asked to leave the room are for an X-ray to be taken, if an emergency situation occurs or, in some cases, a sterile procedure is being performed. This may not always be necessary but we do ask that you avoid walking in and out opening the door while the procedure is taking place.
Car parking monthly parking pass
For parents that are visiting frequently and for a prolonged period it may be more cost effective to obtain a monthly parking pass. These are available from the General Office and they will also be able to inform you of the current cost of the pass.
Some parents may be eligible for assistance with travel costs but this is not available to everyone so if you are experiencing problems with travel costs please discuss this with your neonatal outreach nurse.
Mobile phones
Mobile phones/electronic equipment must be kept on silent at all times.
Mobile phones are allowed to be used on the Unit for the following purposes:
Taking photographs/videos of your own baby (please check this is appropriate at the time with the nurse caring for your baby).
Timing breastfeeds.
For emergency contact with other family members.
Please do not use your mobile phone/ electronic equipment in the clinical area to:
Make/receive calls.
Play noisy games.
Use social media websites.
Listen to music without the use of headphones.
The charging of mobile phones is not permitted on the Unit.
Facilities
We have a small sitting room which is available to both resident parents and parents who will be visiting for a prolonged period. We ask that visitors do not use this sitting room as it is not a big room and resident parents should be able to have access at all times. There are refreshment facilities for resident parents available on the Unit but meals are not provided. There is a fridge and microwave to prepare your own food. Hot drinks or hot meals are not allowed to be taken onto the Unit or in the rooming-in bedrooms.
There is a small café area on the ground floor of the Women and Children's Hospital and there is also the larger restaurant on the 2nd floor of the main hospital tower block. Opening times vary so please check current times.
There are facilities for parents to stay on the Unit but at times of high demand, it is necessary to prioritise how these are allocated. If you wish to stay please ask the nursing staff to see if a room is available. Please appreciate that it is not possible to accommodate all parents and therefore priority will be given to:
Parents whose baby is extremely poorly.
Parents who live a long distance from the Unit.
Mums who are establishing breast feeding.
Parents rooming-in with their babies prior to discharge home.
Whilst rooming-in with your baby you are asked to inform the staff each time your baby feeds or if you have any concerns or need to return your baby to the nursery when you leave the room for meals or showers etc.
It is your responsibility to ensure that your bed is made and the room is kept tidy on a daily basis.
Screening tests
Infection Screening (MRSA) – On admission all babies will have MRSA swabs taken; these swabs are then repeated weekly to ensure there is no risk of MRSA being on the ward.
Physical Examination – Your baby is given a head-to-toe examination within 72 hours of birth to identify any problems that may need further investigation, monitoring or treatment. During the examination your baby's eyes, heart, hips and testicles (in boys) will be checked.
Hearing Screening – The hearing screen is usually carried out on your baby before they are discharged from the Unit. If your baby does not have a clear response in both ears they will be given the hearing screen again at a later date.
Newborn Blood Spot Screening – Newborn blood spot screening identifies babies who may have rare but serious conditions. All babies in England are screened for phenylketonuria, congenital hypothyroidism, sickle cell disease, cystic fibrosis and Medium-chain acyl-CoA dehydrogenase deficiency (MCADD). The blood spot test is usually done when your baby is 5 – 8 days old and involves a heel prick where 4 spots of blood are taken, put onto a card and sent for testing.
Retinopathy of Prematurity (ROP) – ROP screening will be carried out if your baby is born less than 32 weeks gestation and with a birth weight below 1.5kg. The eye examination will be first carried out by an Ophthalmologist when your baby is between 4 – 6 weeks old.
Zero tolerance policy
Please treat staff and other parents with the respect. Verbal abuse, physical violence and harassment are unacceptable and will under no circumstances be tolerated.
General
Please bring in nappies for your baby and cotton wool/cotton buds at the earliest convenience. We do have a small selection of clothes and blankets on the Unit but if you would like to bring your own in then please make sure they are all labelled with your baby's name and taken home to wash.
Telephone numbers
Main Desk – (01482) 604391/604472.
Red Room (Intensive Care) – (01482) 604482.
Blue Room (High Dependency) – (01482) 604475.
Special Care Baby Unit 2 – (01482) 604465.
Special Care Baby Unit 3 – (01482) 604463.
Within the first 24 – 48 hours on the Unit you should have had the following things explained to you, if not please ask the nursing staff.
Information update on your baby by a senior member of the medical team.
Hand washing procedure.
Visiting guidelines.
Discussion regarding the benefits of breast feeding and how to express, hand expressing and use of the breast pumps (if appropriate).
How to collect and store breast milk.
A tour of the Unit.
The name of your baby's consultant.
Know who the named nurse of your baby is.
Know what facilities for parents are available.
Information given regarding the newborn blood spot test, hearing test and discharge planning as appropriate by the continuing care team.
Information on cares and parents' involvement.
Your baby: ______________________________________________________________________.
Baby's consultant: ______________________________________________________________________.
Baby's named nurse: ______________________________________________________________________.
Baby's Neonatal Continuing Care Nurse (if appropriate): ______________________________________________________________________.
Bliss is a charity for premature and sick babies, and helps to ensure more babies survive, have the best quality of life and offer support and advice to parents and families. Bliss offers information for the parents and families of premature and sick babies. Parent support and information can be found on the Bliss website: www.bliss.org.uk.
The Bliss helpline is a UK wide confidential telephone service that offers a listening ear, emotional support and information to families whose baby is in or has been in neonatal care.
Trained volunteers are ready to support you and a free advice and help line is open:
10am to 4pm, Monday to Friday.
7pm to 9pm, Monday to Wednesday.
Telephone: 0808 801 0322.
Email: hello@bliss.org.uk.
Thanks are conveyed to Mrs Davies for her help in the preparation of this leaflet.
General Advice and Consent

Most of your questions should have been answered by this leaflet, but remember that this is only a starting point for discussion with the healthcare team.

Consent to treatment

Before any doctor, nurse or therapist examines or treats your child, they must seek your consent or permission. In order to make a decision, you need to have information from health professionals about the treatment or investigation which is being offered to your child. You should always ask them more questions if you do not understand or if you want more information.

The information you receive should be about your child's condition, the alternatives available for your child, and whether it carries risks as well as the benefits. What is important is that your consent is genuine or valid. That means:

you must be able to give your consent
you must be given enough information to enable you to make a decision
you must be acting under your own free will and not under the strong influence of another person

Information about your child

We collect and use your child's information to provide your child with care and treatment. As part of your child's care, information about your child will be shared between members of a healthcare team, some of whom you may not meet. Your child's information may also be used to help train staff, to check the quality of our care, to manage and plan the health service, and to help with research. Wherever possible we use anonymous data.

We may pass on relevant information to other health organisations that provide your child with care. All information is treated as strictly confidential and is not given to anyone who does not need it. If you have any concerns please ask your child's doctor, or the person caring for your child.

Under the General Data Protection Regulation and the Data Protection Act 2018 we are responsible for maintaining the confidentiality of any information we hold about your child. For further information visit the following page: Confidential Information about You.

If you need information about your child's (or a child you care for) health and wellbeing and their care and treatment in a different format, such as large print, braille or audio, due to disability, impairment or sensory loss, please advise a member of staff and this can be arranged.

Your newborn baby's NHS number

An NHS number is allocated to everyone whose birth is registered with a Registrar of Births and Deaths in England and Wales. You already have an NHS number and your baby will be assigned an NHS number soon after birth. Your NHS number is unique to you and provides a reliable means of linking you to the medical and administrative information we hold about you. NHS numbers are allocated on a random basis and, in themselves, provide no information about the people to whom they relate.