Reference Number: HEY-926/2022
Departments: Gynaecology
Last Updated: 31 May 2022
---
You can translate this page by using the headphones button (bottom left) and then select the globe to change the language of the page. Need some help choosing a language? Please refer to Browsealoud Supported Voices and Languages.
---
Introduction
This leaflet has been produced to give you general information about your treatment.  Most of your questions should have been answered by this leaflet.  It is not intended to replace the discussion between you and your doctor, or nurse, but may act as a starting point for discussion.  If after reading it you have any concerns or require further explanation, please discuss this with a member of the healthcare team caring for you.
What are retained products of conception?
Your recent ultrasound scan has identified some remaining pregnancy tissue (products of conception) within your uterus (womb). This tissue has failed to come away. The tissue may come away without treatment, but this could take a number of days or even weeks.
How do I take the Misoprostol tablets?
We will give you tablets to take in hospital or at home. You can have the tablets orally. These tablets work by encouraging your uterus to expel the remaining tissue.
These tablets need to be taken at the time you have been advised and what has been written down by the nurse you have seen. They must be taken this way to be effective.
Place the tablets high up between the upper or lower lip and the gum, to either side of the front teeth,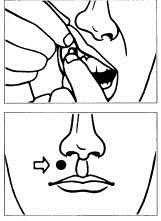 as shown in the diagram. Use your finger or place the tablets on the tip of your tongue and push it into position.  If you suffer from a dry mouth, moisten the area where you wish to place the tablet with your tongue or a little water before you apply the tablet.
The tablets need to stay there for at least 30 minutes to allow them to dissolve. If they are still there after 30 minutes then you can swallow the rest.
You may be aware of the tablets against the gum and find it slightly uncomfortable at first.  Do not move the tablets around the mouth with your tongue as this will cause them to dissolve more rapidly than intended.
What about pain and bleeding?
You may feel some period type pains and these may be worse than your normal period pain.  If this happens you can take pain relief tablets such as paracetamol or co-codamol, ibuprofen or your usual pain relief. Follow the instructions on the packet for the medication you choose.  Usually, intense pain does not last for long. Your bleeding may increase slightly but should not be excessive. We would expect your pain and bleeding to settle completely after 3 – 4 weeks.
It is important that you contact the Emergency Gynaecology Unit or Gynaecology Ward for advice if any of the following things happen or if you are worried about your symptoms.
Heavy bleeding with blood clots
Severe abdominal (tummy) pain or discomfort that is not eased by simple pain relief medication
Offensive smelling vaginal discharge
Possible side effects
Like all medicines Misoprostol can cause side effects, although not everybody gets them.  Chills, nausea, diarrhoea and cramps are the common. Most of these do not happen very often and are not serious and will wear off after a while.  If you are worried about any side effects, then contact the Emergency Gynaecology unit or Gynaecology ward.
 What will happen next?
 We will ask you to do a pregnancy test in 2 to 3 weeks after the treatment.
 

If you are well and your test is negative, then the treatment has worked.

If the test remains weakly positive and your symptoms have stopped/reduced, you will be given the opportunity to repeat the test in 2 weeks.
If you have not had any change in symptoms and the test remains strongly positive, you will be asked to return to the hospital for medical assessment and an ultrasound scan.
When will my periods return to normal?
If your periods were regular before, then your periods should return to normal within 4 – 6 weeks.
Should you require further advice on the issues contained in this leaflet, please do not hesitate to contact:
Emergency Gynaecology Unit, Women and Children's Hospital (01482) 608767
Ward 30, Women and Children's Hospital – (01482) 604387
This leaflet was produced by the Gynaecology Department, Hull and East Yorkshire Hospitals NHS Trust and will be reviewed in May 2025.
General Advice and Consent

Most of your questions should have been answered by this leaflet, but remember that this is only a starting point for discussion with the healthcare team.

Consent to treatment

Before any doctor, nurse or therapist examines or treats you, they must seek your consent or permission. In order to make a decision, you need to have information from health professionals about the treatment or investigation which is being offered to you. You should always ask them more questions if you do not understand or if you want more information.

The information you receive should be about your condition, the alternatives available to you, and whether it carries risks as well as the benefits. What is important is that your consent is genuine or valid. That means:

you must be able to give your consent
you must be given enough information to enable you to make a decision
you must be acting under your own free will and not under the strong influence of another person

Information about you

We collect and use your information to provide you with care and treatment. As part of your care, information about you will be shared between members of a healthcare team, some of whom you may not meet. Your information may also be used to help train staff, to check the quality of our care, to manage and plan the health service, and to help with research. Wherever possible we use anonymous data.

We may pass on relevant information to other health organisations that provide you with care. All information is treated as strictly confidential and is not given to anyone who does not need it. If you have any concerns please ask your doctor, or the person caring for you.

Under the General Data Protection Regulation and the Data Protection Act 2018 we are responsible for maintaining the confidentiality of any information we hold about you. For further information visit the following page: Confidential Information about You.

If you or your carer needs information about your health and wellbeing and about your care and treatment in a different format, such as large print, braille or audio, due to disability, impairment or sensory loss, please advise a member of staff and this can be arranged.