Reference Number: HEY-067/2020
Departments: Radiotherapy
Last Updated: 31 July 2020
---
You can translate this page by using the headphones button (bottom left) and then select the globe to change the language of the page. Need some help choosing a language? Please refer to Browsealoud Supported Voices and Languages.
---
Introduction
This leaflet has been produced to give you general information about the radiotherapy treatment and the department at Castle Hill Hospital. It contains some general information about radiotherapy and what to expect during your first few appointments. You will receive more detailed information about your individual treatment in further leaflets and in discussion with your healthcare professionals.  Most of your questions should have been answered by this leaflet.  It is not intended to replace the discussion between you and the healthcare team, but may act as a starting point for discussion.   If after reading it you have any concerns or require further explanation, please discuss this with a member of the health care team.
What is radiotherapy?
Figure 1: Linear Accelerators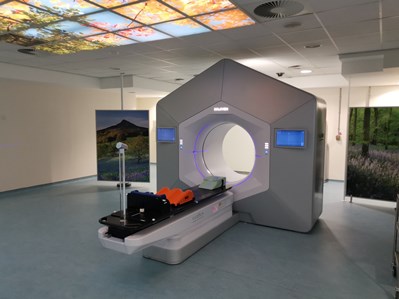 .Truebeam                                                     Halcyon Linac
Radiotherapy, also known as radiation treatment, is the controlled use of high energy X-rays to treat many different types of cancer. The high energy X-ray beams are produced by electrical machines called Linear Accelerators or Linacs for short (see Figure 1). There are two types of linear accelerator in this department, they look different but deliver the same treatment. Radiotherapy treatment is usually divided up into daily treatments of small doses (called fractions) in order to ensure that healthy tissues gets the maximum time to recover from the radiation. The number of treatments and the dose of radiation you will receive will be prescribed for you individually based on your disease, your overall health and what other treatments you will be receiving. This is why you may have a different course of treatment to other patients with similar disease. Your treatment technique may vary at points during its course but your treatment team will inform you of this change.
When you are having your radiotherapy you do not feel anything and it does not make you radioactive so you are safe to be around others (including children) whilst you are having treatment.
If you have further questions about why you need to have this treatment or what the treatment involves, please do not hesitate to get in touch with the department and we will refer you to the most appropriate person, which may be your doctor or our treatment information and support team
Research
The Trust is research-active with a research strategy that includes cancer treatment and care. The radiotherapy department participates in national and international research studies to improve treatments to make them safer, more effective and to reduce side effects. We also develop patient-centred local research to improve your radiotherapy experience to benefit you and your family. We would like to encourage you to feedback about your experiences and ideas to help us to research the areas that are important to you. Your treatment will not be affected in any way should you not wish to take part.
How do I prepare for radiotherapy?
There is no one specific preparation for radiotherapy treatment. Preparation depends entirely on the area that you having treated. It is advisable that you increase drinking water  to 2 litres a day as this helps with your general wellbeing and some of the side effects that the treatment may cause.
If you were asked to do specific preparations for your computed tomography (CT) planning scan than this is the preparation you will have to do for every time you attend for your radiotherapy treatment. The radiographers or support team staff will discuss any individual requirements before your CT planning scan (see leaflet entitled: 'Introduction to Radiotherapy CT Planning').
Please eat and drink as normal unless otherwise indicated and we ask that you continue to take your medications as prescribed.
We will ask you to remove items of clothing relating to the area being treated but you are able to do this in the changing cubicles and use the gowns provided. You may wish to bring your own gown.
Pregnancy
It is advisable that women do not become pregnant while having cancer treatment because the radiotherapy can have an effect on the unborn child. It is suggested that you use a barrier form of contraception (e.g. condoms). Please do not hesitate to ask your doctor or a member of the healthcare team if you have any questions or concerns about these issues.
Smoking
Stopping smoking during and after radiotherapy is very worthwhile. Research has shown that smoking may make the radiotherapy side effects worse.
Can there be any complications, risks or side effects?
Any complications or risks should have been explained to you thoroughly before you consented to have the radiotherapy treatment.  If you have any further concerns, please speak to a member of the healthcare team. Any side effects that you may experience will be discussed with you by a member of the healthcare team.
Radiotherapy department staff
Clinical Oncologist, registrar, consultant radiographers are experts in radiotherapy and will be managing your treatment. They will take the responsibility in deciding what dose and how many treatments will be best for you; they will oversee the planning of your treatment. You may see them at your initial planning appointment and you can see them during your treatment if you have any problems or queries.
Therapy radiographers
Radiotherapy is delivered by male and female therapeutic radiographers who are specialist healthcare professionals that are trained to plan and deliver radiotherapy treatment and to use the specialist equipment. You will usually see the same team of radiographers and they will assist you with any questions or problems or refer you to a more appropriate person.
Radiotherapy support team
The radiotherapy support team  consists of radiotherapy nurse practitioners, experienced registered nurses, therapeutic radiographers and clinical support workers.  The team actively support all patients receiving radiotherapy treatment.  They offer advice on any problems patients and their families may have relating to their radiotherapy treatment and its side effects and if necessary make referrals to appropriate services.
Physicists, planning technicians and machine technicians
Medical physicists are specialist scientists who have a key role in the individual planning of your treatment, along with the planning technicians. They may also have an input into the set-up of your treatment. They work together with the machine technicians to ensure that the machines are reliable and working accurately.
Students
At some point during your treatment you may encounter student radiographers. Everything they do is supervised fully. If you would prefer our students not to be present during the planning and treatment, please let a member of staff know when you attend for your initial planning appointment.
Other members of staff
During your treatment course you may meet our receptionists, dietitians, oncology health staff, patient services staff, porters and volunteer workers. All are working together to provide you with a high quality of healthcare.
Additional Information
You will be offered further leaflets which have more specific information about the area that you will be having treated.
Should you require further advice on the issues contained in this leaflet, please do not hesitate to contact the Radiotherapy Department or the Radiotherapy Information and Support Team on telephone number (01482) 461206 or by email  hyp-tr.radiotherapy.information@nhs.net
Useful contact numbers
Please note below contact details of useful organisations that provide information about cancer including radiotherapy treatments:
Macmillan Cancer Support
Provide information from specialist nurses on all aspects of cancer and its treatment and on the practical and emotional aspects of living with cancer.
Freephone help line: 0800 8001234 Monday – Friday between 9:00am – 8:00pm Online: www.macmillan.org.uk
Write to: 3 Bath Place, Rivington Street, London, EC2A 3JR
General Advice and Consent

Most of your questions should have been answered by this leaflet, but remember that this is only a starting point for discussion with the healthcare team.

Consent to treatment

Before any doctor, nurse or therapist examines or treats you, they must seek your consent or permission. In order to make a decision, you need to have information from health professionals about the treatment or investigation which is being offered to you. You should always ask them more questions if you do not understand or if you want more information.

The information you receive should be about your condition, the alternatives available to you, and whether it carries risks as well as the benefits. What is important is that your consent is genuine or valid. That means:

you must be able to give your consent
you must be given enough information to enable you to make a decision
you must be acting under your own free will and not under the strong influence of another person

Information about you

We collect and use your information to provide you with care and treatment. As part of your care, information about you will be shared between members of a healthcare team, some of whom you may not meet. Your information may also be used to help train staff, to check the quality of our care, to manage and plan the health service, and to help with research. Wherever possible we use anonymous data.

We may pass on relevant information to other health organisations that provide you with care. All information is treated as strictly confidential and is not given to anyone who does not need it. If you have any concerns please ask your doctor, or the person caring for you.

Under the General Data Protection Regulation and the Data Protection Act 2018 we are responsible for maintaining the confidentiality of any information we hold about you. For further information visit the following page: Confidential Information about You.

If you or your carer needs information about your health and wellbeing and about your care and treatment in a different format, such as large print, braille or audio, due to disability, impairment or sensory loss, please advise a member of staff and this can be arranged.