Reference Number: HEY-841/2019
Departments: Major Trauma
Last Updated: 13 March 2019
---
You can translate this page by using the headphones button (bottom left) and then select the globe to change the language of the page. Need some help choosing a language? Please refer to Browsealoud Supported Voices and Languages.
---

Introduction to Hull Royal Infirmary
Welcome to Hull Royal Infirmary Major Trauma Centre
We hope that this leaflet provides you with information necessary for you, or your relatives during the stay at Hull Royal Infirmary. If you require further information on topics that are not covered in this leaflet, please do not hesitate in speaking to a member of staff in the department of your inpatient stay.
Please be advised that if you are making a telephone enquiry to the hospital to discuss your relative, only limited information can be passed over the telephone due to the General Data Protection Regulation and the Data Protection Act (2018).
The General Data Protection Regulation and the Data Protection Act (2018) ensures that patient confidentiality is paramount and therefore protection of confidential information is maintained.
What is major trauma?
Major trauma is a term used to describe any physical injury which can have potential serious complications. A typical example of this term would be an individual involved in a road traffic collision (RTC) with complex injuries and needs; a fall from a significant height or an assault causing serious injuries.
Due to the variable nature of this term, major trauma can be further categorised to describe what type of injury you or your relative has suffered such as:
Blunt force trauma – a non-penetrating external or internal injury caused by blunt force
Penetrating trauma – an injury that penetrates through the skin to a space or organ within the body
Orthopaedic trauma – injuries involving the musculoskeletal system
Complex trauma – multiple injuries requiring multiple speciality team involvement
Burn injuries – moderate to severe burns covering more than 20% of a total body surface area
What is a Major Trauma Centre?
Although all hospitals can provide a range of treatments and cares, it is of utmost importance to provide major trauma patients with specialised care 24 hours a day. These hospitals are known as Major Trauma Centres (MTCs) and can provide the necessary multi-speciality care required for individuals.
Within a Major Trauma Centre, medical interventions can be found from specialities such as Emergency Medicine, Intensive Care, Orthopaedics, Neurosurgery, General Surgery, Vascular Surgery, Plastic Surgery, Interventional Radiology and Rehabilitation Medicine.
Across England there are 8 Adult Major Trauma Centres, of which Hull Royal Infirmary is one. There are a further 12 Adult and Paediatric Centres, 4 Paediatric Centres and 2 Collaborative Centres.
Each Major Trauma Centre is affiliated with its own Trauma Units. When combined, these form a Major Trauma Network. Our network is known as the North Yorkshire and Humberside Operational Delivery Network and comprises of:
Hull Royal Infirmary
Diana Princess of Wales Hospital (DPOW) — Grimsby
Scunthorpe General Hospital
York Teaching Hospital
Scarborough Hospital
Our Major Trauma Centre and Trauma Unit Network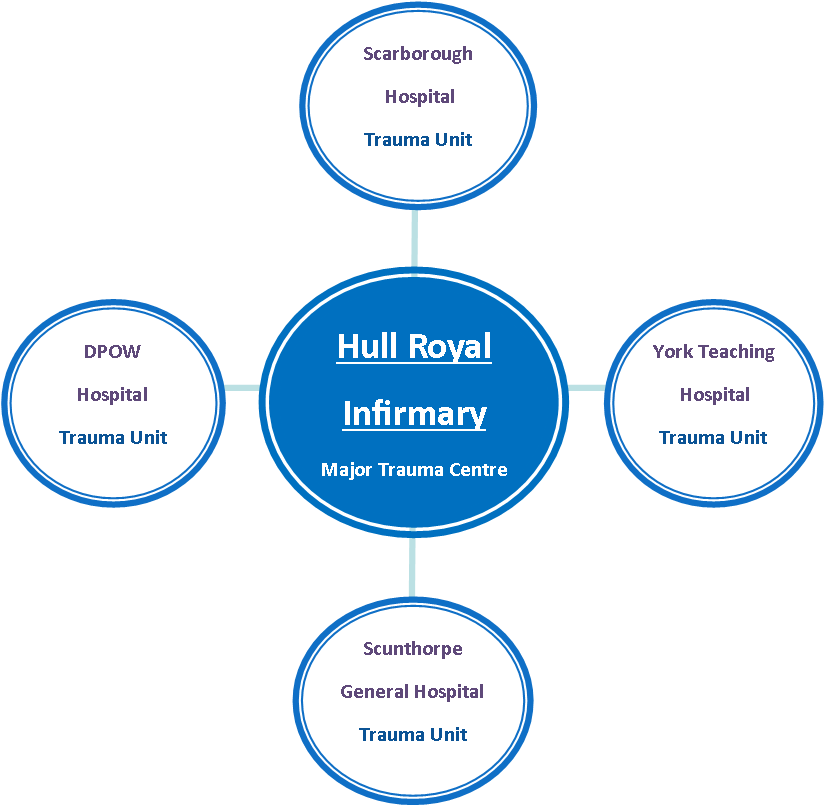 Above: Network of Major Trauma Units and the Major Trauma Centre for North Yorkshire and Humberside. Please note that Minor Injuries Units are not part of the Major Trauma Network, but will transfer any patient to the appropriate hospital should a patient self-present.
Why have I been admitted to Hull Royal Infirmary?
Each Major Trauma Centre and Trauma Unit work very closely with their pre-hospital care teams. Within our network, we engage with the following:
British Association for Immediate Care (BASICS)
East Midlands Ambulance Service
HM Coastguard Search and Rescue
Lincolnshire and Nottingham Air Ambulance
The Air Ambulance Service
Yorkshire Air Ambulance
Yorkshire Ambulance Service
On attending an incident, the pre-hospital teams conduct a multi-factorial assessment which evaluates the current and potential risks to the patient. The assessment includes identifying immediate issues, such as obvious injuries that need instant attention. The crew will then take clinical observations, consisting of heart rate and rhythm, blood pressure, oxygen saturations and conscious level. If the crew are concerned with any of these measures, or the patient fulfils specific criteria set by NHS England, the crew will pre-alert the Major Trauma Centre within that region.
You may find that you/your relative were taken to a Trauma Unit hospital before arriving at Hull Royal Infirmary. Depending on the severity of the injuries sustained, the ultimate aim may be to transport the patient to the Major Trauma Centre as quickly and as safely as possible. However, if the crew cannot make this journey within 60 minutes and the patient shows signs that life-threatening treatment is required to make the journey, then the patient is taken to the nearest Trauma Unit to stabilise them before safely continuing the journey.
What happens on my arrival to Hull Royal Infirmary?
As previously mentioned, the Pre-Hospital Team will alert the Emergency Department staff that a patient is on their way who fulfils criteria set on the Major Trauma Triage Tool.
Once this alert is received in the Emergency Department, a Trauma Call is activated to the Trauma Team within the hospital. The Trauma Team consist of:
Anaesthetist and Airways Assistant
Emergency Department Consultant
Emergency Department Senior Doctor
Emergency Department Nurse
General Surgeon
Major Trauma Coordinator
Orthopaedic Surgeon
Radiologist
There are occasions whereby more than one doctor from each speciality attend the call; this is perfectly normal and is controlled by the Trauma
team leader.
The aim of the Trauma team activation is that all main specialities are
present for the arrival, so that we can provide the patient with the best care and treatment as quickly as possible.
The immediate investigations and treatment the patient receives will depend on the injuries and their severity. Each patient will receive what we call a Primary and Secondary Survey. These are explained in the section below.
The Primary and Secondary Survey
The Primary Survey is a quick and efficient assessment completed by senior medical staff, aiming to identify any injuries that are life-threatening or of concern. Anything identified at this stage is immediately treated. Examples of this may be that a chest drain is inserted to allow adequate breathing, a blood transfusion may be swiftly administered in order to maintain an adequate blood pressure, or a breathing tube may be placed if there is a low conscious level.
Within this period other members of the team are jointly working alongside each other to gain Intravenous access (a cannula into the vein) to administer necessary fluid, blood or medication. Blood samples will be sent and arrangements for further investigations are commenced here.
Although the Radiology team are aware of the patient's imminent arrival, Computerised Tomography (CT) Scans, X-rays and Ultrasound Scans are examinations which will be requested at this stage. If appropriate, and as soon as the patient is stable enough to transfer to the CT scanner, the team escort the patient for their necessary scan(s). Specialist Radiologists begin to view the images to identify any injuries sustained and their severity, enabling the team to plan ahead.
The Secondary Survey takes place once all immediate risks are being managed. This assessment checks all of your systems from head-to-toe in order to identify anything that could have been missed, or that was not deemed life-threatening during the Primary Survey. An example is to X-ray a fractured limb and place this within a cast, or checking if there is sensory loss to limbs should there be a neck or back injury. If required, further specialist teams are called at this point for their assessment. If admission is necessary, a speciality team is allocated to you in the Emergency Department.
What happens next?
This part really depends on what injuries the patient has sustained and to what extent, although ultimately all options have the same goal.
From admission to discharge, we aim to deliver the best care and treatment in the most timely and effective manner.
It is quite rare that an individual who triggers a Trauma Call is discharged home from the Emergency Department, but this does happen from time to time. If the injuries require further treatment or you/your relative's condition is for further observation, then there are three main areas from the Emergency Department; Theatre, the Intensive Care Unit or the Major Trauma Ward. The Emergency Department staff will be able to give you/your relatives an idea of where the admission is likely to be, or where the patient will go to after theatre.
It is sometimes necessary that once a patient has been assessed by the Trauma Team, they are required to transfer to Castle Hill Hospital for specialist Cardiothoracic treatment and surgery. Castle Hill Hospital is our second acute centre within the Hull University Teaching Hospitals NHS Trust.
All relevant ward contact numbers and visiting times have been provided for you later in this leaflet.
Throughout the in-patient stay, overall medical care is provided by the Consultant-Led Speciality teams, and all patients are monitored by both our Major Trauma Consultant and two Major Trauma Coordinators. The Consultant and coordinators will liaise with the appropriate wards and specialities to help support the recovery of you/your relative.
The Multi-Disciplinary Team involvement
Alongside the Medical and Nursing teams, an array of professionals work together in order to offer a thorough and appropriate care management pathway. The following list highlights just some of the professionals who work together in providing a Multi-Disciplinary Team:
Acute Pain Services
Clinical Pharmacists
Dieticians
Mental Health and Psychological Medicine Teams
Occupational Therapists
Phlebotomists
Physiotherapists
Rehabilitation Coordinator
Social Workers
Specialist Nursing groups
Throughout the hospital stay, patients may be referred to one, or many of our specialist professionals within the Multi-Disciplinary Team. As a service we do not only look at the current medical circumstances of an individual, but that of potential discharge problems. We aim to provide both the patients and their relatives with the most appropriate support for going home.
If you feel that you/your relative need any support or foresee potential issues on discharge, please inform the staff as soon as possible.
Rehabilitation and preparing to discharge
Aside from daily medical reviews, the Major Trauma Consultant, Coordinators and Nursing staff meet with both the Physiotherapy and Occupational Therapy teams on the Major Trauma Ward to discuss each patient's needs.
If a Major Trauma patient is not on the Major Trauma Ward, for instance, if still in Intensive Care, this does not mean that their needs are not assessed. Our Multi-Disciplinary team will identify each appropriate individual and visit them wherever they are an inpatient; the process remains the same.
Rehabilitation is a key aspect in any patient's progress, but especially those who have suffered Major Trauma. From the initial admission, the team plan the needs of each individual case for what will be required in their inpatient stay and in their discharge period. This is known as a Rehabilitation Prescription.
In rehabilitation, each identified patient is assessed for physical, mobility, sensory and psychological needs. If an individual is found to have an issue with any element, a plan is then implemented to aid them in achieving the best possible outcome. Tasks such as referring for counselling, arranging specialist assessments or ordering specific equipment for the rehabilitation phase in hospital and home are those regularly carried out. We aim to help the patient and their relatives in improving recovery.
When an individual is improving well, they may be deemed "medically fit for discharge". We know that some patients require extended periods of rehabilitation and are not quite ready to be discharged home at this point. For both the patient and their family, our aim is to transfer each patient to their local hospital to continue the recovery journey and improve wellbeing as a whole.
Food and amenities
Food and drink is available from the restaurant on the second floor of the Tower Block, the café found near the entrance on the ground floor, or the café within Women and Children's Hospital. Opening times are below:
Kingston Restaurant (second floor)
Monday to Sunday – 07:30 to 16:30
Breakfast served – 07:30 to 11:00
Lunch served – 11:30 to 14:00
Cold food served – 14:00 to 16:00
Tower Block Ground Floor Pod Café
Monday to Sunday – 07:30 to 20:00
Breakfast – 07:30 to 15:00
Hot food – 15:30 to 19:00
The Orchard Café (Women and Children's Building)
Monday to Sunday – 08:30 to 16:00
Mixture of breakfast sandwiches and hot food
Please be aware that there are vending machines in the Kingston Restaurant that can be used 24 hours a day serving both hot and cold food
Retail, Pharmacy and Chaplaincy
W H Smith have a shop at the front of the Main Building and opens at the following times:
Monday to Friday – 07:00 to 20:00
Saturdays – 08:30 to 18:30
Sundays – 09:30 to 16:30 (Hours subject to change)
Telephone number – (01482) 585768
A public Pharmacy is also situated on the ground floor within the entrance reception area:
Monday to Friday – 08:45 to 17:30
Saturdays – 10:00 to 14:00
Sundays – Closed
A Chaplaincy service is available 24 hours a day:
If you feel that as a patient or a relative you would like to see a chaplain, please inform the staff who can contact the team on your behalf. Alternatively, you can ring the team within office hours on telephone number (01482) 675966, or via switchboard number (01482) 875875 out of hours.
A chapel is situated on the ground floor at Hull Royal Infirmary and near to Ward 11 at Castle Hill Hospital should you wish to visit.
Whatever your religion, we can help find you a faith-specific representative to talk to.
Accommodation
It may be necessary for relatives to stay close to the hospital and we recognise that some may have travelled a long distance to Hull Royal Infirmary. Therefore, below is a list of some local hotels and Bed and Breakfasts either within walking distance or a short car drive from the hospital.
Please note that in providing these details the trust is not making a recommendation and that other venues are available.
Should you need to stay nearby to Castle Hill Hospital, the following hotels below are a short drive away.
To help with costs, we have managed to secure discounts at particular hotels. Please ask us for further details.
Please Note: Limited accommodation is available at Hull Royal Infirmary in exceptional circumstances
Contact numbers and visiting times
Below are some useful telephone numbers that will take you directly where you need to be:
Hull Royal Infirmary and Castle Hill Hospital Switchboard – (01482) 875875
Major Trauma Ward (based on Ward 40) – (01482) 675041 or 675040
Intensive Care 1 at Hull Royal Infirmary – (01482) 674231 or 675030
Intensive Care 2 at Hull Royal Infirmary – (01482) 675802 or 675803
Intensive Care 1 at Castle Hill Hospital – (01482) 461511
Intensive Care 2 at Castle Hill Hospital – (01482) 623179
Patient Advice Liaison Service (PALS) – (01482) 623065
Ward visiting times:
Major Trauma Ward (on Ward 40) – 14:30 to 16:30 and 19:00 to 20:00
Intensive Care Units 1 and 2 at Hull Royal Infirmary – 12:00 to 22:00
(Please note that visitors will have to wait in the waiting room during the nurses handover period)
Intensive Care Units 1 and 2 at Castle Hill Hospital – 12:00 to 22:00
(Please note that visitors will have to wait in the waiting room during the nurses handover period)
We advise that you call the ward prior to visiting to confirm times, as these are subject to change
Note: Due to some relatives travelling afar, it may be possible to extend your visiting hours. Please ring and ask the Nurse in Charge before your departure from home.
Travelling to Hull Royal Infirmary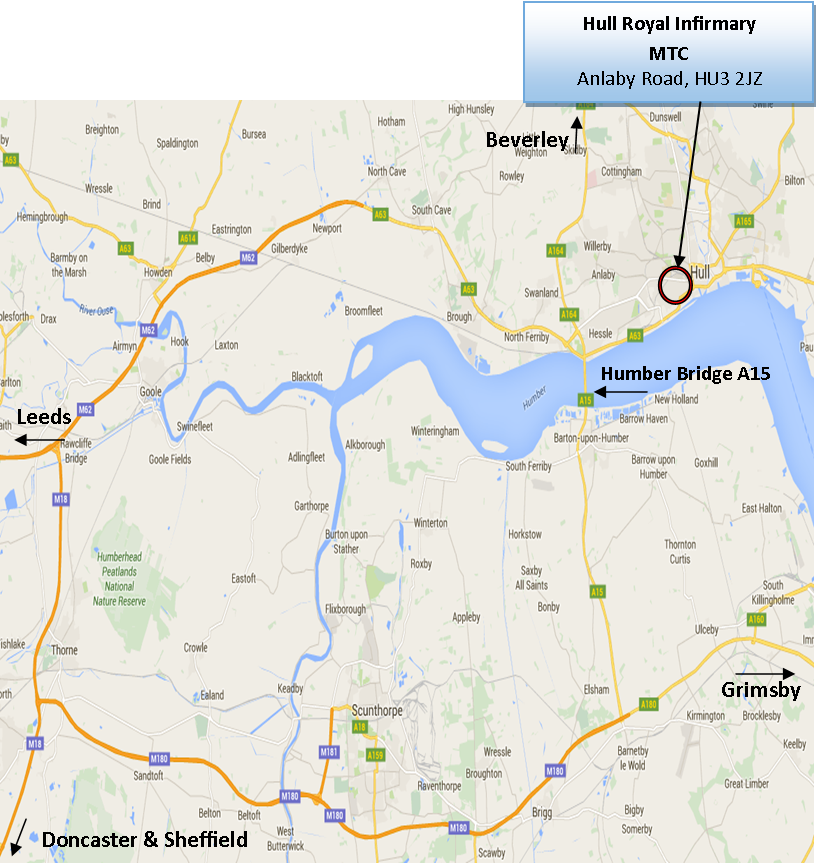 Car parking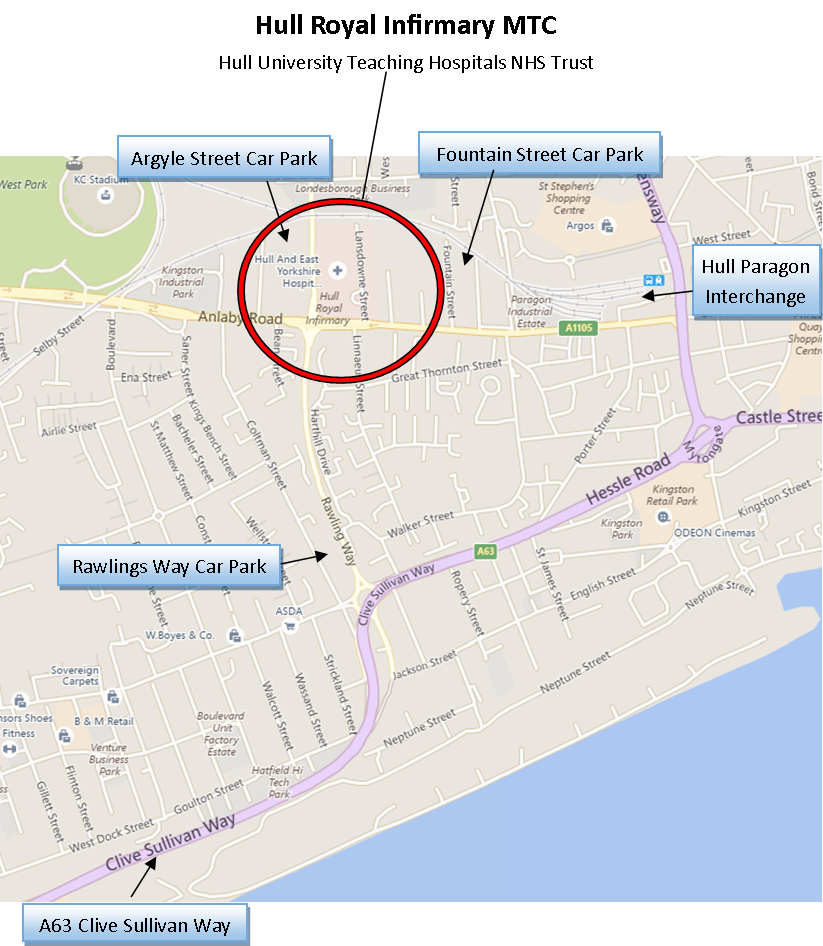 Car parking is available at our Argyle Street Car Park, working on a Pay and Display arrangement. Current prices are listed below, but please note these may be subject to change.
£2.00 for up to 1 hour
£3.00 for 1 to 2 hours
£5.00 for over 2 hours. (Maximum stay 24 hours)
£10.00 Weekly parking pass (see below)
£20.00 Monthly parking pass (see below)
We understand that this car park is incredibly busy and do have private company car parks situated a few minutes walk from Hull Royal Infirmary. As shown on the map, Fountain Street and Rawlings Way car parks are conveniently situated nearby and reflect very similar prices to that of Argyle Street.
Another option if you are travelling from west of the A63 is the Priory Park, Park and Ride facility in Hessle. Situated a short drive from the hospital, you can park and travel to Hull Royal Infirmary for a small charge. Please note that buses run Monday to Friday from 07:00 to 18:35, and Saturday from 07:00 to 18:00. Enter postcode HU4 7DY into your navigation device.
We understand that it may become expensive when visiting your relative in hospital. The General Office can provide relatives with both a weekly and a monthly car parking pass for the use in Argyle Street Car Park. The General Office is located on the 2nd floor (next to the Kingston Restaurant) and can be contacted directly on telephone number (01482) 674218.
Patient Advice Liaison Service (PALS) and Complaints Team
We hope that both patients and relatives encounter no problems during their hospital stay. We aim to deliver the best care available and maintain as good a relationship as possible with both the patient and their relatives.
If you feel that an issue has occurred or you have a concern, please raise this with the ward staff who will be able to help you. Should your query and issue remain unresolved, then you have the right to contact Patient Advice Liaison Service:
The Patient Advice and Liaison Service and Complaints Team work together in order to resolve concerns, provide answers to queries and to pass on compliments about the Trust.
Version and edit information
Hull Royal Infirmary Major Trauma Centre Leaflet
Created by Leah Dobson – Major Trauma Coordinator.
Arranged and edited by Alex Bampton – Admin Apprentice.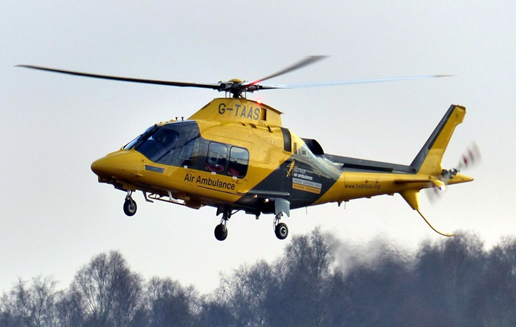 Picture: Courtesy of the Air Ambulance Service.
General Advice and Consent

Most of your questions should have been answered by this leaflet, but remember that this is only a starting point for discussion with the healthcare team.

Consent to treatment

Before any doctor, nurse or therapist examines or treats you, they must seek your consent or permission. In order to make a decision, you need to have information from health professionals about the treatment or investigation which is being offered to you. You should always ask them more questions if you do not understand or if you want more information.

The information you receive should be about your condition, the alternatives available to you, and whether it carries risks as well as the benefits. What is important is that your consent is genuine or valid. That means:

you must be able to give your consent
you must be given enough information to enable you to make a decision
you must be acting under your own free will and not under the strong influence of another person

Information about you

We collect and use your information to provide you with care and treatment. As part of your care, information about you will be shared between members of a healthcare team, some of whom you may not meet. Your information may also be used to help train staff, to check the quality of our care, to manage and plan the health service, and to help with research. Wherever possible we use anonymous data.

We may pass on relevant information to other health organisations that provide you with care. All information is treated as strictly confidential and is not given to anyone who does not need it. If you have any concerns please ask your doctor, or the person caring for you.

Under the General Data Protection Regulation and the Data Protection Act 2018 we are responsible for maintaining the confidentiality of any information we hold about you. For further information visit the following page: Confidential Information about You.

If you or your carer needs information about your health and wellbeing and about your care and treatment in a different format, such as large print, braille or audio, due to disability, impairment or sensory loss, please advise a member of staff and this can be arranged.