Reference Number: HEY-1311-2022
Departments:
Last Updated: 1 July 2022
---
You can translate this page by using the headphones button (bottom left) and then select the globe to change the language of the page. Need some help choosing a language? Please refer to Browsealoud Supported Voices and Languages.
---
Introduction
This booklet has been produced to give you important information for you regarding your care and treatment from the Home Ventilation Service.  Most of your questions should be answered by this booklet- please keep it in a safe place as you may need to refer back to it in the future.  It is not intended to replace the discussion between you and your Doctor or Specialist Nurse, but may act as a starting point for discussion.   If after reading it you have any concerns or require further explanation, please discuss this with a member of the Home Ventilation team.
What is Cough Assist?
The equipment used is a pressure controlled, mechanical insufflator / exsufflator cough assist machine. It assists in the mobilisation and clearance of chest secretions by inflating the lungs with a positive airway pressure then providing a rapid change to negative pressure to assist the patient's cough.
Ambient air is compressed by a turbine and delivered to the patient through a close fitting facemask, mouthpiece or a tracheostomy.
The Cough Assist Device may be used in hospital or homecare environment.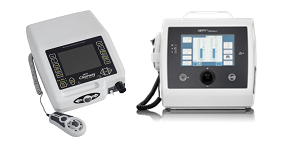 Why do I need Cough Assist?
The Cough Assist is typically used in patients who are unable to cough and effectively clear secretions as a result of neuromuscular disorders, spinal cord injuries or severe fatigue associated with lung disease.
Secretions will usually be cleared to the mouth so Yankeur suction may be required.
How do I use the Cough Assist?
THE COUGH ASSIST SHOULD BE USED EVERY MORNING AND EVENING – THIS ENSURES THE LUNGS ARE PROPERLY INFLATED.
It can be used more often throughout the day if you have a chest infection or very productive secretions. 
The machine works by inflating your lungs with a positive airway pressure then providing a rapid change to a negative pressure enabling you to cough and mobilise secretions. The program will be set by the Home Ventilation Nurse and should not be adjusted.
If the sputum is in your mouth this can be removed with a tissue or suction machine.
How to use
Make sure the tubing is correctly attached to the machine, filter and mask.
It is important that the filter is in place all the time as this stops potential contamination of the machine.
Switch the machine on (Power button).
Make sure you are comfortable and in a good position (sitting in a chair or in bed at least 45 degrees).
Ensure your head is well supported.
Place the mask on your face ensuring that you have a good seal Press the Start/Stop button.
The machine will start automatically.
There will be a breath in (the number of breaths will depend on the individual setting usually between 1-5) then a negative breath out. Keep the mask securely on your face- If good mask seal is not achieved, the machine will not achieve its set pressure.
When the cycle is completed the machine will automatically stop. If you need to clear secretions you can manually press the Start/Stop
If sputum falls into the mask, stop therapy to avoid pushing sputum back into the mouth. Wipe the mask clean and then restart to complete the number of breaths.
You will see on the screen a graph that shows the breath in and out.
When therapy is completed turn the machine OFF using the Power button.
If the mask has been contaminated with sputum after you have completed the cycle wash out with warm soapy water only and let air dry. If the filter has been contaminated change the filter when therapy is completed.
Change the filter every day if you have a chest infection, otherwise change once a month.
Change tubing circuit every 3 months.
NEVER remove the mask on the breath out. Only remove the mask on the positive breath in or during the Pause between breaths. The only time you need to remove mask immediately during therapy is if you start to vomit. 
If you have a chest infection and you are having problems with clearing secretions, you may need to use Cough Assist more frequently; you can repeat the number of cycles. Please remember that this will give the lungs quite a workout, so do not let your muscles become too tired. 
Cough Assist is used to help to clear secretions and ventilate the lungs as a form of chest physiotherapy. 
IT IS DANGEROUS TO USE THE COUGH ASSIST WHEN CHOKING. YOU MAY CAUSE THE OBJECT TO MOVE FURTHER INTO THE AIRWAY CAUSING A SERIOUS OBSTRUCTION AND EMERGENCY SITUATION.
Care of Equipment
Daily cleaning – each morning use a clean damp cloth to wipe around the mask to remove any oil or saliva build up. Leave the mask to air dry, ensure it is not in direct sunlight and do not place near a source of direct heat.
Weekly cleaning or if contaminated – Hand wash your mask in a bowl of warm soapy water (use own brand washing up liquid). Rinse the soap from the mask and leave to air dry, ensure it is not in direct sunlight and do not place near a source of direct heat. Do not use a towel to dry as this will cause a buildup of static.
Filters – change once a month (unless you have a chest infection then change daily)
Tubing – change every 3 months 
DO NOT USE ANY GELS, WIPES OR ANY OTHER CHEMICALS ON THE MASK. These can cause the mask to perish and cause damage affecting its use.
Your Cough Assist will have a green label on the side to say when its next service is due. Please inform the Nurse when this date is approaching so that a replacement machine can be left for you to collect or be exchanged at your next clinic appointment with the Specialist Nurse.
Cleaning – wipe the outside of the machine with a damp cloth. Ensure the machine is unplugged from the mains electric prior to cleaning. Do not immerse the machine in liquid. Most machines have a simple dust filter covering the air inlet- these should be inspected weekly and changed when contaminated. The filter will be checked when your machine is serviced, but if it looks especially dirty please contact the Home Ventilation Team for a replacement.
The Cough Assist requires mains electricity and should be plugged in before attempting to use. The Power LED will be illuminated when connected to an electricity supply.
Cautions
The functioning of the machine can be adversely affected by electromagnetic interference e.g. mobile telephone operation may adversely affect the operation of the machine.
If the machine is moved from cold surroundings into a well-heated room, condensation may form. Do not operate the unit for at least 2 hours to allow any condensation to evaporate.
Do not operate the machine in direct sunlight.
Avoid places where there is excessive humidity or dust, which may cause damage to internal parts.
Keep the machine away from extreme direct heat, such as fires, heating radiators etc., and always allow a 100mm (4.0in) air space around the unit when in use.
If liquids are allowed to enter the unit, serious damage could occur. If you spill any liquid into the machine, contact the Home Ventilation Team.
Do not place any form of cover over the machine, especially near the air intake.
Adding extra components to the breathing circuit may cause the pressure, during expiration to increase.
If intending to transport the device or use in multiple locations the device should be placed in the mobility bag to provide protection.
Clinic Appointments
You will be sent clinic appointments with the Home Ventilation Nursing Team as required. Your clinical condition and response to treatment requires monitoring while you are using Cough Assist. By consenting to start treatment you are also agreeing to attend these appointments. Failure to monitor effectiveness of treatment may be detrimental and affect your health.
During your appointment the Nurse will check your Cough Assist settings and filters, if a service is due your machine will be exchanged – please ensure you bring all your machines with you.  You may have a Capillary Blood Gas sample taken to check the effectiveness of your treatment and to identify if any adjustments to your settings are required. You may also be given an Oximeter for overnight monitoring at home – the Nurse will explain how to use this equipment; you will be asked to return this the next morning for the team to download the results.
This appointment is a good opportunity for you to ask any questions or raise concerns about your treatment with the Nursing team caring for you.
If you are unable to attend your clinic appointments please contact the Home Ventilation Team as soon as possible so that we can rearrange this to a more convenient time.
Contact Information & Hours of Service
The Home Ventilation Service operates from Monday to Friday 08.00 to 16.00 (excluding Bank Holidays).
For advice or information regarding your Home Ventilation service contact us on
Tel: (01482) 624130 (24 hour answering machine)
email hyp-tr.HUTH.HMVS@nhs.net
If you require emergency advice out of working hours please contact the Respiratory Support Unit at Hull Royal Infirmary- 01482 875875.
General Advice and Consent

Most of your questions should have been answered by this leaflet, but remember that this is only a starting point for discussion with the healthcare team.

Consent to treatment

Before any doctor, nurse or therapist examines or treats you, they must seek your consent or permission. In order to make a decision, you need to have information from health professionals about the treatment or investigation which is being offered to you. You should always ask them more questions if you do not understand or if you want more information.

The information you receive should be about your condition, the alternatives available to you, and whether it carries risks as well as the benefits. What is important is that your consent is genuine or valid. That means:

you must be able to give your consent
you must be given enough information to enable you to make a decision
you must be acting under your own free will and not under the strong influence of another person

Information about you

We collect and use your information to provide you with care and treatment. As part of your care, information about you will be shared between members of a healthcare team, some of whom you may not meet. Your information may also be used to help train staff, to check the quality of our care, to manage and plan the health service, and to help with research. Wherever possible we use anonymous data.

We may pass on relevant information to other health organisations that provide you with care. All information is treated as strictly confidential and is not given to anyone who does not need it. If you have any concerns please ask your doctor, or the person caring for you.

Under the General Data Protection Regulation and the Data Protection Act 2018 we are responsible for maintaining the confidentiality of any information we hold about you. For further information visit the following page: Confidential Information about You.

If you or your carer needs information about your health and wellbeing and about your care and treatment in a different format, such as large print, braille or audio, due to disability, impairment or sensory loss, please advise a member of staff and this can be arranged.