Reference Number: HEY1080/2019
Departments: Radiotherapy
Last Updated: 18 October 2019
---
You can translate this page by using the headphones button (bottom left) and then select the globe to change the language of the page. Need some help choosing a language? Please refer to Browsealoud Supported Voices and Languages.
---
Introduction
This leaflet has been produced to give you general information about a short course of radiotherapy to the whole brain, in addition to the information you will receive from your Clinical Oncologist.  Most of your questions should be answered in this booklet. It is not intended to replace the discussion between you and your doctor, but may act as a starting point for discussion. If after reading it you have any concerns or require further explanation, please discuss this with a member of the healthcare team.
What is radiotherapy?
Radiotherapy is the use of high energy X-rays and other types of X-rays (e.g. electrons), to treat cancer. Radiotherapy works by causing chemical and physical damage to the cancer cells in the treatment area. Although some normal healthy cells are also affected during radiotherapy, these are able to recover and repair themselves overtime.
Radiotherapy can be used for a number of different intended benefits, for example, radiotherapy can be used as a curative form of treatment following surgery, or used as symptom control.  Radiotherapy does not make you radioactive and you are safe to be around all people including children whilst you are on treatment.
The Clinical Oncology Consultant you are under will have already discussed the treatment, side effects and gained your consent for you to proceed with your radiotherapy treatment.  There are several stages prior to you actually commencing your treatment.
Planning your treatment
Your first appointment with the radiotherapy department will be for an individual mask, (Fig. 1), to be made and for a CT scan (Fig. 2).  A radiographer will meet you to discuss the procedure and gain your consent at the start of your appointment. Your mask will be made of a special plastic that becomes flexible when warm. Whilst some may find this procedure uncomfortable, your mask is very important as it will be used everyday to keep you in the correct position for your treatment. It also avoids the need for drawing marks on your skin.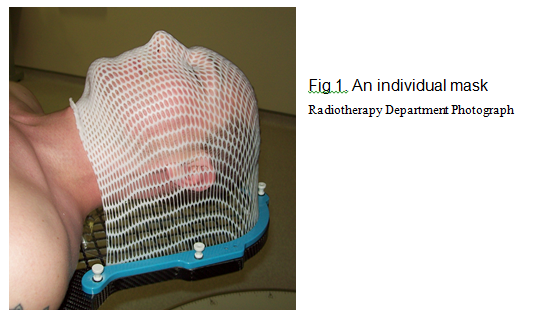 If you wear dentures or hearing aids it is likely you will need to remove them. A radiographer and a Treatment Planner will be present and they will explain the procedure before your mask is made.  Please make them aware of any questions or worries you have.
It will take typically 15-20 minutes to make your mask, after which you will have a CT scan (Fig 2) in your mask. This will typically take around 10 minutes.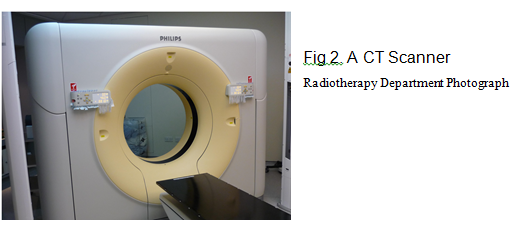 Using your CT scan Treatment Planners will work with your Oncology Consultant to create a radiotherapy treatment plan unique to you. For more information please refer to the leaflet 'Introduction to Radiotherapy CT Planning'.
Radiotherapy Treatment
Your radiotherapy treatment will be carried out by a team of Therapy Radiographers. On your first day a radiographer will explain the procedure to you and you will be invited to ask any questions you may have. The radiographers will place your mask on you and will check that your position is correct for treatment.
Radiotherapy is delivered using a machine called a Linear Accelerator or 'Linac' for short.  The Linac will move around you but it will not touch you. The radiographers will leave the treatment room whilst your radiotherapy is being delivered but they will be able to see you on a camera so if you need their assistance you can raise your hand. You will not see or feel anything when the treatment is delivered however you will hear buzzing and clicking noises from the machine.

The treatment can take between 10-15 minutes to position and deliver. Everyday images will be taken using the same machine to check your position. You may be aware of extra equipment to each side of you (this will not touch you).
Reviews during Treatment
Your treatment radiographers and other members of the team will review you regularly throughout your treatment. Should you have any problems or queries please speak to your treatment radiographers who will offer advice or refer you to another member of the healthcare team if necessary.
What side effects can I expect?
Radiotherapy also affects the normal healthy cells in the treated area. These cells are able to repair and recover from radiotherapy however this produces side effects. These may not develop straight away when starting your radiotherapy but usually build up gradually throughout your treatment.
You will be prescribed medication to help ease the symptoms of pain and discomfort caused by radiotherapy.  These side effects depend on where in the head and neck you are having treatment and can include:
Worsening of symptoms
Radiotherapy can cause swelling of the brain and this can cause symptoms to become slightly worse. These may include headaches, weakness of the limbs, increase in seizures, speech or memory problems.
Please speak to the radiographers, doctors or nurses as soon as you notice any change in symptoms.
Tiredness
You are likely to feel more tired during your radiotherapy. This is a common side effect of the radiotherapy treatment however travelling to and from the department can contribute to this. To help with fatigue it is important to listen to your body. It may help if you can plan your day so you have time to rest and do things that are important to you when you feel least tired.  However you will need to plan your day around your treatment.
You may need support to help with your everyday activities such as shopping, laundry and meal preparation.  Family, friends and neighbors are often glad of the chance to lend a helping hand.
Skin Soreness
The skin in the treated area will gradually become dry and slightly reddened, very much like sunburn. It can even peel or weep. Your healthcare team will advise you on how to take care of your skin. If you have a beard or moustache you may be required to remove it before your mask is made.
Hair loss
Hair roots directly within the treatment area will be damaged by radiotherapy causing the hair to fall out. Hair loss is usually temporary and it will grow back; however it may not be as thick as before. The time it takes and the way it grows back depends on the dose of radiotherapy you have received.
Hearing Problems
If your ear is included in the treated area your hearing may be affected by the radiotherapy treatment. This is due to swelling inside your ear and will return to normal a few weeks after treatment has finished. Inside the ear may feel dry, sore and/or itchy. This is a normal reaction which will settle down after treatment has finished.
Should you require further advice on the issues contained in this leaflet, please do not hesitate to contact the Radiotherapy Patient Information Telephone number:  (01482) 461206
General Advice
Most of your questions should have been answered by this leaflet, but remember that this is only a starting point for discussion with the healthcare team.
There are a number of sources for advice and support including:
Clinical Oncologist
This is your doctor who is an expert in radiotherapy and will be managing your treatment. They will take responsibility for deciding and recommending what dose and how many treatments will be best for you and oversee the planning of your treatment. You may see them or a member of their team at your initial planning appointment and you can see them during your treatment if you have any problems or queries.
Radiographers
Therapy Radiographers are specialist healthcare professionals who are trained to plan and deliver radiotherapy treatment and to use the specialised equipment. You will usually see the same team of radiographers on a daily basis and they can help you with any questions or problems or refer you to another member of the team as necessary.
Radiotherapy Support Team
The nursing team consists of Radiotherapy Nurse Practitioners, experienced Registered Nurses and Clinical Support Workers. The team actively supports all patients receiving radiotherapy treatment. They will make appropriate referrals and offer advice on any problems patients and their families may have.
Oncology Health Centre
This informal drop-in centre is for patients and their families and it is located near the main reception of the Queen's Centre. Staff in the centre have been trained to teach various self-help techniques such as relaxation therapy and guided imagery.
Macmillan Cancer Support
Macmillan Cancer Support provide information from specialist nurses on all aspects of cancer and its treatment and on the practical and emotional aspects of living with cancer.
You can drop into the Macmillan Cancer Information Centre at the Queen's Centre or call them on (01482) 461154 (Monday – Friday 9:00am to 5:00pm)
Alternatively free-phone the national help line 0808 808 0000 (Monday – Friday 9:00am to 8:00pm)
Online: http://www.macmillan.org.uk
General Advice and Consent

Most of your questions should have been answered by this leaflet, but remember that this is only a starting point for discussion with the healthcare team.

Consent to treatment

Before any doctor, nurse or therapist examines or treats you, they must seek your consent or permission. In order to make a decision, you need to have information from health professionals about the treatment or investigation which is being offered to you. You should always ask them more questions if you do not understand or if you want more information.

The information you receive should be about your condition, the alternatives available to you, and whether it carries risks as well as the benefits. What is important is that your consent is genuine or valid. That means:

you must be able to give your consent
you must be given enough information to enable you to make a decision
you must be acting under your own free will and not under the strong influence of another person

Information about you

We collect and use your information to provide you with care and treatment. As part of your care, information about you will be shared between members of a healthcare team, some of whom you may not meet. Your information may also be used to help train staff, to check the quality of our care, to manage and plan the health service, and to help with research. Wherever possible we use anonymous data.

We may pass on relevant information to other health organisations that provide you with care. All information is treated as strictly confidential and is not given to anyone who does not need it. If you have any concerns please ask your doctor, or the person caring for you.

Under the General Data Protection Regulation and the Data Protection Act 2018 we are responsible for maintaining the confidentiality of any information we hold about you. For further information visit the following page: Confidential Information about You.

If you or your carer needs information about your health and wellbeing and about your care and treatment in a different format, such as large print, braille or audio, due to disability, impairment or sensory loss, please advise a member of staff and this can be arranged.