It is important to know your body and be aware of any unusual changes in your breasts. Not all breast cancers can be identified on screening; some develop rapidly within the years in between screening appointments. Although this is very rare, it is vital that you are breast aware and know what is normal for you.
How to be breast aware
Being breast aware is about getting to know your body so that you know what is normal for you. Breast awareness means being familiar with how your breasts look and feel so that you can spot any changes straight away. The risk of developing breast cancer increases with age, but it is important to be breast aware no matter how old you are.
The importance of breast awareness
Breast cancer is the most common form of cancer for women in the UK. Around 50,000 women and 400 men are diagnosed with breast cancer every year. 1 in 8 women in the UK will get breast cancer. Early detection and new treatments mean that thousands of people survive breast cancer every year. It is estimated that there are around 550,000 women alive in the UK today who have lived through breast cancer. There are charities in the local area who are dedicated to providing support for people who have been directly affected by breast cancer.
How do I check my breasts?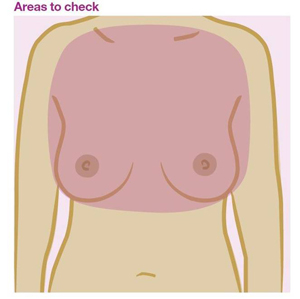 There is no right or wrong way to check your breasts. You just need to try and get used to feeling and looking at them regularly. Remember to make sure that you check all parts of your breasts, right up to your collarbone, as well as your armpits.
Checking your breasts doesn't need to take long. You can easily fit breast awareness into your daily routine – you could check your breasts in the shower, before you get dressed in the morning or before getting into bed.  It's about finding out what works best and is most comfortable for you.
The Department of Health has issued a 5-point check list for being breast aware:
Know what is normal for you
Know what changes to look and feel for
Look and feel
Report any changes to your GP without delay
Attend routine breast screening
What changes should I look out for?
Most breast changes are nothing to worry about, but being breast aware is very important. Below is a list of potential changes to look out for. These are the most common changes you need to be aware of, but breast cancer will not always show up as one of these symptoms. If you find that you have developed any breast changes, it is vital that you see your GP straight away — even if you feel fine and have no other symptoms.
A change in size or shape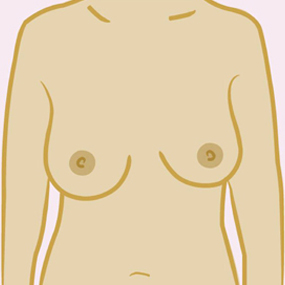 A change in skin texture such as puckering or dimpling (like orange skin)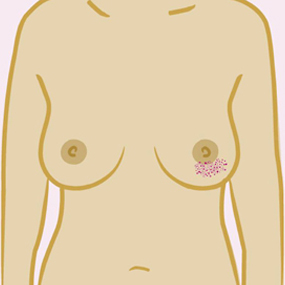 A lump or thickening that feels different from the rest of the breast tissue
Redness or a rash on the skin and/or around the nipple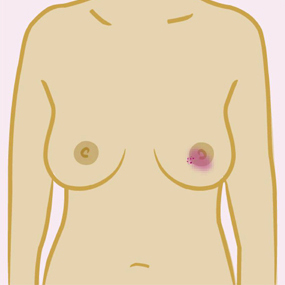 If your nipple becomes inverted (pulled in) or changes its position or shape
A swelling in your armpit or around your collarbone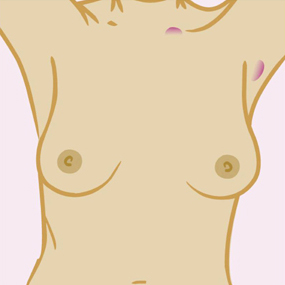 Discharge (liquid) from one or both your nipples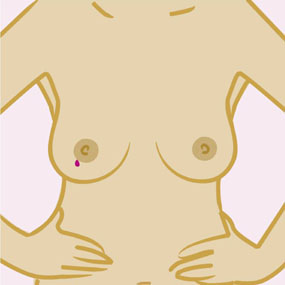 Constant pain in your breast or your armpit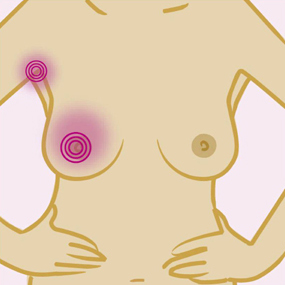 If you notice a change
If you find any changes in either of your breasts, you should see your GP straight away — even if it's not one of the changes shown above. Cancer may not make you feel ill — you should still see your GP even if you feel fine and have no other symptoms. Your GP will examine you and advise you on the best course of action. Remember that most breast changes are not breast cancer, but it's always best to make sure as soon as possible.
---