Reference Number: HEY-983/2018
Departments: Emergency Department, Paediatrics
---
You can translate this page by using the headphones button (bottom left) and then select the globe to change the language of the page. Need some help choosing a language? Please refer to Browsealoud Supported Voices and Languages.
---
Introduction
This leaflet has been produced to give you general information about your child's condition.  Most of your questions should be answered by this leaflet.  It is not intended to replace the discussion between you and your doctor, but may act as a starting point for discussion.  If after reading it you have any concerns or require further explanation, please discuss this with a member of the healthcare team caring for you.
What is viral induced wheeze?
Wheeze is a noise made in the chest, mostly when breathing out. In viral induced wheeze the chest becomes wheezy and feels tight when the child has a viral infection (a cough, cold or chest infection).  The wheeze happens when the tubes carrying air to the lungs (airways) become irritated and inflamed by the virus, causing them to swell and narrow.
Viral induced wheeze is common, affecting nearly a third of all children, but is more likely if your child was born early, ever had bronchiolitis or is exposed to cigarette smoke.
Does this mean my child has asthma?
Viral wheeze causes similar symptoms to asthma, but is a different condition. Some children will go on to develop asthma as they get older.  Children with asthma can get wheezy even if they do not have a cough or cold.  They are often wheezy if they do lots of exercise.  Children with asthma often have a family history of asthma, eczema or allergy.
What treatment will my child need?
A "reliever" inhaler such as Salbutamol (blue inhaler) may be prescribed to be given using a "spacer". This medicine relaxes the airways in the chest and makes it easier to breathe.  The inhalers are safe and effective, but can raise your child's heart rate and sometimes make them feel shaky or given them a headache.  This will not harm your child and will soon settle.  Some children may be given Montelukast, a medicine to be taken daily to help relax the airways.  Antibiotics are not useful against viruses, so are of no use in viral induced wheeze.  The illness will get better by itself once it has run its course.  Similarly, steroids are not usually helpful in viral induced wheeze.
Sometimes if children are very breathless a nebuliser may be used, to give the medicine as a mist from a mask. If children need nebulisers or oxygen, or are having trouble feeding, they may be admitted to hospital.  Medications may be given intravenously (into a vein) if a child is very breathless.
How can I care for my child at home?
Give them plenty of rest and avoid stressful situations
If they become warm and have a temperature, give paracetamol or ibuprofen, if your child can take it (always read the label)
Give them the reliever blue inhaler as directed on this leaflet
Encourage plenty of fluids and let them eat if they feel up to it
Keep them off school or nursery until you feel they have recovered
Arrange a GP appointment within 48 hours of leaving hospital
Treatment Plan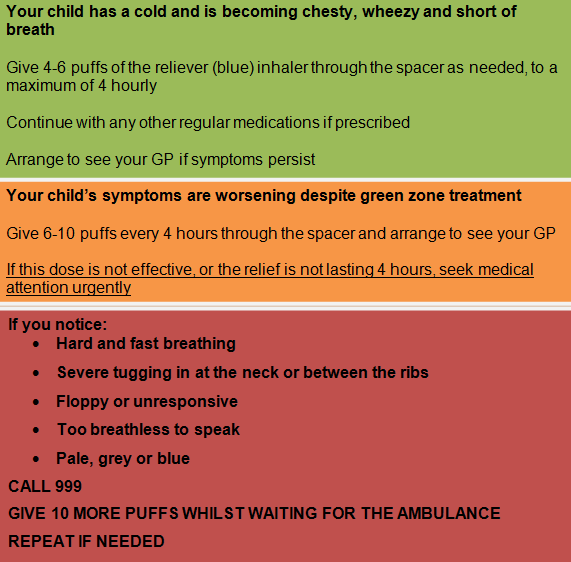 General Advice and Consent

Most of your questions should have been answered by this leaflet, but remember that this is only a starting point for discussion with the healthcare team.

Consent to treatment

Before any doctor, nurse or therapist examines or treats your child, they must seek your consent or permission. In order to make a decision, you need to have information from health professionals about the treatment or investigation which is being offered to your child. You should always ask them more questions if you do not understand or if you want more information.

The information you receive should be about your child's condition, the alternatives available for your child, and whether it carries risks as well as the benefits. What is important is that your consent is genuine or valid. That means:

you must be able to give your consent
you must be given enough information to enable you to make a decision
you must be acting under your own free will and not under the strong influence of another person

Information about your child

We collect and use your child's information to provide your child with care and treatment. As part of your child's care, information about your child will be shared between members of a healthcare team, some of whom you may not meet. Your child's information may also be used to help train staff, to check the quality of our care, to manage and plan the health service, and to help with research. Wherever possible we use anonymous data.

We may pass on relevant information to other health organisations that provide your child with care. All information is treated as strictly confidential and is not given to anyone who does not need it. If you have any concerns please ask your child's doctor, or the person caring for your child.

Under the General Data Protection Regulation and the Data Protection Act 2018 we are responsible for maintaining the confidentiality of any information we hold about your child. For further information visit the following page: Confidential Information about You.

If you need information about your child's (or a child you care for) health and wellbeing and their care and treatment in a different format, such as large print, braille or audio, due to disability, impairment or sensory loss, please advise a member of staff and this can be arranged.