Reference Number: HEY1268/2021
Departments: Gynaecology
Last Updated: 9 July 2021
---
You can translate this page by using the headphones button (bottom left) and then select the globe to change the language of the page. Need some help choosing a language? Please refer to Browsealoud Supported Voices and Languages.
---
Introduction
This leaflet has been produced to give you general information if you are considering medications to help with overactive bladder symptoms. Most of your questions should be answered by this leaflet.  It is not intended to replace the discussion between you and the healthcare team, but may act as a starting point for discussion.  If after reading it you have any concerns or require further explanation, please discuss this with a member of the healthcare team.
What are anticholinergic medications?
Anticholinergics are commonly used medications to help with a variety of conditions like overactive bladder, Chronic Obstructive Pulmonary Disease (COPD), asthma, Parkinson's disease, dizziness and motion sickness.
Common side effects of overactive bladder medications include dry mouth, blurred vision, urinary retention, constipation and drowsiness as well as headache, nausea, palpitations, racing heart, urinary disorders and vomiting. Confusion and angioedema (swelling of skin in the face, tongue, arms or legs) are rare side effects.
What is anticholinergic burden (ACB)?
Anticholinergic burden is the cumulative effect on an individual of taking one or more medications with anticholinergic activity.
The ACB effects are proportionate to the dose and duration of exposure. ACB score of 3 or more may increase the risks of cognitive impairment, functional impairment, falls and mortality in older adults (> 50 – 65 years). Increased doses and long duration of use are associated with increased risk of dementia. Long term effects of anticholinergics on cognition is unknown. Examples of common medications with ACB scores are given below.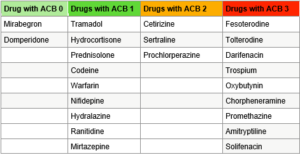 What can I do to prevent the adverse effects?
Inform your doctor about any long-term health conditions including dementia and the regular medications that you are taking, at the time of starting any medications for overactive bladder. Your doctor will consider alternate medication or treatment.
Make the best use of bladder training and pelvic floor exercises.
Consider stopping the medications as soon as possible and inform your doctor of any new side effects like confusion etc.
If you are on the bladder medications and require any new medications started, please inform your doctor.
Where can I get further information?
Following websites will give you more information.
nice.org.uk Multimorbidity and polypharmacy
NICE guidance on the management of urinary incontinence in women (NICE NG123)
NICE guidance on dementia (NG97)
NICE guidance on falls in older people (CG161)