The Hull University Teaching Hospitals NHS Trust is thrilled to announce the opening of its state-of-the-art Day Surgery Centre, marking a significant milestone in the Trust's commitment to providing exceptional healthcare services.
The £10 million Centre will support the Trust's elective recovery programme in addressing the challenges posed by the backlog of surgical cases resulting from the Covid-19 pandemic.
Located within Castle Hill Hospital, Cottingham, this new facility marks the first phase of expansion, introducing four new cutting-edge theatres into operation, enhancing the Trust's capacity to deliver high-quality care and expedite surgical procedures for patients with surgery as a day case as the default.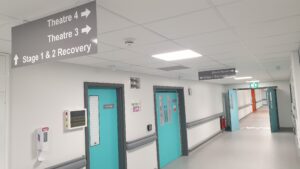 This Centre will provide additional theatre capacity at for patients across Hull and the East Riding and beyond, who need a planned – not urgent or acute – procedure. The Centre will include pre-assessment facilities ensuring a seamless transition for patients requiring day case surgery, reducing waiting times and improving overall patient experience from booking to recovery.
Equipped with cutting-edge surgical equipment and staffed by a highly skilled and compassionate multi-disciplinary team, the Centre aims to uphold the highest standards of safety, quality, and efficiency throughout the surgical journey.
Dave Wright, Consultant in Anaesthetics said: "The opening of the Day Surgery Centre represents a momentous occasion for our Trust and, more importantly, for our patients. These state-of-the-art theatres will provide us with the tools and resources needed to perform a wide range of day case surgical procedures efficiently and effectively.
"Our dedicated team of highly skilled surgeons, anaesthetists, theatre practitioners, nurses, therapists and clinical administrators are excited to utilise this new facility to its full potential, ensuring our patients receive the best care possible."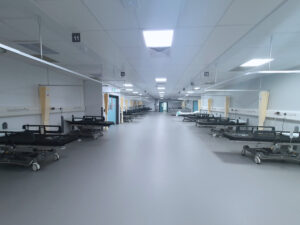 The four new theatres have been thoughtfully designed to provide an optimal environment for both patients and medical professionals, incorporating the latest advancements in medical technology and patient care. The theatres will open on a phased basis – phase one ENT & MaxFax; phase two Breast & Vascular; phase three orthopaedics and phase four neurosurgery. This will be done on a rolling two-week programme with patients already booked in to receive their pre-assessments.
Chris Long, Chief Executive said: "We are thrilled to unveil the first phase of our Day Surgery Centre, representing a significant investment in the future of healthcare delivery".
"Our staff have been putting in relentless efforts to alleviate the strain caused by the surgical backlog, and the addition of these new theatres will play a crucial role in accelerating patient care and reducing waiting times. This development reflects our dedication to providing the highest standards of care for our patients."
Phase one of the Day Surgery Centre is part of a comprehensive expansion plan, with the second phase set to further bolster the Trust's surgical capabilities with 10 theatres.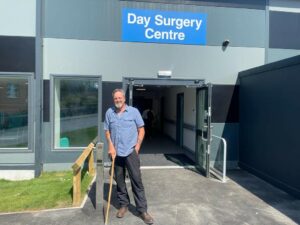 Former joiner, Mike Shepherdson, 60, is among the first to use the new facility, having attended a pre-assessment appointment ahead of surgery next month.
He says: "I was in a serious motorcycle accident in 2021 after which I had to be airlifted to hospital. I had lots of injuries including a broken spine, a punctured lung and 11 broken ribs. I've had many operations since then but this hopefully should be the last one; to take a metal plate out of my wrist which should hopefully give me a bit of mobility and less discomfort.
"The new facility is amazing, really beautiful and the staff have been brilliant. I can't find fault in them," he adds.
The Trust remains committed to delivering exceptional healthcare services, empowering its dedicated clinical and non-clinical professionals to provide safe, efficient, and patient-centred care.