Hull's hospitals have become among the first in the country to offer three innovative healthcare science apprenticeships in its Medical Physics team.
Hull University Teaching Hospitals NHS Trust has secured £250,000 funding from Health Education England to be able to offer apprenticeships with degree-level training in the highly specialised fields of Nuclear Medicine, Radiation Protection and Diagnostic Imaging Services and Radiotherapy Engineering.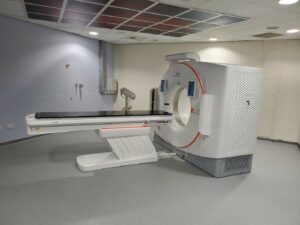 Three apprentices recruited to the project will join the Medical Physics teams on competitive salaries in September and will study for their three-year BSc (Hons) courses at the University of West of England (Bristol).
Now, the Medical Physics department will open their doors on Saturday, April 22, to offer a "behind the scenes" glimpse of its work to showcase how it benefits patient care at both Hull Royal Infirmary and Castle Hill Hospital as they seek recruit local apprentices for the posts.
It gives the chance for potential future Medical Physics technicians and their families to see the Queen's Centre facilities at Castle Hill Hospital and meet some of the trust's Medical Physics experts to find out more about career opportunities.
Professor Andrew Beavis, Consultant Medical Physicist and Head of Medical Physics at the trust, said: "We want to encourage local people to apply for these posts so we can offer them high-quality training in an internationally recognised Medical Physics department.
"These apprenticeships give us the chance to integrate young people into our department, give them the best possible training and basically grow our own staff for the future.
"In return, the three apprentices chosen for the programme will be rewarded with exciting careers in a high-tech environment in the NHS with the opportunity to achieve fully-funded degrees and high quality training."
This year marks the 10th anniversary of the relaunch of the trust's apprenticeship programme and, since then, more than 900 apprentices have been recruited.
Apprenticeships are offered in more than 30 career pathways in the NHS from finance to customer service and horticulture to health care sciences. It also offers nursing apprenticeships, with the first registered nurse degree apprentices graduating last year.
The new apprenticeships with the Medical Physics team follows the success of a pilot project last year when the trust recruited two Nuclear Medicine degree apprentices and one apprentice in Radiation Physics Treatment Planning.
The trust has also recruited four degree apprentices in Radiotherapy Services, offering courses in conjunction with Sheffield Hallam University
Anne Burdis, Assistant Learning and Development Manager at the trust, said: "The Open Day on April 22 is a first for the trust and is a fantastic opportunity for people interested in following a healthcare science career to see what really happens behind the scenes.
"They'll understand how the Medical Physics team plays a central part in patient care and treatment and how this work plays as much of a pivotal role in saving lives as frontline services.
"Prospective candidates can also bring parents, guardians or partners with them to see what the apprenticeships will entail so we demystify the roles and answer questions."
You can read more about the work of the team here and use the online booking form if they'd like to attend the Medical Physics Open Day.
Email  hyp-tr.apprentices@nhs.net for further information.