A team of midwives whose work to support those expecting a baby has been recognised by the Royal College of Midwives.
'Ask a Midwife', the online service which responds to questions and requests for help through social media, has been shortlisted in the 'Excellence in Midwifery for Public Health" category of the 2023 RCM Awards.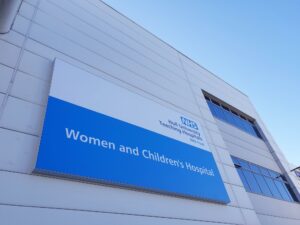 The service responds to over 500 contacts from people expecting a baby every month, including partners and family members, and is accessible via the 'direct message' function of the Hull Women and Children's Hospital facebook page. There are also daily posts to social media covering health promotion advice, safety alerts, and key issues or concerns which are trending within the antenatal day unit, such as winter bugs or summertime swollen ankles.
The idea for Ask a Midwife was conceived in Hull in 2020, due the amount of questions received about the COVID-19 pandemic. The service has continued to evolve ever since; not only does the team now have an Instagram account to further extend its reach, but the midwives are starting to work with local employers with high numbers of non-English speakers to promote early access to antenatal care.
The service has been so successful, in fact, that the blueprint has been taken and used to help families in other parts of the region, including York, Harrogate, Scunthorpe and Grimsby, as part of the Humber and North Yorkshire Local Maternity System.
Sarah Collins, the Ask a Midwife project lead, has been a qualified midwife for over 27 years. She says:
"Pregnancy can be one of the most magical times in a person's life, but can also be one of the most stressful.
"There's so much to think about and plan for; everything from staying healthy during pregnancy and baby's movements to bonding, feeding, and safety in the home.
"The Ask a Midwife service is there to help anyone who's pregnant, or supporting someone who's pregnant, with advice, information and crucially, reassurance where we can give it.
"Not everyone feels able to call their midwife regularly, especially if they think it's something trivial, and not everyone has a support network around them, so sometimes we find people are more comfortable just sending a message.
"While the service doesn't operate 24 hours, the fact that Ask a Midwife is social media based does mean that people can send us a message at any time, day or night, and we'll pick it up and respond as soon as we're back at work.
"There really is no question too trivial or too random; we're happy to help answer them all and put minds at rest if we can, or otherwise refer people on to more specific sources of clinical or medical support."
The Ask a Midwife team will make a presentation on their service to a panel of RCM judges later this month, before finding out if their project has been successful at the RCM Awards ceremony which takes place on 19 May.