A new £4m paediatric unit providing first-class facilities for Hull's sick and injured children and their families has opened at Hull Royal Infirmary.
Hull University Teaching Hospitals NHS Trust (HUTH) has opened Ward H20 – known as Woodland Ward – with 23 beds as part of the major £19.3m construction project to redesign the front entrance and lower floors of the famous tower block.
Now located on the second floor following the major relocation from the 13th floor of the tower block, the new facilities have easy access link to Hull Women and Children's Hospital, its operating theatres and Acorn children's ward via the link bridge over Lansdowne Street.
Four high-dependency beds for the most poorly children and a larger Paediatric Assessment Unit (PAU), which now has nine rooms, are also part of the new unit on the same floor as Woodland Ward.
Pull-down beds have been added to single rooms so parents can stay with their children.  The unit also includes accommodation for parents with children in the Neonatal Intensive Care Unit (NICU) with five ensuite bedrooms, including one fully accessible room, and a dedicated lounge, enhanced with furniture, soft furnishings and art work funded by hospital charity WISHH's By Your Side Appeal.
Vanessa Brown, Senior Matron for Children, Young People and Neonatal Services, said: "No one wants their child to be in hospital but our new ward means we can now offer parents and their children some of the finest paediatric services in the country.
"With its direct link to Hull Women and Children's Hospital and our operating theatres, we can provide a much better experience and a far more comfortable environment for the children who need to come into hospital and their families."
The opening of the paediatric unit is the latest stage in the major construction project to create a new three-storey entrance to Hull Royal Infirmary with an assessment unit, modern pharmacy, multi-faith area and restaurant and shops for patients, visitors and staff.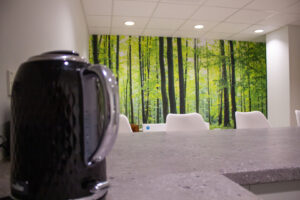 A much larger and self-contained assessment unit provides better facilities for patients with views over the front gardens and natural light. Pharmacy has moved to the back of the ground floor of the hospital, with a new robotic arm installed to pick prescriptions.
Two new lifts will take parents and their children directly to the second floor, without the need for them to use the main lift lobby, to help ease congestion at busy visiting times.
Duncan Taylor, Director of Estates, Facilities and Development, said: "We have tried to make these new facilities a little more child and family friendly.
"Hospitals can be frightening enough at the best of times, with beeping machines, medical gases and sockets everywhere.
"We're created bright, spacious and airy facilities, with medical equipment tucked away behind special panels, to make the whole experience of coming to hospital better for children and their parents."
Jess Wilkinson, project architect at Race Cottam Associates, the practice behind the design for the new paediatrics department and main entrance, said: "The challenge was working within the building's existing footprint, meaning there was no room to provide additional space so we had to be creative with things like furniture layout and adding in smart space saving measures such as drop down beds.
"It was also essential that the design avoided feeling sterile or utilitarian so we engaged an art consultant to create a series of colourful wall graphics."