Patients and families attending Hull's Emergency Department will now be able to keep in touch with relatives after the introduction of two new mobile charging stations.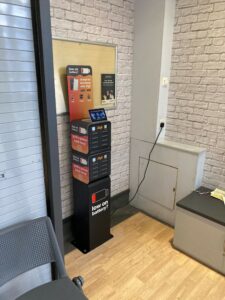 Hull University Teaching Hospitals (HUTH) has teamed up with phone charging company Joos to provide power banks in its Children's A&E and its Emergency Care Area (ECA) at Hull Royal Infirmary.
People waiting in the department will be able to select a power bank providing up to two hours' charge for £3, allowing them to keep in contact with other family members, call taxis or keep in contact with employers.
As well as helping patients and relatives in the department, the mobile charging stations will reduce the pressure on reception staff working in ECA and Children's A&E who often have to help families with phone calls or problems with mobiles which have run out of charge.
Amy Lockyer, Commissioning and Support Services Manager at HUTH, said: "People often don't know they'll be visiting the Emergency Department so arrive with little charge in their phones.
"This means they can now get their phones topped up so they can keep in contact with the rest of their families while they're waiting."
People can return the power banks to the central charging station as soon as their phones are topped up and they won't be charged further.
However, if they leave the department without returning the power bank, they will be charged a further £4 a day until it is returned. After eight days, people are charged a final lump sum charge of £30 and the power bank is then theirs.