Meet just some of the people we're supporting into fulfilling and rewarding careers with Hull's hospitals.
To celebrate National Apprenticeship Week, Hull University Teaching Hospitals NHS Trust is shining a spotlight on just some of the people working in all aspects of health care at Hull Royal Infirmary and Castle Hill Hospital.
From finance managers and painters to student nurses and trainee scientists, our apprentices get their careers off to a flying start when they join us after leaving school, sixth form colleges, or simply after wishing to pursue a change in direction.
Since our programme launched in 2013, Anne Burdis and Debbie Elton, who spearhead our apprenticeship scheme, have supported more than 400 people onto apprenticeship programmes across 30+ different departments and directorates.
Anne said: "It's an absolute privilege to be able to support our colleagues to grow our future workforce through apprenticeships.
"For every new apprentice we recruit, there are at least 15 people working in the background to get them into their posts.
"We are also proud of the huge commitment existing colleague make in balancing apprenticeship study, work and home life especially during these challenging times."
The theme for this year's National Apprenticeship Week (#NAW2022) is Building the Future. Here at Hull Teaching Hospitals we have been doing exactly that, growing our workforce from the foundation upwards through the incredible support of our colleagues. We've produced a special "wall" to showcase just some of the staff who help make our apprenticeship programme such a success.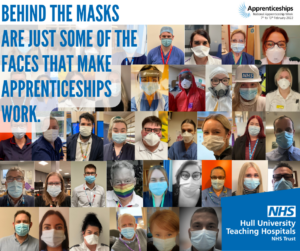 Throughout the week, running from today to February 13, profiles of just some of our successful apprentices will be showcased on our social media pages on Facebook, Twitter and Instagram.
We'll be sharing their stories and highlighting the staff in the trust who champion our apprenticeship programme, supporting our apprentices in their roles as they take the first steps in their careers or progress in their chosen fields.
Apprentices like Bethanie Ireland. Bethanie is a Trainee Nursing Associate in our Emergency Department at Hull Royal Infirmary.
She works in her role for 30 hours each week, taking patient observations, assisting the clinical teams on medication rounds and taking blood samples under supervision. She also studies 7.5 hours to learn the theory as part of her qualification.
"I've lived in hull my whole life and always wanted from a young age to go into nursing. I applied for the trainee nursing associate post as I wanted to better myself while still working and without the stress of a university debt," she said.
"I work within accident and emergency, hoping to specialise in emergency medicine. No two days are ever the same and we never know what could come through the doors."
Robert Dyer has worked his way up through four promotions to his current position as Finance Manager with our Imaging and Specialist Services division, just seven years after beginning his apprenticeship.
Unsure of what he wanted to do after leaving Sixth Form, Robert joined HUTH as an Apprentice Finance Assistant, supported by our Education and Development team.
They smoothed his path from education into the workplace and he achieved his AAT qualification while building up valuable experience. After completing his apprenticeship, Robert was able to land a full-time job with the trust and was supported by his team to achieve his chartered accountancy ACCA qualification.
Robert said: "I would wholeheartedly recommend the apprenticeship route. It not only grows you professionally but personally too and the value in that is immeasurable."
Saskia Hiatt works for the trust's Estates Team after she secured an apprenticeship at the end of her Painting and Decorating Level 2 course. She takes pride in her work, ensuring our hospitals and departments look as good as possible for patients. As well as her work for the trust, Saskia also volunteers to paint the Withernsea Lighthouse in her spare time.
Debbie Elton said: "We're incredibly proud of Saskia and her hard work and dedication are a credit to her."