Chaplains will continue delivering messages and get well wishes to patients in hospital
A messaging service which has brought joy to patients in hospital at Christmastime is to be extended into 2022.
Hospital chaplains working across Castle Hill Hospital and Hull Royal Infirmary began a service last month, offering to hand deliver messages to patients unable to see or communicate with loved ones due to Covid visiting restrictions.
Season's greetings, heartfelt messages and get well wishes came from as far afield as Canada.
Now Hull University Teaching Hospitals NHS Trust's Pastoral and Spiritual Care Team says the service has been so worthwhile that they intend to continue visiting patients on behalf of loved ones for as long as Covid-related visiting restrictions remain in place.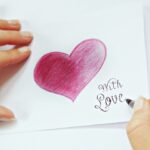 Allison Dean, Senior Site Chaplain, says:
"Not all patients have mobile phones to be able to use in hospital or are up to speed with video calling, so for those who have no other means of keeping in touch, it can be a very difficult and worrying time.
"The messaging service we ran over Christmas was a success, with messages being well received and families grateful for the opportunity to reach out to their loved ones in this way.
"Many of those patients we went to see were pleasantly surprised as they were feeling lonely without any visitors, and for those we were able to visit on Christmas Day and Boxing Day, the contact proved to be the highlight of their day, an unexpected Christmas present."
Messages of thanks received by the Pastoral and Spiritual Care Team included:
"What a lovely thing this is to do, it is much appreciated for us to get messages to loved ones we are unable to see under the terrible restrictions we currently face. So a BIG thank you!"
"I live in Canada and the pandemic has kept me from seeing my Grandma. I miss her so much and want her to know that I'm always thinking of her.  My sister contacted you earlier and informed me of this wonderful service you provide."
Allison continues:
"As chaplains, all of us have felt that it has been a real privilege to be able to read and deliver these messages to patients. Many have been grateful for the time we have taken to sit and chat with them, and have asked for return visits; this was not something we expected to happen and so this has been a real gift to the team too."
If you would like a message delivered to a relative or friend in hospital, simply email
hyp-tr.greetingstolovedone@nhs.net, providing the name of the patient, the ward, unit or department they are on, which hospital they are in, and any other detail/information which may help the team to identify the patient. The service will operate Monday to Friday, across both HRI and Castle Hill, with any messages sent over the weekend being picked up on the following Monday.