As we approach Christmas, we understand that relatives and friends will want to stay in touch with loved ones spending time in hospital. We appreciate the current visiting restrictions make this difficult but would like to present a few options for how you can keep in contact over the festive season.
Our hospitals are very busy right now and so for this reason, where possible to do so, we would encourage you to keep in contact directly using personal mobile phones, bedside communication systems, tablets or other devices. This will enable you to message or speak to your relative or friend at a time to suit you both, and enable our doctors and nurses to continue focusing on the clinical care of their patients.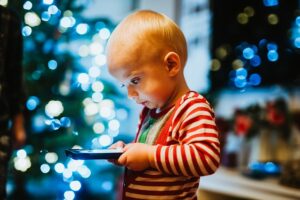 Patients are permitted to charge personal mobile devices on the wards and if their admission to hospital was urgent or unexpected, a relative is able to drop off essentials for them at the ward which could include a phone or tablet charger. Please ask a member of staff if your loved one needs help to charge their device.
If your relative does not have a mobile phone or device, perhaps doesn't know how to use one or is too unwell to do so, the Trust's Pastoral and Spiritual Care Team is offering a free messaging service while visiting restrictions remain in place. Simply email your message and a few details about the patient, and the team will aim to deliver it in person to your loved one within one working day, Monday to Friday. Full details can be found on our website.
If there is a Hospedia bedside entertainment unit where your relative is being cared for, you can either call through directly to them (charges apply) or your relative can use this to telephone you – all outgoing calls to mobiles and 01482 numbers are free of charge. Full details can be found on our website.
Some wards may be able to access iPads to enable patients to communicate with loved ones via video calling. However, the number of iPads available is somewhat limited. To enquire whether this is possible, please contact the Senior Nurse or Ward Clerk on the ward/unit/department where your relative is being cared for in the first instance. All requests to use the iPads must be made to the Trust's Digital Nursing Team by a member of staff on the ward. Please note that it will not always be possible to accommodate every request, and we apologise in advance should this be the case.
Again, to reduce the risk of infection and to free up staff time for clinical care, we encourage family and friends to communicate directly with patients in hospital using either the Hospedia bedside units or their own mobile phones, tablets or other devices.
If you need to telephone the ward for status updates on your loved one, we kindly ask that this is limited to just one call from one nominated family member per day, and that family member then shares the update with other relatives and friends as appropriate.
Thank you for your cooperation and understanding at this difficult time.