A hospital-based security team from Hull has received one of the profession's highest accolades.
The security team at Hull University Teaching Hospitals NHS Trust has been named 'Healthcare Security Team of the Year' by the National Association for Healthcare Security (NAHS).
The team serves the two major local hospitals, namely Hull Royal Infirmary and Castle Hill Hospital in Cottingham, and comprises both directly employed NHS staff and contracted staff from APCOA.
This year, they beat off national competition to earn the award, which is made annually by the NAHS to a team considered most outstanding and worthy of recognition.
To earn the award, the Hull-based team was able to demonstrate how they:
Have developed a much more customer focused service, for example by making themselves more available to patients/staff though 24/7 staffed offices on both hospital sites
Worked with nursing and clinical staff to design and deliver safe, appropriate escalation procedures (the 'Enhanced Care' model) for patients with challenging behaviours
Reduced the number of calls for police assistance and improved working relationships with the local force
Invested in the professional development of team members through the delivery of extra training such as customer service, ICT, physical intervention and NHS core skills
Took feedback from security team members working on the frontline with staff and patients and delivered service improvements as a result
Improved team cohesiveness to ensure all team members feel valued, are working to a common purpose, and placing patients and colleagues at the heart of what they do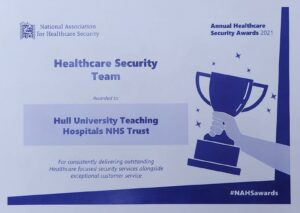 Chris Watson, security manager for Hull University Teaching Hospitals NHS Trust says:
"The past couple of years have been very difficult for everyone in the healthcare sector, but not least for security staff and I'd like to pay tribute to just how well they have all coped with the various challenges and demands made of them during the pandemic.
"In the middle of all this, the team has maintained its focus very much on supporting our staff, patients and visitors to the hospital as a single team. While members of the public don't always see the full extent of what they do, we know hospital staff regularly rely on the team for support and hold them in very high regard.
"Over the past few years, our security team has become more visible, more innovative and more proactive, and they are thoroughly deserving of this award."
Chris Watson's view is endorsed by Kim Challis, APCOA's regional managing director UK & Ireland, who says:
"This prestigious award recognises the impact of great partnership working. Since APCOA began the contract with the Trust in April 2020, our relationship has strengthened and we work closely together to identify ongoing opportunities for further improvements.
"APCOA has more than 500 SIA-trained security officers specifically specialising in NHS environments and awards like this recognise the important job they do to support NHS staff, visitors and patients in sensitive and sometimes challenging healthcare locations. We're all very proud of our colleagues at Hull, who are great ambassadors for APCOA and the Trust."
The award for the wider team supplements the  ACS Pacesetters Security Officer of Distinction Award earned by security team leader, Josh Welch, earlier in the year.