Doctors, nurses, therapists and social care staff working together to help people with Parkinson's disease in Hull have won two major prizes for outstanding excellence at a national awards ceremony.
UK Parkinson's Excellence Network, supported by Parkinson's UK,  has presented its "Winner of Winners" award to the team from Hull University Teaching Hospitals (HUTH), City Health Care Partnership (CHCP) and Hull Clinical Commissioning Group (CCG) in recognition of their pioneering work.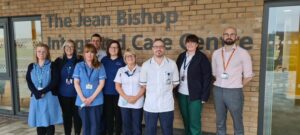 The team, based at the Jean Bishop Centre in East Hull, was also named winners of the "Innovation in Practice" by the network, which has 7,000 members and is seen as the driving force behind improvements in the care of people with Parkinson's and frailty.
Consultant Geriatrician Dr Tom Mace, who leads the Hull team, said: "We are proud and humbled with this award. It's testament to the hard work and dedication of everyone involved in creating a unique, innovative hub to help people with Parkinson's and their families live well.
"The integrated service makes tangible improvements in the quality of life for people and their carers. We work together to help people achieve their goals, ensure they feel supported and knowledgeable about their condition and reduce troubling symptoms and emergency hospital admissions.
"We hope that by sharing our learning experience from the hub, we will inspire and encourage colleagues across the UK to discuss and consider working in an integrated and holistic fashion across organisations and services, ensuring that people living with Parkinson's and their carers and families experience improved continuity of care."
Parkinson's disease is a progressive disorder of the nervous system which causes parts of the brain to become more damaged over time. Around 1 in 500 people are thought to be affected by the condition. There is no cure although treatment can help reduce main symptoms of involuntary tremors, slow movement and stiff and inflexible muscles and maintain a good quality of life for as long as possible. It is a systemic disease which can affect the whole body and other symptoms can include anxiety and dementia.
Hull's "Parkinson's hub" was commissioned by Hull CCG. Members of Parkinson's UK were consulted and listed education, quick access to specialists, expertise from healthcare professionals and quicker medication changes as priorities for a new community-based, multi-disciplinary service offering comprehensive assessments.
It now provides vital support to people with Parkinson's, their carers and their families in one place, preventing multiple visits to different clinical teams at different locations around the city.
The hub pioneers a multi-disciplinary approach, with health specialists working with social care staff as well as private and voluntary organisations to support people with Parkinson's. The team assesses general health, nutrition, swallowing, speech issues, oral health, sleep, impulsive compulsive disorder, continence and bowel function and direct people to other services provided by charities and social care.
As well as working proactively, the team also has the ability to respond to health-related issues quickly.
The Hull approach has prevented many emergency hospital admissions, allowing people with Parkinson's the chance to live well and as independently as possible in their own homes with the right support from the right health care professionals.
The UK Parkinson's Excellence Network announced its winners at a virtual award ceremony co-hosted by Parkinson's UK's President Jane Asher and Terence Manning, a former head teacher living with Parkinson's, who judged entries.
The Hull team saw off competition from the "Sharing, Learning and Education" and "Person-Centred Care" award winners to be named "Winner of Winners" and claim the Excellence Award.
The judges, including a panel of Parkinson's health and service professionals, as well as patients, praised the Hull hub for its overwhelming dedication to pioneering good practice and striving to improve the experience of people with Parkinson's.
They said: "It is a great project that has people affected by Parkinson's at its very heart. It has received excellent service-user feedback. It is a really comprehensive, joined-up and holistic service for patients and good for multidisciplinary teams' skill sharing."
Dr Donald Grosset, Clinical Director of the UK Parkinson's Excellence Network, said: "This year, the quality of entries was exceptional and I would like to congratulate Hull University Teaching Hospitals NHS Trust, City Health Care Partnership, NHS Hull CCG for a great team effort on their well-deserved success, outstanding feedback and for being at the forefront of pioneering truly innovative Parkinson's care.
"We were impressed by the exemplary care given to people with Parkinson's and the difference the hub is making to people's lives. It shows the difference we can make by working in collaboration. "
Dr Mace added: "The team would like to thank all those who assisted this work including colleagues from CHCP, HUTH and Hull CCG. Particularly, we would like to thank Dr Alec Ming and Lesley Windass for their ongoing support."