A group of quilters have been inspired by a work of art at Castle Hill
Hospital
to capture their experience of the pandemic.
Rainbow Quilters was founded by Helen Dickinson and her quilting tutor Linda Alexander after Helen spotted the Quilt of Memories remembering people who have lost their lives to leukaemia and other cancers on display at the Queen's Centre.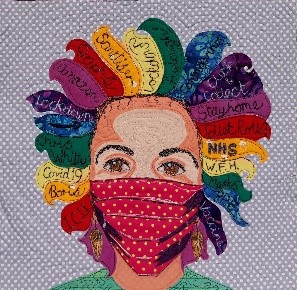 Helen said: "My husband Paul received chemotherapy and radiotherapy treatment at the Queen's Centre between December and January.
"Due to Covid-19 restrictions, I had to wait in the car whilst he received treatment but I had to go into the Queen's Centre once to collect his medication to carry to the car.
"It was then that I saw the most wonderful quilt in the reception area of the Queen's Centre. I kept thinking about this for days afterwards, especially the idea that every quilt tells a story. This in turn inspired me to set the wheels rolling to create a quilt that captured people's experiences of lock down."
Helen was inspired by the Quilt of Memories, created by Sylvia Priest to thank hospital staff for the care shown to her husband Tony with the support of Helping Hands – Stitching and Sewing for Good Causes – along with UK Quilters United and Cottingham-based East Yorkshire Embroidery Society. The Quilt of Memories was the culmination of a three-year project and features 140 individually hand-crafted quilt blocks made by more than 200 pairs of hands from the online group,
Helen and Linda set up Rainbow Quilters, named in recognition of the 'hope and cheer' that rainbows came to represent during the pandemic, using email and word of mouth to recruit 26 members from Lincolnshire in two weeks.
Helen said: "We heard many reasons why people wanted to join us – to relieve boredom, loneliness and feelings of isolation. to have a purpose, to feel part of a community and to do something worthwhile and positive as well as raise funds for a good cause.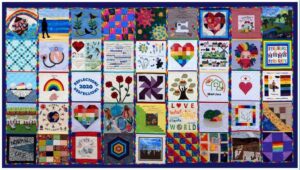 "Most participants knew one person in the group, nobody knew everyone, yet all were united by their love of sewing and the desire to create something special."
The group created 45 blocks for the project known as the 2020 Reflections Quilt, each block reflected the creator's individual experience of Covid-19.
One block features a woman with rainbow coloured hair and the strands of her hair feature words, phrases and names now commonplace in our language including furlough, Chris Whitty, stay home and sanitizer. It also features words like Amazon, highlighting our reliance on internet shopping and deliveries during lockdown, and toilet rolls – marking the panic buying seen in parts of the country at the start of the pandemic.
Other blocks on the quilt include cakes and treats one quilter made for her father before his death, wildlife and wildflowers noticed and admired by people in close proximity to their homes while the country was in lockdown and colourful images of the virus itself.
The story of Rainbow Quilters and the inspiration for each block has been published in a booklet being sold to raise funds for Ending Domestic Abuse Now in Lincolnshire (EDAN Lincs), which supports all those suffering or fleeing domestic abuse.
The quilt is being exhibited in and around Lincolnshire until May 2022 when it will be retired to a good home in the community.
Email rainbowquilters2020@gmail.com if you'd like a copy of the booklet.