The global Covid pandemic has been a frightening and uncertain time for us all. Personally and professionally, it has made us reflect and made us grateful for what we have. We appreciate being able to have friends and family around us more, we're thankful for our freedoms, and we're grateful for a health service which has spearheaded the battle against Covid-19.
But not everyone has been so fortunate. Some of us have already lost friends, co-workers and loved ones to the virus, and many of our own staff with family and loved ones abroad have felt concern for their wellbeing and the anguish of not being there to help.
Among those watching Covid-19 claim lives in her home country was Sri Lankan born critical care consultant, Dr Pumali Gunasekera. Having seen patients come in and out of Hull's ICU with the virus for the past 18 months, she knows just how debilitating Covid can be and how important it is for patients to receive timely medical care.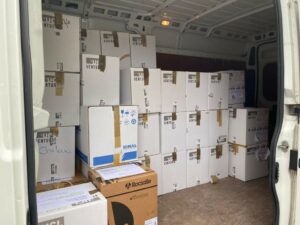 Moved by images of countries like Sri Lanka and India struggling to cope with the sheer numbers of Covid infections, she set about gathering equipment and supplies which could be used to aid the international Covid response.
Dr Gunasekera appealed to colleagues throughout the trust for unused or obsolete equipment and supplies that could be sent abroad; and the response she received was amazing.
"I was overwhelmed with the response," says Dr Gunasekera. "I received donations from all over; emergency care, theatres, ICU outreach, clinical practice educators and more, all with equipment which could no longer be used here, but which was still suitable for use abroad.
"Respiratory physicians Dr Pinder and Dr Crooks and senior matron Vicky Sharman helped me to source CPAP machines that were surplus to requirements and these were very kindly released by chief executive, Chris Long. Many of the departmental housekeepers also helped by sorting through their stores and finding suitable supplies to send over."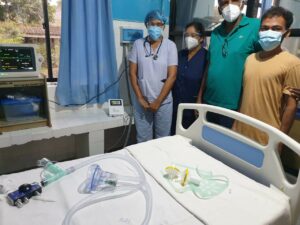 Among the items sent to hospitals in Sri Lanka were more than 35 CPAP machines, a variety of airway and breathing equipment including oxygen masks, NIV masks, and laryngoscopes, plus PPE to protect clinical staff including surgical face masks, FFP3 masks and gowns.
And the recipients couldn't have been more grateful. Chief nursing officer for National Hospital Kandy in Sri Lanka, Mr Jayamanne, wrote to Vicky Sharman upon receipt of a donation to say thank you.
"As a fellow nurse facing similar pressures of patient care and flow in a pandemic, I find it inspiring that you were able to think of the welfare of patients on the other side of the world during this crisis.  A true embodiment of the "missioner of health" pledge that we take".
Members of the College of Anaesthesiologists and Intensivists of Sri Lanka also wrote to Chris Long with their thanks, having distributed CPAP machines among 15 of the hospitals they support.
"With the emergence of the third wave of the pandemic, patients requiring intensive care services in Sri Lanka have risen within a very short period of time. As a result, the healthcare system is saturated and overburdened due to a surge of admissions of critically ill, both COVID and non- COVID patients, to the intensive care units amidst limited resources.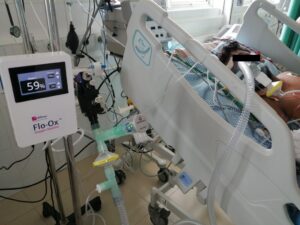 "We greatly appreciate your donation and thank you for your generosity towards uplifting standards of critical care facilities [in our ICUs] in the country."
Dr Gunasekera adds:
"This equipment could no longer be used by our trust, so it's fantastic to know that it's been put to good use in hospitals where it's really needed. The compassion for others and the goodwill shown by colleagues here has been really uplifting, and just shows that even in the tough times, in the middle of a global pandemic, we are all in it together.
"On behalf of the ICU team and all the receiving hospitals over in Sri Lanka, I'd like to say a huge thank you to everyone who helped with the appeal."