A national campaign to attract the best talent to vital health and social care roles in Hull and East Yorkshire is the latest to support Inner City Sesh.
Under the banner, East YorkSHH!re: 'the secret's out', the new campaign has had unprecedented success by telling the stories of those people who came to work here, fell in love with it, and now want to spill the beans.
As Humber Street Sesh is a firm favourite with so many who come to the region, the campaign has stepped up and joined forces with the Inner City version – supporting the East YorkSHH!re Silent Disco at the Queen's Gardens event on Sept 18th.
John Skidmore, Director of Adults, Health and Customer Services, East Riding of Yorkshire Council, explains:
"Everyone loves the Sesh events, they are a part of our cultural identity, so it's great to be able to get together with our healthcare partners in Hull and East Yorkshire to support Inner City Sesh, and show our region off at its best.
"We want more and more people with vital skills and knowledge to come to live, work, study and play in Hull and East Yorkshire and discover what a hidden gem it is. Events like this are hugely important in telling that story and encouraging people with vital knowledge and skills to lay down their roots here."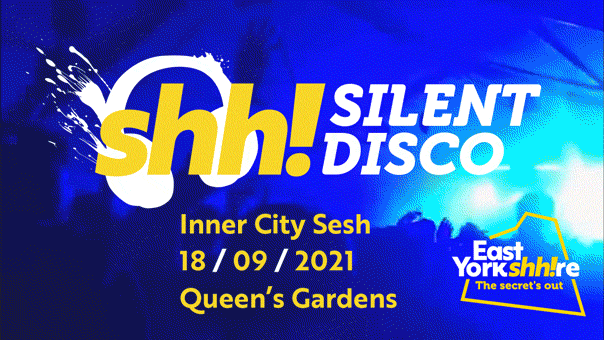 "Maybe, in the past, our perceived isolation worked against us in attracting people here but we've turned that on its head to share the secret of what an incredible place this is and it's really paying off."
The "East YorkSHH!re" campaign is an unprecedented recruitment partnership between East Riding of Yorkshire Council, City Health Care Partnership CIC, Hull CCG, East Riding of Yorkshire CCG, Hull University Teaching Hospitals NHS Trust, Humber Teaching NHS Foundation Trust, Humberside Fire and Rescue Services, Humberside Police, Yorkshire Ambulance Service, Hull York Medical School and the University of Hull.
Launched in October 2020, it has built on the success of earlier recruitment campaigns which have succeeded in bringing health care staff to the region.
A series of short films celebrate the distinctiveness and diversity of Hull and East Yorkshire, celebrating the connectivity of the area as well as low house prices and affordable cost of living with easy access to beautiful countryside, coastline and natural beauty. It also showcases the hidden beauty of the city, from the Marina and the Old Town to the revamped city centre, celebrating Hull's cultural depth and its thriving communities.
A microsite, street advertising and brochures have been supported by a blitz on social media, encouraging health care professionals to take a look at what's on offer across the region.
The campaign tells the stories of people who have come to live, work and play in the area from as far afield as Nigeria, Poland, India, USA, and every corner of the UK.
Inner City Sesh will feature the best of Humber Street Sesh with The University of Hull Main Stage, Hull Trains Dead Bod Stage, Emerging Musicians Stage, and a stage dedicated to some of the finest DJs in the region.
Community favourites include: The Silent Disco Marquee, supported by East YorkSHH!re; Team Extreme Skate Park, with displays from the experts; Festival Markets for independent traders; a funfair on Guildhall Road; Photo Exhibition, supported by Wykeland Beal, showcasing Hull's burgeoning music scene; graffiti art, art installations and an array of food choices and bars.
Festival organisers are keen to make the event as environmentally friendly as possible with 2 solar powered music stages, and recycling stations around the site.
Inner City Sesh, Queens Gardens, 12 midday until 11pm, Saturday, September 18, 2021.
£10 e tickets are available via innercitysesh.co.uk and seetickets.com. Booking fees apply.
£15 at the gate. Free entry for 12 years and under, when accompanied by an adult.
Wristband exchange locations TBC.