Wards at Hull Royal Infirmary and Castle Hill Hospital will be among the first in the country to use patient safety equipment made from recycled materials as part of our mission to reduce our impact on the environment.
The new eco-friendly 'slide sheet' will be used to move patients safely in their beds and protect their skin from tissue damage caused by friction and shear.  The 'slide sheets' also reduce effort required to move the patients, decreasing the risk of injuries to staff.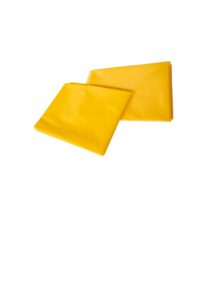 The new sheet, made from recycled plastic and wrapped in biodegradable packaging, will help staff move people with mobility problems including bariatric patients, those recovering from surgery and patients with frail or fragile skin.
Chris Richards, Manual Handling Lead at the trust, said: "We've been using various types of 'slide sheets' for decades but want to standardise with something that will help protect our patients, staff and the environment.
"'Slide sheets' are disposed of when the patient leaves the hospital for infection prevention and control reasons but they will end up in landfill or incinerated if required for infection control purposes.
"We've been working with the company for some time and they've informed us they have developed this new product which is far more eco-friendly.
"Although the product is not totally biodegradable , it is made from recycled materials with biodegradable packaging so it's definitely a step in the right direction."