Hospital staff on a Covid ward have spoken of their work to care for patients with cancer who develop the virus.
Ward 30, an oncology ward at the Queen's Centre, looks after patients with complex symptoms of cancer.
However, during the pandemic, the ward team have been looking after patients with cancer who have also been diagnosed with the virus.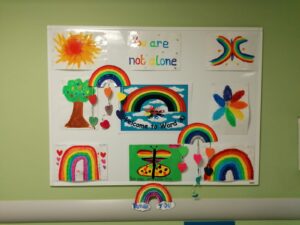 Ward Sister Hayley Butler said her entire team, including nursing staff, housekeeper and hygienist, ward clerks, cleaning staff and caterers as well as members of the multi-disciplinary team looking after patients, stepped up to the challenge.
She said: "Treating patients with Covid-19 and cancer has been really challenging but the team has embraced the challenge and, as always, the patients have been our main priority.
"The whole team have been amazing and have worked so hard to ensure all the patients received a really high standard of care."
Hayley said as well as dealing with the medical and nursing requirements of patients with both cancer and Covid-19, her team has been looking after the emotional needs of people separated from their loved ones by the need to keep them as safe as possible during their time in hospital.
She said: "The commitment shown by the whole nursing team has been phenomenal and the team have gone above and beyond on so many occasions to ensure the patients received the care they needed alongside addressing their emotional needs because they were parted from their families.
"Coping with cancer for our patients is hard enough but to have to cope with Covid-19 as well is so hard emotionally.
"The whole team bridged the gap for the patients and the feedback from the patients and their families was such an amazing testament to the high standard of care given to all the patients."
Hayley also thanked staff from other areas of Hull Royal Infirmary and Castle Hill Hospital who had been redeployed to help on the ward during the three waves of the pandemic.
She said: "They've come from different areas and that must have been unnerving for them because they weren't used to our ward.
"But they've been absolutely fantastic. They may have moved on from our ward but I want them to know we couldn't have done our work without their support and dedication to their jobs."
She also thanked those members of the ward team who have gone on to work in different roles at the trust.
In a direct message to the team, Hayley said: "It doesn't seem enough but I want to say a really big thank you to every single member of the ward 30 team – the care and compassion you have all shown to all of our patients has been truly outstanding.
"You have all supported each other so much too and how you have all adapted to change is truly inspiring."