They came together as one team to provide the best possible care to patients requiring surgery in the midst of a pandemic.
Thanks go out to all members of staff on Ward 9 at Castle Hill for their work as the trust faced the pressures of Covid-19.
Before the pandemic, staff on the 34-bed unit cared for patients required orthopaedic surgery from replacement hips and knees to damaged shoulders.
However, with most of our elective work cancelled during the first wave last March, some of the team were redeployed to other wards  – including some to Covid wards – to lend a helping hand.
In the second wave after schools returned following the summer holidays, staff on the ward stepped up to the task of emergency trauma work as part of the trust's work as the Regional Major Trauma Unit.
And just after Christmas, Ward 9 became a Covid ward as the numbers of people infected with the virus increased.
Ward PA Paula Butcher paid tribute to her colleagues on the ward who responded so well to everything that was asked of them as the ward returns now to its original purpose as an orthopaedic unit.
She said: "There was no complaining, no moaning – everyone just did what was asked of us and it was all hands on deck. This is our NHS.
"Our team brought together some remarkable people from so many different departments, some that had never worked on a ward before.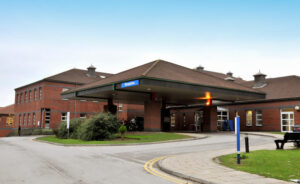 "All I can say is I am very proud to have worked with them all. The effort and determination and our ability to work together as a team was outstanding."
Paula, who was herself redeployed to Ward 15 for a time, made special mention of Ward Manager Kerry Wheeldon who managed to unite her existing team with new, redeployed staff at various stages during the past year.
She said: "We've shared tears of joy and sadness, we've felt overwhelmed and out of control at times but we did it as a team.
"We have made some lovely new work friends along the way and this is what makes it so rewarding.
"Kerry took all of the redeployed staff under her wing and made everyone feel valued in what is such a stressful time in our lives.
"To the  Ward Manager, Junior Sister, Auxiliary Nurses, Staff Nurses, Matron, Clinical Support Worker, Frail Team, Consultants, Physiotherapist, O.t. Doctors, Specialist Nurses, Ward Clerk, Ward Housekeeper, Ward Hygienist, Domestic Cleaner, Catering Staff, Stores Ladies, Linen Room, Estates Department, Post Room, Phlebotomist, Dieticians, Porters – a massive well done to everyone."