Hospital therapists have taken on new roles during the pandemic to ensure patients with cancer can return home to their families as soon as possible.
Occupational therapists, physiotherapists and therapy assistants make up the Oncology Therapy team looking after patients undergoing treatment for cancer at the Queen's Centre, Castle Hill Hospital, Cottingham.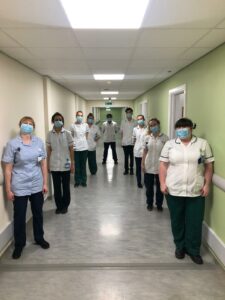 Clinical Lead Physiotherapist Vijo Mathew has paid tribute to his team for their flexible and willing approach in response to the demands of the pandemic.
Vijo said: "We play an important role in patient rehabilitation and making sure  patients have everything they need to live well at home once they are ready to leave hospital. Helping patients with cancer achieve that quality of life is the main factor driving us forward.
"During the pandemic, we've faced staff shortages but we've managed to overcome that by sharing out our skills so occupational therapists have been able to do basic physiotherapy assessments and physiotherapists have helped with occupational therapy assessments
"All this means we're making sure the process of getting patients back home goes as smoothly as possible."
The Oncology Therapy team, working with patients diagnosed with the virus on Ward 30 as well as patients with other serious illnesses on Wards 31, 32 and 33, has also been the link to families when visiting restrictions were in place to protect patients and staff.
Vijo said: "I am privileged to lead an amazing team which is efficient and dedicated but we couldn't do our job without the help of wonderful nursing staff, doctors and support staff at the Queen's Centre.
"The team has supported each other throughout the pandemic and during lockdown restrictions. Whether we're at work or at home, we're there for each other."