A hospital team carrying out high-risk medical procedures during Covid-19 has been thanked for their dedication to patients.
Members of the Endoscopy team, based at Hull Royal Infirmary, have been wearing PPE offering the highest protection including full face visors, goggles and coveralls for a year to keep them and their patients safe from harm.
They also faced the trauma of one of their own, Neil McDonald, contracting Covid-19 and spending 60 days in Intensive Care before he was well enough to go home.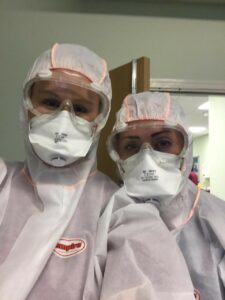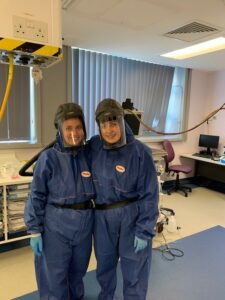 Today, Lucy Holgate, Sister in Endoscopy, said: "The team carry out what are known as aerosol-generating procedures (AGPs), which carry the risk of generating droplets of the virus if someone is infected, so every member is required to wear high level PPE on a daily basis.
"Obviously, this makes their job more difficult as they get very hot underneath their PPE. But everyone has taken it in their stride.
"I am so proud of what we have achieved. Thank you for being the most amazing, resilient team ever."
When the country went into its first lockdown last March, most of the Endoscopy team were redeployed to the frontline of Hull University Teaching Hospitals NHS Trust's response to the virus because of their high level of skill.
Some worked on Ward 36, the newly-built assessment unit while others were asked to work in the Emergency Department or the Intensive Care Units as well as other wards assigned to look after patients diagnosed with Covid-19.
Lucy said: "The team went with grace and humility in such daunting times."
As the number of infections began to fall during the summer, the Endoscopy team returned to their normal duties, carrying out procedures on people suspected of having cancer or other serious illness.
"We have continue to support patients, particularly when they are facing a cancer diagnosis and uncertain of their treatments with services affected by the pandemic.
"The Endoscopy team have excelled and are going above and beyond to provide a service out of hours, evenings and weekends."