Around three million people in the UK have Chronic Kidney Disease (CKD) – but a third of them may not even be aware they have this serious condition.
Today is World Kidney Day and Hull University Teaching Hospitals NHS Trust is joining the global campaign to make sure people understand why kidneys mater. 
What do kidneys do?
They remove toxins, excess water and waste products.
Kidneys play a vital role in regulating your blood pressure.
They activate vitamin D to help keep your bones and muscles in good shape.
They're essential for a healthy body.
Why you shouldn't ignore your kidneys
Most of the time, kidneys work normally without any issues but sometimes they can be damaged or stop working so well. This is known as chronic kidney disease.
CKD is a serious condition that affects over three million people in the UK and up to a million of these people may be undiagnosed. Find out how you can improve your kidney health
Early diagnosis and treatment, as well as changes to your diet and lifestyle, are vital and can often help slow down or prevent any further damage. However, if CKD goes undetected or is not managed well, it can progress to kidney failure, which is fatal without treatment. Patients with kidney failure will need regular dialysis or a kidney transplant.
Some other types of kidney disease, including inherited conditions, are not preventable but can be managed.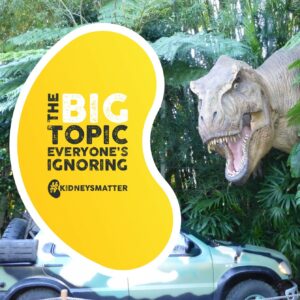 The BIG impact on your life
Having kidney disease affects more than your physical health. It also impacts your social life, relationships and emotional wellbeing. Imagine visiting the hospital three times a week for a four-hour dialysis session – how would you fit this around work, or looking after children, or going on holiday?
Are you at risk?
Although anyone can develop kidney disease, here are some factors that can increase your risk:
Diabetes
High blood pressure
Heart and circulatory disease
Family history of kidney disease
A black, Asian or minority ethnic background could mean an increased risk of developing kidney failure more quickly.
Kidney disease and Covid-19
The global pandemic has changed kidney patients' lives in many ways. Considered to be vulnerable, they face a higher risk of serious Covid-19. If they catch the virus, they are more likely to be seriously ill or even die.
Many kidney patients have been shielding for most of the last year. But many dialysis patients can't shield at home. They have no choice but to go to hospital several times a week for their life-saving treatment. And those with a kidney transplant or taking immunosuppressants still have to attend their regular medical appointments, despite being less able to fight the virus because of the drugs they take.
As well as affecting current kidney patients, Covid-19 is also creating new ones. Up to a quarter of people who have Covid-19 and receive ventilation in intensive care end up with severe acute kidney injury (AKI) and need dialysis. AKI is when your kidneys suddenly stop working properly. This could cause anything from a minor loss of kidney function to complete kidney failure. Only time will tell if people can recover from this.
This is serious. Kidney disease is no joke. It can't be ignored. Kidneys matter.