After taking up the offer of a routine eye check with his optician, Mark Stutely didn't expect to need a hospital referral. But when a problem was identified with an optic nerve just before Christmas, Mark found himself in the care of staff at Hull and East Yorkshire Eye Hospital.
All too aware of the pressures which Covid-19 has been placing on staff, Mark didn't want to be a burden, and he understandably had his own concerns around the risks of catching the virus too.
His fears on both scores proved unfounded, as he recently explained: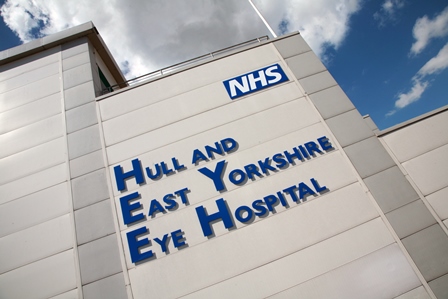 "Late last year, I went to my optician for a routine eye examination and a healthcare scan. As a result of the scan, the optician detected an anomaly with the optic nerve in my left eye. Unsure of the cause, I was referred to the Eye Hospital.
"I did have second thoughts about attending, not just because of the current risk of Covid-19, but also because I didn't want to be a burden on the NHS when their priorities are trying to manage the impact of Covid-19.
"But I did attend, and I needn't have worried. In fact, I attended two outpatient appointments which included scans and a lengthy consultation, and the systems in place to minimise contact and protect patients were brilliant.
"My first contact was with a nurse ensuring I was fit and healthy to come in to the hospital, then the cheerful reception team put me immediately at ease and reassured me that I was entering a safe and well-run environment.
"In fact, the professionalism of all the staff including the technicians meant that my experience was really quite pleasant.
"I felt well informed during the whole process, from start to finish. Mr Madhu, with whom I had my consultation, was clear, empathetic , incredibly thorough, and at all times reassuringly professional.
"While I was waiting in the hospital to have my images taken, I had time to observe my surroundings and what was clear to me was that the level of patient care was outstanding, and staff seemed to be very happy in their work."
Even during these difficult times, Mark says he would encourage anyone who has a hospital appointment to ensure they attend.
"We all know how difficult the current conditions are for the NHS functioning in a world dominated by Covid-19. It is impacting all of our lives but my experience of the brilliant team at the Eye Hospital was that they continued to work well in extreme circumstances.
"I am glad I attended my appointments, and not just because the hospital has the necessary safety processes in place.
"It's also important to understand that by not attending you could be impacting your own long-term health. If you do have underlying health issues, there is still a need for you to get treatment and by keeping your appointments, you can be reassured that you are in safe hands."