A piece of artwork created by world famous artist, Damien Hirst, will be displayed in Hull Royal Infirmary from November.
Reproduced on perspex the Butterfly Rainbow was created by Damien Hirst to show support for the NHS during the Coronavirus crisis and this is one of a number of donated artworks to several hospitals within the NHS.
The donation to Hull University Teaching Hospitals NHS Trust (HUTH) supports the Trust's commitment to the arts, outlined in Flourish – HUTH's hospital arts strategy, which recognises that the arts and culture can keep people well, aid recovery, and help meet major challenges such as ageing, long-term conditions, loneliness and mental health.
HUTH Chief Executive, Chris Long, said: "There is overwhelming evidence that shows just what a difference the arts, creative thinking and creative projects can make to hospital environments, patients, carers, visitors and staff.
"We support arts and creativity in our hospitals, and we are committed to growing this work so that we can make the best of what creative approaches and professionals can offer to healthcare – alongside our medical treatments, doctors, nurses and other clinical staff. We are very grateful to Damien Hirst for giving us this opportunity and for acknowledging the contribution of the NHS during the Covid-19 pandemic."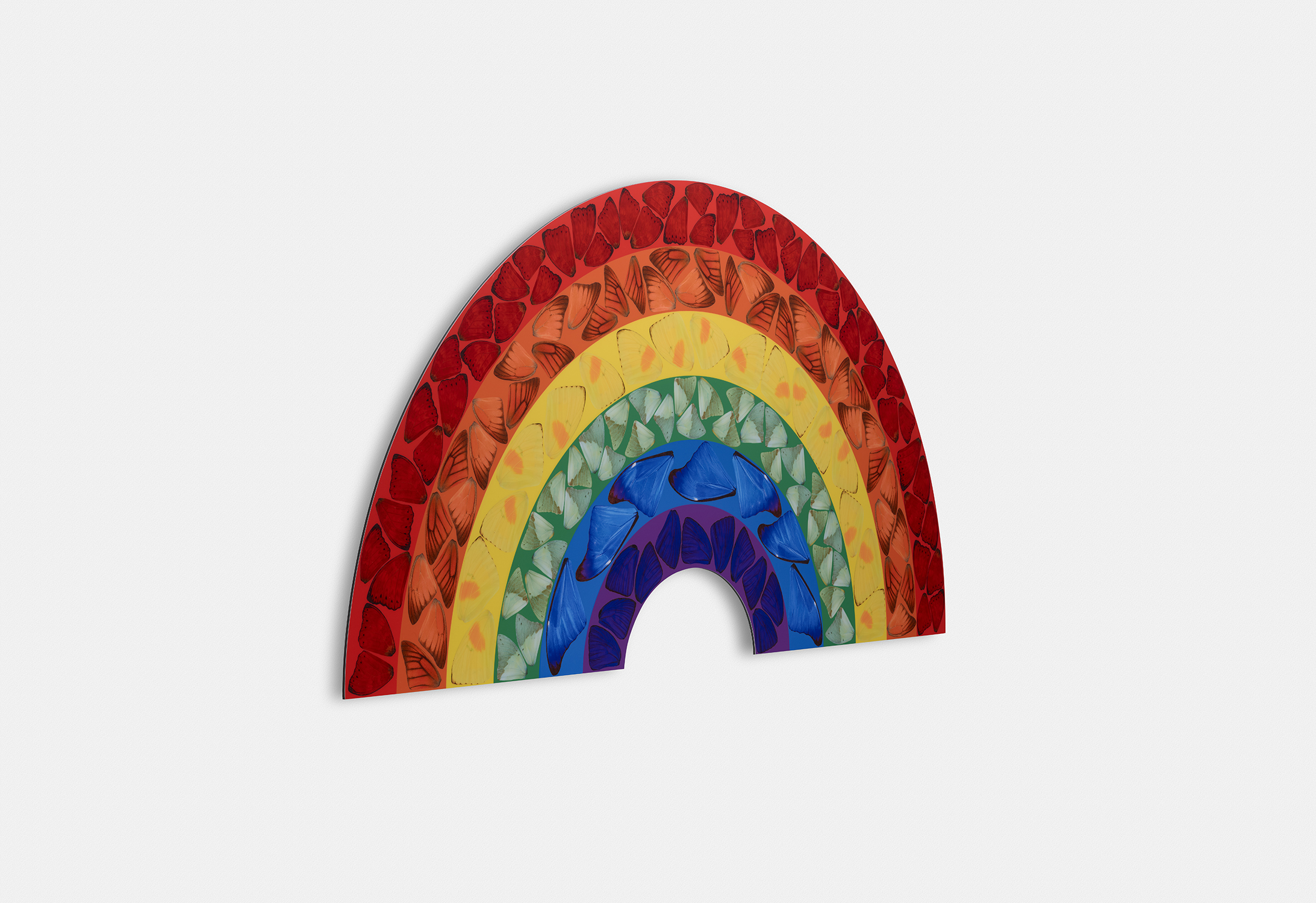 Butterfly Rainbow is made up of bands of coloured butterfly wings, one of the artist's best‐known motifs. A limited edition of the work was produced with all profits donated to NHS Charities Together, raising a total of £1,508,172.
Damien Hirst said: "I wanted to do something to support the many people who are risking their lives to help those in need during this time of crisis. The rainbow is a sign of hope and I'm so pleased to have released these prints to help fund the brilliant work being done by NHS staff across the country."
Flourish – HUTH's hospital arts strategy was launched at a Yorkshire and Humber regional event at Hull Royal Infirmary in 2018, attended by Lord Howarth of Newport, Co-Chair with Ed Vaizey MP of the All-Party Parliamentary Group on Arts, Health and Wellbeing. Also present were key figures from the NHS, local authorities and arts organisation across the region.
David Haire, Project Director Fundraising at HUTH, said: "Our hospital arts programme is being recognised at a national level as good practice, as this latest donation illustrates. We are very proud of how far we have come since launching our strategy, and our projects are allowing the Hospital to really embrace the many ways in which creativity can enhance its work with patients, visitors and staff. Our programmes are highly valued by all who come into contact with them, because they make such a positive difference."
Since then, the Hospitals Trust has been busy delivering several innovative arts and health programmes in its wards, corridors, waiting rooms and at patient's bedsides. For example:
Talking Pictures: a set of 11 bespoke images, designed in a unique collaboration between HUTH speech and language therapists and illustrator Simon Crook – to stimulate patients and enable a more comprehensive range of assessments and treatments for adult stroke patients.
Dementia-friendly ward environments: a coordinated visual programme in HUTH's elderly wards using bright colour stripes, large flower-images and corridor artwork to help patients with dementia orientate and find calm
Reading Rooms: in partnership with Hull Libraries, with funding from the James Reckitt Library Trust, this is a pioneering project using specially trained volunteers to read poetry and prose to patients and visitors – to inspire, uplift, stimulate positive conversations and spread moments of joy.