A national campaign will be virtually launched on Wednesday, October 7th at the Castle Hill Hospital to support recruitment to the health and care workforce in Hull and East Yorkshire.
Under the banner, East Yorkshhire: 'the secret's out',  the new campaign will seek to attract more people to vital roles in Hull and East Yorkshire from around the country and beyond. Through a microsite, social media, street advertising, mini-brochure, and a series of short films, the campaign will be 'confident and slightly mischievous' in celebrating a 'warm and wonderful, green and gorgeous, distinctive and diverse' region that is 'well educated, well connected and almost ridiculously affordable'.
John Skidmore, Director of Adults, Health and Customer Services, East Riding of Yorkshire Council, explains:
"Like most people who are lucky enough to live in this region, I happen to think that this place is something of a 'hidden gem'. That's why we have based our campaign around the stories of those people who came to work here, fell in love with it, and now want to let others in on the secret.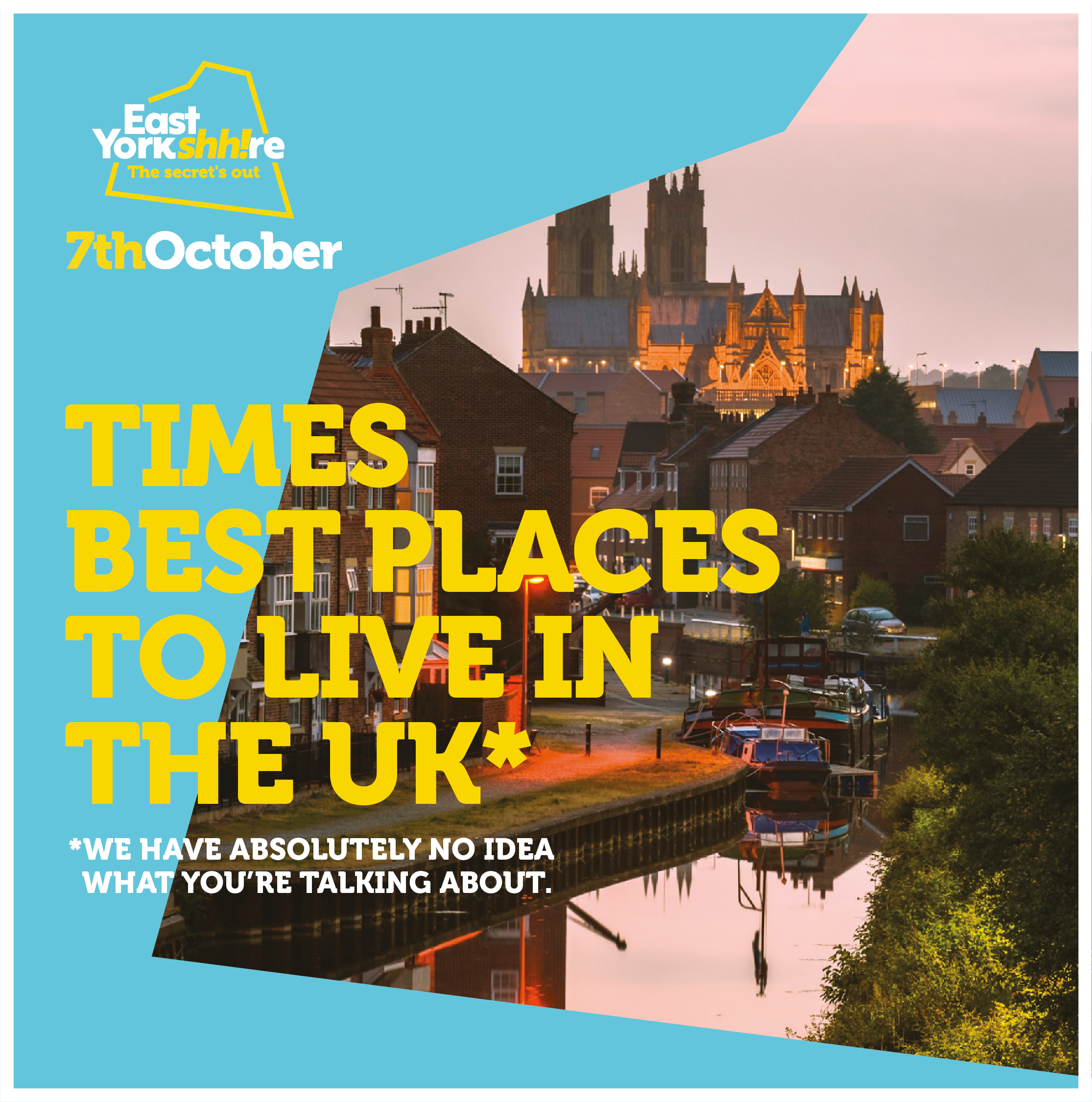 "We have always faced competition from major population centres for the best talent, but things are changing, heads are being turned and more and more people are looking at our region. This is the first time that every public sector organisation has got together to shout about our incredible patch, and I think we're onto something!"
The unprecedented campaign has the support of East Riding of Yorkshire Council, Hull City Council, City Health Care Partnership CIC, Hull CCG, East Riding of Yorkshire CCG, Hull University Teaching Hospitals NHS Trust, Humber Teaching NHS Foundation Trust, Humberside Fire and Rescue Services, Humberside Police, Yorkshire Ambulance Service, Hull York Medical School, and the University of Hull.
It will feature those people who have come to live, work and play in the area from as far afield as Nigeria, Poland, India, USA, and every corner of the UK. One person behind the campaign, which will share information about the region's schools, housing, standard of living, and quality of life, is former cabinet minister, Alan Johnson, who now lives in the area, and will be a keynote speaker at the launch event. John Skidmore continues:
"As a former Health Secretary, who has become 'one of us', we are thrilled that he has agreed to support the campaign, and become an honorary ambassador, one of many who have come forward to share their incredible and varied stories."
Clare Killingback, Programme Director for Physiotherapy, University of Hull came to the region earlier this year from Bournemouth to start a physio department from scratch:
"It was a once in a lifetime opportunity to have a blank slate. Everything has been brilliant. I've loved it. We couldn't quite believe what we could get for our money. We were living in a one-bedroom flat in Dorset. Here, we have a fantastic house with a garden. I'm growing vegetables and (my partner) has got a music studio in the loft. It's fabulous … but you do want to keep it a bit of a secret!"
Chris Long, Chief Executive at Hull University Teaching Hospitals NHS Trust, who will also speak at the event, said:
"Many regions claim to have a unique identity, but I have honestly never known anywhere quite like Hull and East Yorkshire. It constantly offers so much in a charming, funny, understated, warm and welcoming way.
Our trust alone has almost 10,000 employees from every corner of the UK, and over 80 nationalities. A shared experience for those new to the area is the quick transition from knowing little about it, to shouting about it from the rooftops. I really think this campaign captures that.
It may go a little against the grain, but it's about time we let people know just what we have here."
East Yorkshhire: the secret's out will be streamed live on YouTube from 9-10am on October 7th and can be viewed through: www.tinyurl.com/thesecretsout2020