Ophthalmology Outpatients  named most festive hospital department of 2019
A passing comment made by a patient with sight difficulties has led to Ophthalmology Outpatients being named as the trust's most festive ward or department of 2019.
Last December, an elderly lady told a staff member from the department how she had a tin of rice pudding for Christmas dinner and didn't see or speak to anyone all day.
This led Sister Katy Rutter and her 115-strong team to ensure this lady and many more like her had a much more positive festive experience this year.
Ophthalmology Outpatients have been delivering a festive treat every day this December for patients young and old, from visits from Father Christmas and lindy hop dancers to school choir performances and knitting group sessions.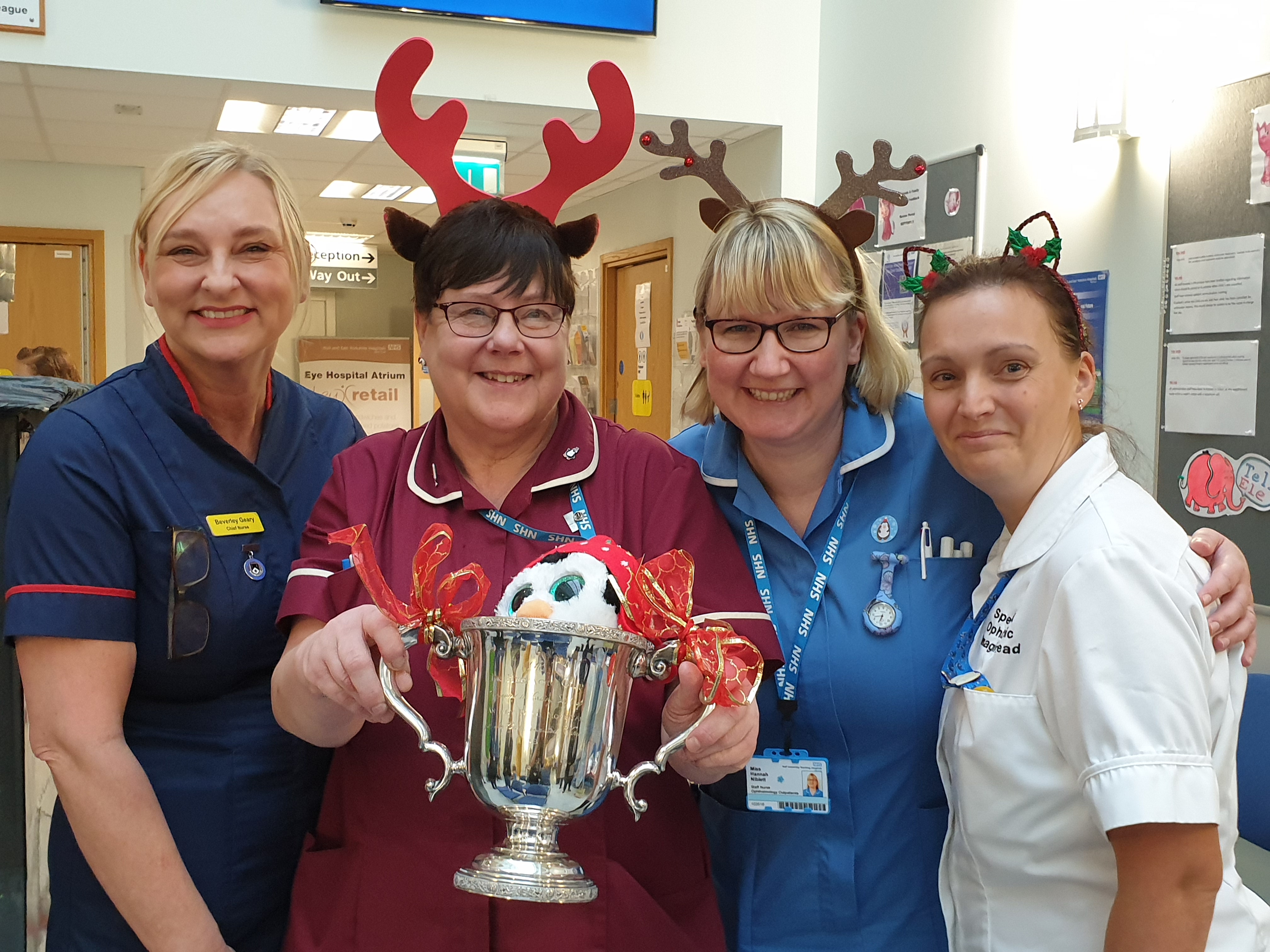 The team has made decorations inspired by The Polar Express, turning the reception desk into a ticket office where younger travellers are each given a golden train ticket inviting them to 'Believe'. A huge cardboard steam engine stands in the outpatients waiting area and there's a 6ft sign for the North Pole. Add in free mince pies bought by staff and offered daily to patients, sensory gifts bought by staff for visually impaired children and a Christmas tree decorated with glasses at patients' request, and it becomes clear to see why the team took this year's crown.
Chief Nurse Beverley Geary took time out of her busy schedule yesterday for judging visits across HRI, Hull Women and Children's Hospital and Castle Hill Hospital, and to see and hear how staff have been creating festive cheer for patients, co-workers and visitors. She says:
"It's been a real privilege to judge the competition and to see and hear from staff across the trust about how they've really pulled together and delivered a positive difference in the well-being and the recovery of their patients.
"While the entries were outstanding again this year, the Ophthalmology Outpatients team have clearly put so much thought into making a positive difference for patients who may be only with them for a few minutes per visit, and they have seen a massive benefit within their team too."
As the winning department for 2019, the Ophthalmology Outpatients team has been presented with a luxury hamper to share and awarded temporary custody of the Dr Hermon Cup. The cup dates back to 1938, when the then-famous radiologist presented the shiny silver trophy to the best decorated ward in the old Anlaby Road Hospital.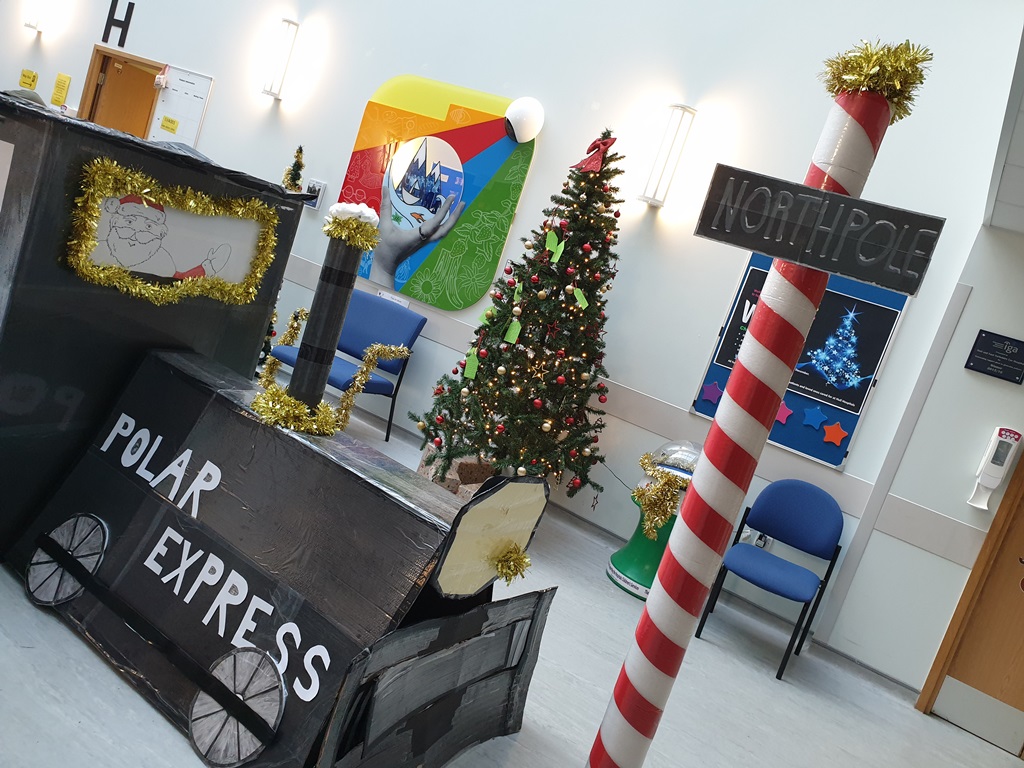 Katy Rutter, Sister with the Ophthalmology Outpatients team has remarked how much of a difference the competition has made to her patients and staff:
"I have been overwhelmed by the generosity and kindness of my team. I have always felt lucky to manage them, however this project of ours has really shown me they are very special. Staff have made such an effort, morale has had a big boost and relationships between team members are stronger than I have ever known. It really has had such a beneficial effect on all of us.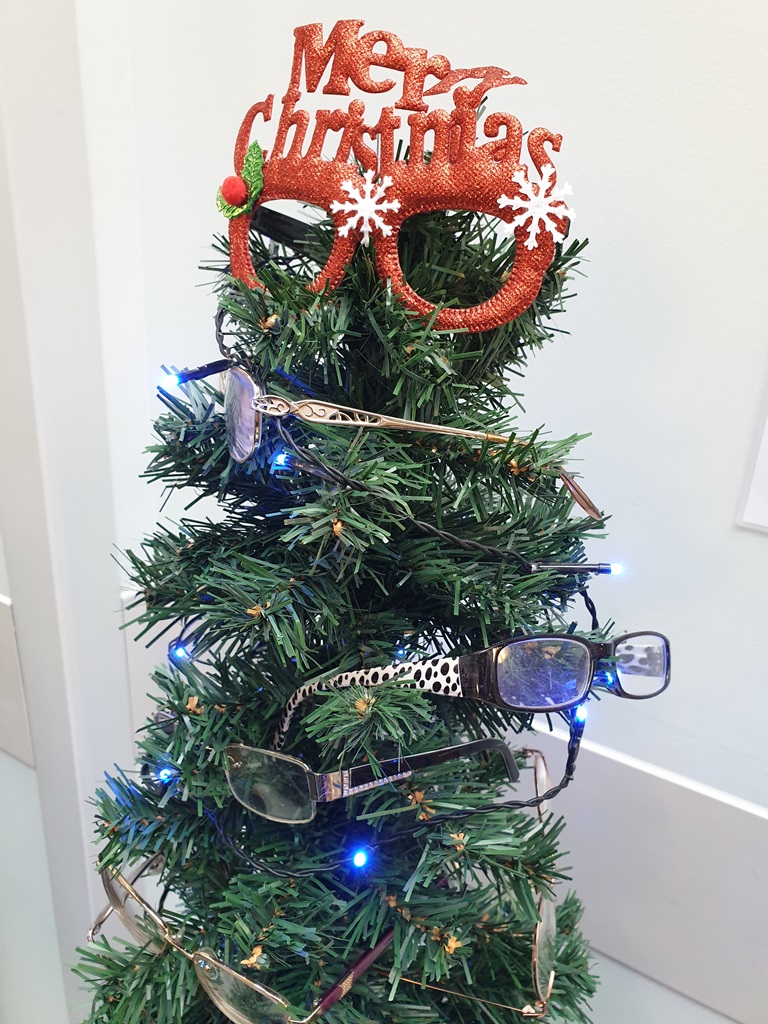 "We are already planning what we can continue into the New Year for patients and staff. It has shown to have had such a positive impact on people's mental health that we want to continue this into the darker months of winter which follow Christmas."
Neuro rehabilitation Ward 29 and the Radiotherapy Team, both based at the Queen's Centre, Castle Hill Hospital, were chosen as this year's runners up.
Occupational Therapy and nursing staff on Ward 29 have seen first-hand how crafting Christmas decorations has led to improvements in manual dexterity and cognitive rehabilitation among patients recovering from brain injury . At the end of each craft group, their patients have regularly been clamouring to continue making decorations, further enhancing their recovery.
The Radiotherapy Team, who won the competition last year, themed their efforts around the "Twelve Days of Christmas Kindness", delivering something different for patients in each of the 12 days leading up to December 25th, including home baking, positivity notes and a Christmas card for all patients.
Beverley adds:
"Every single team I visited yesterday really impressed me with the amount of effort they put in, the amount of time they gave and their overall thoughtfulness for patients and colleagues. I loved seeing the difference our competing teams have made, and I'm incredibly proud of all of them."