A website supporting women and their partners through pregnancy has undergone a major revamp to outline the full range of maternity services in Hull and the East Riding.
Midwives at Hull University Teaching Hospitals NHS Trust have worked with web officer Matthew Graby to revamp the new maternity website.
It now includes a virtual tour of Hull Women and Children's Hospital, floor plans so people know where to go for appointments and a guide to who's who in the hospital by explaining the different uniforms worn by staff.
The website enables women registered with either a Hull or East Riding GP to book parenting classes after they have had their 20-week scan.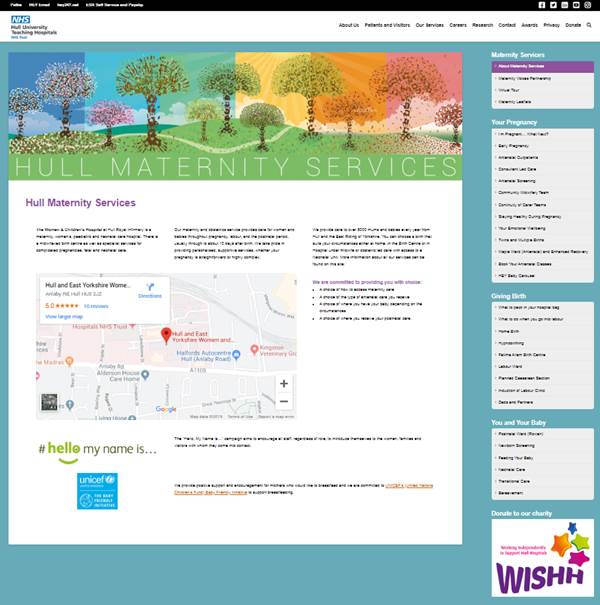 Janet Cairns, Head of Midwifery, said the new-look website offered women an extensive amount of information taking them through their pregnancy, giving birth and those early weeks after their babies are born.
She said: "Discovering you're pregnant can be an exciting time in a woman's life and you can be bombarded with information which is difficult to take in.
"Our new website provides all the information they need in an easy-to-read format which they can dip in and out of throughout the different stages of their pregnancies.
"You can read about the different options for giving birth in your own time, allowing you to make considered judgments which are best for you and your baby.
"The virtual tour and floor plans are an excellent addition which can take the stress out of coming to hospital for antenatal appointments and booking your parenting classes online after 20 weeks is now an option for all women, whether they're living in Hull or the East Riding."
As well as sections on early pregnancy and antenatal appointments, the website explains the role of the community midwives and the new continuity of carer teams, supporting mums-to-be in Beverley, parts of East Hull and those who choose to give birth at the Fatima Allam Birth Centre.
It also offers advice and guidance on staying healthy during pregnancy, emotional wellbeing and twins and multiple births.
The "Giving Birth" section explains what women should pack in their hospital bags and what to do when they go into labour, with special sections on hypnobirthing, home births and induction of labour.
"You and Your Baby" also provides information on care on Rowan Ward after giving birth, newborn screening, neonatal and transitional care and how to feed your baby. There is also a special section to support families who experience bereavement shortly before their babies are born, in childbirth or in the first few days.
The website also explains the role of the Maternity Voices Partnership, a group providing parents and health professionals with a say in the development of maternity services and supported by the Humber Coast and Vale Local Maternity System.
The information can be changed into different languages for Black, Asian and Minority Ethnic people or audio for those with hearing difficulties.