One of the trust's best-loved porters is hanging up his uniform after almost 50 years.
Denis Carter, 66, started working for the NHS at De La Pole Hospital as a fresh-faced boy of 18.
This afternoon, he'll finish his last eleven and a half hour shift at the Queen's Centre, clocking up almost 46 years' service to patients.
Looking back over his long career, Denis said: "I have to go and I'm ready to go.
"But walking out that back door for the last time will be the hardest thing I've ever done."
Denis was born in Chesterfield but moved to Hull when he was four. He worked in Hull's fishing industry gutting fish after he left school before applying for a job in hospital stores at De La Pole.
However, the job had gone and he was offered a porter's job instead.
"I hadn't even thought about it," he laughed. "I just thought 'Wow. Ok.'"
It was a steep learning curve for the teenage Denis, given the task of moving patients who had died to the mortuary.
"It was hard at first and I had nightmares but I soon got used to it," he said. "I moved 36 bodies in a week once."
He loved his job at the hospital, known to him as 'Delly' and a place where everyone knew everyone else, from the patients to the senior bosses and everyone in between.
With the re-organisation of the NHS, Denis moved to Castle Hill Hospital in 1988 working as a nightshift supervisor in the switchboard control room.
He was then headhunted as a portering supervisor before he worked for three years transporting staff to and from Castle Hill on a half-hourly shuttle service. He then returned to Castle Hill as a portering supervisor and has spent the last 18 months at the Queen's Centre.
Today, patients come over to him to shake his hand, knowing it is his final week.
"The best part of my job has been looking after patients and helping their families.
"They don't want to be here, they go through hell and back. They need medicine, of course, but they also need kindness.
"And that's what I see my job as, to make them smile."
Not many patients greeted by his beaming smile will know the heartache Denis has endured in his own life. He cared for his mother for 25 years, upholding her final wish to die at home. But he also watched his own grandson Daniel, known throughout Hull as 'Bransholme's superhero', die of cancer after a brave fight when he was just seven years old, days before Christmas.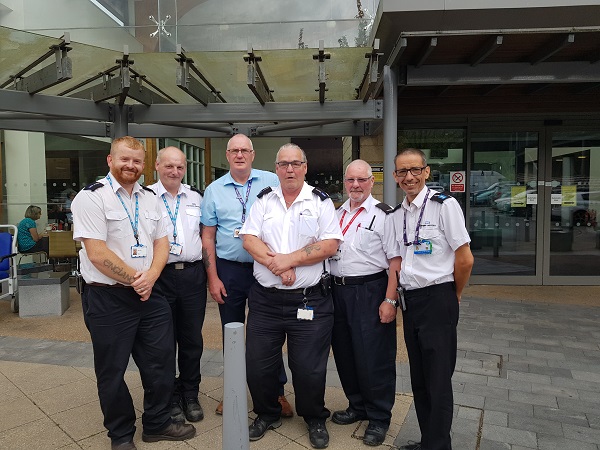 Tears fill Denis's eyes, lost in his grief. "He was a hell of a fighter and he was chosen by Hull's mayor to switch on the Christmas lights," he said softly.
"They asked if I wanted to move after Daniel died but I wanted to stay here.
"I think that's why I can relate to patients. I've been in their shoes. I know what it feels like."
His friends and colleagues at work have seen him through dark times. But he's also shared plenty of happy times with them too – like the time he took a day off work and came back married to wife Gaye.
Denis and Gaye are planning to move to Sigglesthorne to enjoy his retirement near the coast, just waiting for their bungalow to be completed.
"All that has happened to me has made me a better person," he said. "I like to think I'm a caring person – you couldn't do this job if you weren't.
"I've met thousands of thousands of patients over the years and sometimes, I've gone home and cried for them because it can get to you.
"Just the other week there, I lost one of mine. I'd seen them at the end of my shift and when I went to check on them the next day, they had died an hour or so earlier. That hit me hard.
"But I've never regretted what I've done, not for a single minute. I could have left this job a long tme ago but I didn't want to.
"I look back and I think of the patients and the people I've worked with who have helped me and I can't thank them enough."
Staff will gather this afternoon to bid a fond farewell to Denis at the end of his shift.
Ann Mason, Head of Facilities, said: "Denis has been a wonderful asset to the trust and he will be sorely missed, not just by us but by the patients who have grown to love him for the care and compassion he has shown them every day of his working life.
"We thank him for his decades of devotion and wish him all the best for a long and happy retirement."