A specialist kidney team is marking 50 years since the service was launched in Hull as part of this year's World Kidney Day.
Hull has a dedicated kidney unit at Hull Royal Infirmary, satellite units led by nurses at in Bridlington, Grimsby and Scunthorpe and patient outreach clinics at Bridlington, Goole, Grimsby and Scunthorpe.
People who have undergone treatment for kidney treatment including dialysis and transplants will join staff to mark the global awareness day on Thursday.
Dr Helen Collinson, Consultant Nephrologist at Hull University Teaching Hospitals NHS Trust, said: "Many lives have been saved and improved since we introduced the service in 1969 and we've made incredible advances over the decades.
"This year's theme of Kidney Health for Everyone Everywhere calls for universal health coverage for the prevention and early treatment of kidney disease.
"We're pleased to have such a great service right here in Hull as well as satellite units throughout East Yorkshire and Northern Lincolnshire to give people access to the best possible care."
The city's Renal Dialysis Unit was originally opened by Sir Ronald Tunbridge, Emeritus Professor of Medicine at Leeds University and president of the British Medical Association (BMA), at Princess Royal Hospital on October 6, 1969.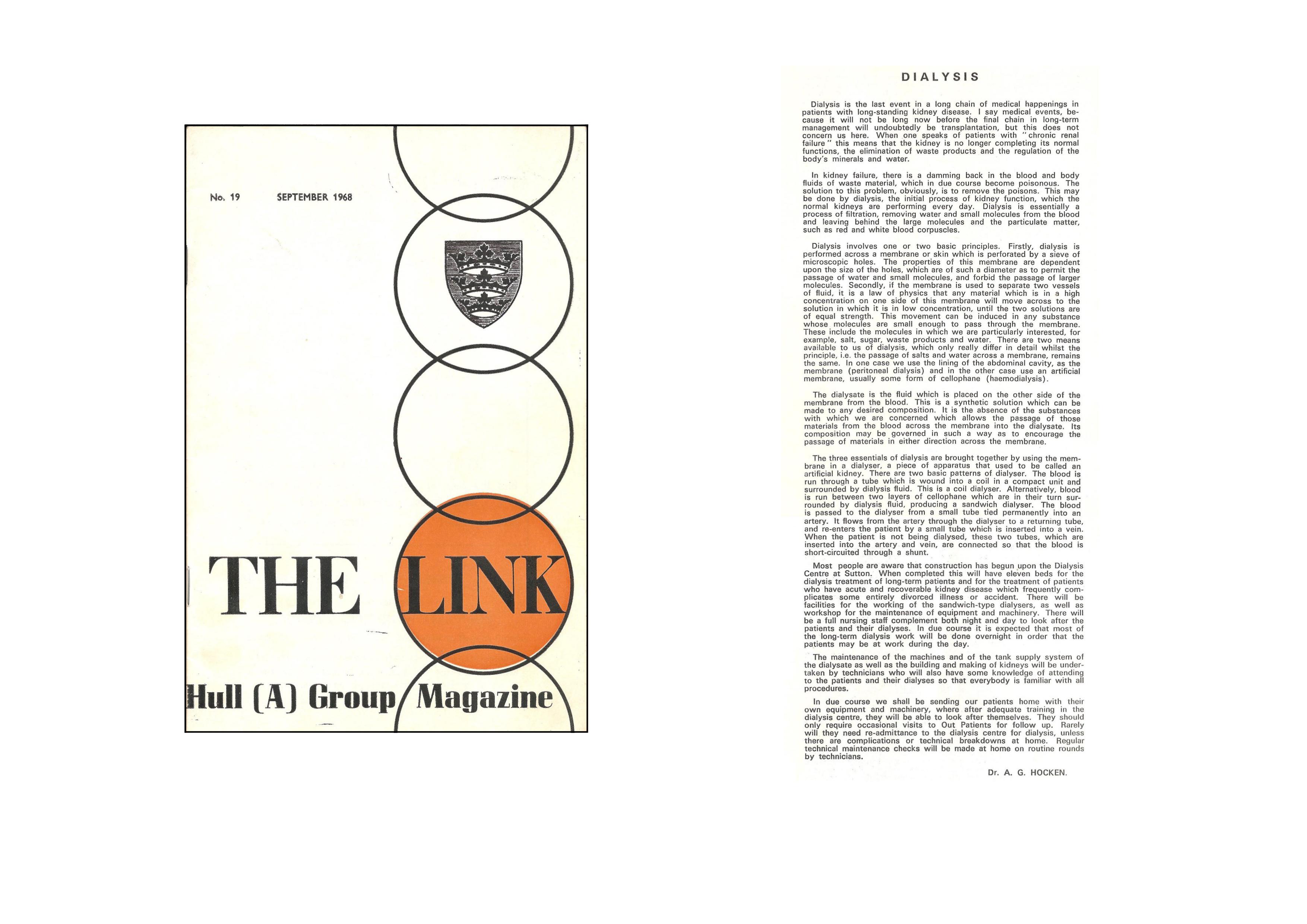 During the ceremony, Mrs Henrietta Brocklehurst, chair of the Hull (A) Group Hospitals Management Committee from 1958 to 1974, said Hull had been placed on the map for its medical services thanks to Sir Ronald and his interest in developing Hull Hospitals.
Around three million people in the UK have chronic kidney disease (CKD) although about a third of them do not realise they are living with a condition which can lead to kidney failure, fatal without treatment by dialysis or a kidney transplant because they have no symptoms.
Once diagnosed, Hull's renal team may be able to help to slow down progression of the disease, reducing or delaying the need for kidney replacement treatment such as dialysis or transplant which can make a huge difference to a person's quality of life.
The trust plans to mark World Kidney Day with staff and patients manning a stand in Hull Royal Infirmary's restaurant between 11.30am and 2pm to raise awareness among NHS workers, other patients and visitors to the hospital.
Symptoms of CKD can include weight loss and poor appetite, swollen ankles, feet or hands caused by water retention (oedema), shortness of breath, tiredness, blood in urine and an increased need to urinate, particularly at night.
Some people will have insomnia, itchy skin, muscle cramps, nausea and headaches. Men with kidney disease can also experience erectile dysfunction.
People can reduce their risk of developing chronic kidney disease by changing their lifestyles right now.
Stopping smoking, reducing the amount of salt and saturated fats we eat, taking regular exercise, always drinking plenty of water and maintaining a healthy weight can all reduce the risk of developing CKD.
However, lifestyle changes can also help a person who already has kidney disease.
If you have high blood pressure, diabetes, family members with kidney disease, have had pre-eclampsia or are from a BME background, ask your GP for a kidney function test.