A three year project designed to honour those lost to leukaemia and other cancers will receive its official unveiling at Castle Hill Hospital in Cottingham this week.
Over two hundred pairs of hands have been involved in making the 'Quilt of Memories', a giant patchwork quilt which includes 140 individually hand-crafted quilt blocks.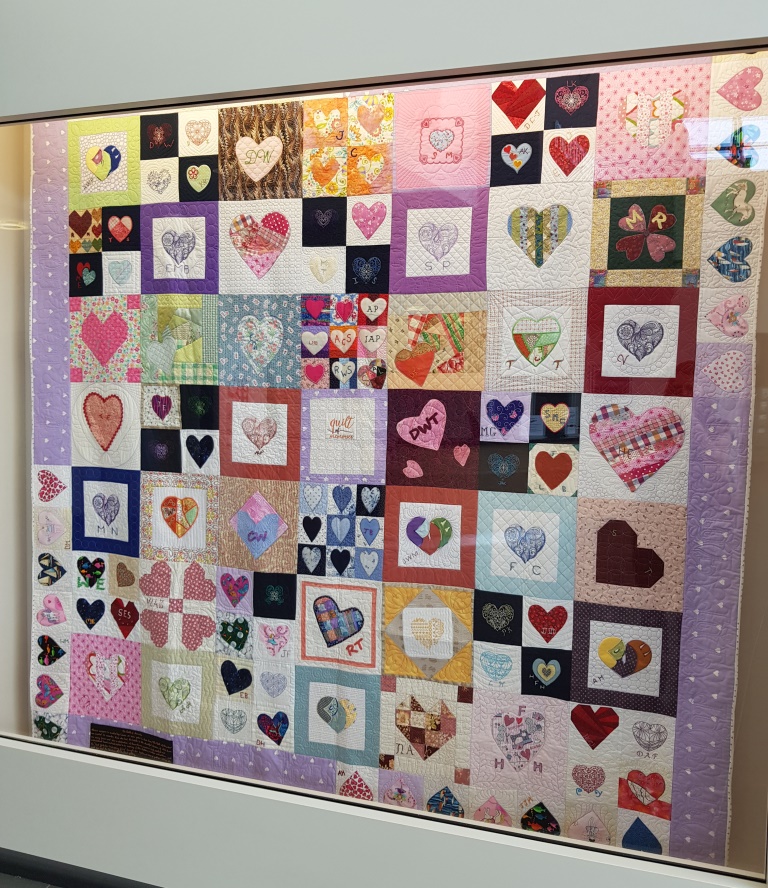 Staff, patients and visitors will gather along with the quilt's creator, Sylvia Priest, in the main reception of the Queen's Centre on Friday to celebrate the installation.
Sylvia, from Gunness in North Lincolnshire says:
"My husband was diagnosed with acute lymphoblastic leukaemia in 2015, and to make sense of this, I turned to what I feel happiest with, and that's quilting. It was a source of help to me, but I also wanted to do something which would help others too; both those who had loved ones affected by cancer but also those who may be coming to terms with a diagnosis of their own.
"There is a strong quilting community around the UK, so once I put an initial appeal out for help, the responses came thick and fast, and the arrival of quilt blocks was like an avalanche!"
The Quilt of Memories was created by members of the online group, Helping Hands – Stitching and Sewing for Good Causes along with UK Quilters United and others who contributed their own heart shaped blocks.
With help from members of the Cottingham-based East Yorkshire Embroidery Society, Sylvia stitched the initials of people whose lives have been touched by any cancer in return for a small donation.
The quilt initially raised £350 in donations from across the UK, money which has been donated to Castle Hill Hospital as a thank you for the care shown to Sylvia's husband, Tony.
Since its completion, and prior to its arrival back in Cottingham, the quilt has also been on tour around the country. It was displayed at the 2017 Festival of Quilts, where Sylvia used it to raise funds for Bloodwise, a national blood cancer charity for which she is an ambassador.
The official celebration to mark the installation of the Quilt of Memories will take place at 12:00pm in the main reception of the Queen's Centre, Castle Hill Hospital.