Revd. Anthony Brookes, M.A. – Head of Chaplaincy
---
Tony has worked in a variety of NHS Trusts and is a Methodist minister as well. He joined the Hull University Teaching Hospitals NHS Trust in July 2018 as Head of Chaplaincy. His M.A. in Pastoral Theology was completed at Anglia Ruskin University. He enjoys reading, listening to classical music, swimming, and relaxing at home with his wife.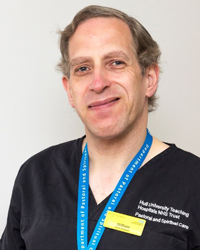 William Bryan-Smith – Bank Chaplain
---
William first joined the NHS in 2016 as a Bank Chaplain. Before this, William worked as a volunteer Chaplain at Dove House Hospice for over fifteen years. He is a Methodist lay minister. William finds creative ways of exploring pain and beauty through writing poetry and the folding and sharing of origami. He has surprisingly, enjoyed the blessing of sharing some of these creative gifts through his work as a chaplain.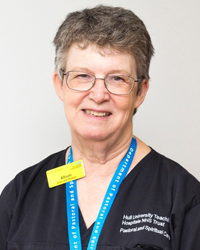 Allison Dean, B.A., M.Div., MThC. – Senior Site Chaplain
---
The first thing you need to know about Allison is that she is a dual national: Canadian/British. She has served as a chaplain for 26 years both in Canada and the UK. She is also a licensed reader in the Diocese of York. Allison has taken two units of Clinical Pastoral Education at Laurentian Hospital, Sudbury, Ontario, Canada (the minimum needed for Canadian chaplains). She finished her B. A. in Religious Studies at St. Jerome's University, Waterloo, ON. She finished her Master of Divinity at Wycliffe College, Toronto, ON. She finished her Master of Theology in Chaplaincy Studies at St. Michael's College, Llandaff, Wales. Her passion is working with the elderly and those living with dementia. Allison enjoys reading, research, classical music, gardening, and travel.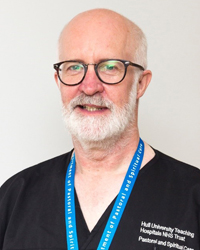 Revd. Nigel Ely, M.A.
---
Nigel has a degree in Philosophy and M. A. in counseling at the University of Birmingham. He has held a variety of posts including chaplaincy in hospitals, prison, and Further Education.
Nigel enjoys reading (non-fiction), quizzing, music and walking. He hopes to be able to travel more.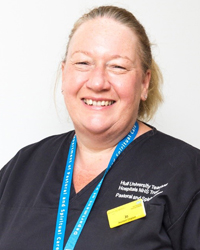 Joanne Milns – Trust Chaplain
---
Joanne was a volunteer Chaplain at both Dove House Hospice and the Trust for a number of years. She became a Bank Chaplain in April 2019. She now is a part-time Trust Chaplain. Joanne spent 32 years in the Pharmacy where she started as a Student Pharmacy Technician. She later became a Medicine Management Technician on the wards. Jo has also worked as a part-time Community Youth Worker. She helps lead parent and toddler groups, parenting groups, and other small groups. She is a member of a local Church of England church.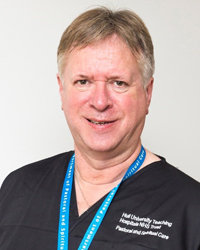 Revd. James Trowsdale, B.A. – Trust Chaplain
---
James was ordained as a self-supporting priest in the Church of England in 2015. James finished the Yorkshire Ministry Course at the College of the Resurrection, Mirfield, College of Ripon and St. John, York. He finished his B. A. through Sheffield University in Theology and Ministry in 2016. He has worked as a bank chaplain at Scarborough Hospital and Hull University Teaching Hospitals NHS Trust. In December 2018 he was appointed as full-time chaplain on the team at Hull University Teaching Hospitals NHS Trust. He enjoys relaxing and bird-watching at a "bolt hole" house on the bank of the river Humber.