---
Monthly Trust Prayer Cycle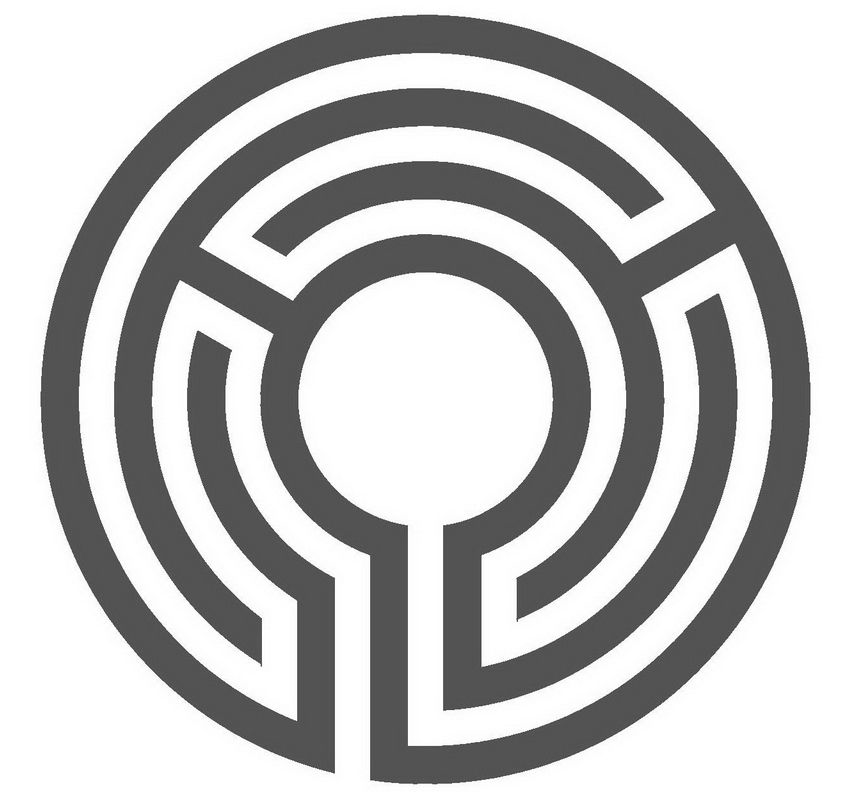 This is simplified finger labyrinth. It's not a maze because there is only one entrance and one path to the centre. It may show a life's journey, with its twists and turns. It's used in different traditions, and reflects many spiritual paths. This possibly, but not necessarily, includes prayer. It might help you to reflect, meditate, or give you space to pause, think and be mindful. There is no right or wrong way to use the labyrinth.
Use it in whatever way helps you.
Stages you may find helpful (take as long or as short a time as you wish):
Journey in – quieting the mind, releasing, shedding, letting go.
Time at the centre – insight, place of peace, receive what is there for you.
Journey out – adding, energising and emerging with the calm of the labyrinth in you.
We hope we have included a full range of wards and departments. If you have been missed and would like to be included in the future, please let us know. And please share any comments, or please tell us if we can help in some way:
Email hyp-tr.chaplaincy.team@nhs.net
or call 01482 675966 - Hull Royal Infirmary
| | |
| --- | --- |
| 1 | The Chairman, Chief Executive, Executive and Non-Executive Directors |
| 2 | Family & Women's Health Group – Senior Management including Business, HR & Admin support |
| 3 | Family & Women's – Women's Services – Obstetrics and Maternity, Gynae & Gynae Oncology, Ante & Post natal wards, Community Midwives |
| 4 | Family & Women's – Children and Paediatrics – NICU, SCBU, Medical & Surgical Paediatrics, Paediatric HDU, Safeguarding, Community Nurses |
| 5 | Family & Women's – Other – Breast Care (Screening & Surgery), Plastics Surgery, Head, Neck & ENT, Dermatology, Ophthalmology & Retinal Screening |
| 6 | Medicine Health Group – Senior Management, including Business, HR & Admin Support |
| 7 | Medicine – General Medicine Division – Outpatients, Diabetes, Endocrinology, Rheumatology, Medical Day Unit, Chest, Renal, AMU & ACU |
| 8 | Medicine – Specialist Medicine Division – Stroke, Neurology, Neurophysiology, Cardiology (including Cath Lab & Perfusion) |
| 9 | Medicine – Elderly – DME & EAU |
| 10 | Surgery Health Group – Senior Management including Business, HR & Admin support |
| 11 | Surgery – Trauma Division – Neurosurgery & Orthopaedics (including Fracture Clinic) |
| 12 | Surgery – Specialist Division – Pain, Vascular, Oral, Maxo-facial & Orthodontics, Cardiothoracic & Urology |
| 13 | Surgery – Critical Care & Theatres Division – Anaesthetics, Theatres, Day Surgery, SAL's, Intensive Cares & Sterile Services |
| 14 | Surgery – Digestive Diseases Division – Upper GI, Colorectal, Gastro, Endoscopy & Bowel screening |
| 15 | Surgery – Specialist Division – Pain, Vascular, Oral, Maxo-facial & Orthodontics, Cardiothoracic & Urology |
| 16 | Clinical Support Health Group – Senior Management including Business, HR & Admin Support |
| 17 | Clinical Support – Specialist Services Division – Oncology, Teenage & Young Adult Unit, Radiotherapy, Chemotherapy, Haematology & Immunology, Palliative Care Team |
| 18 | Clinical Support – Therapies Division – Pharmacy, Occupational Therapy, Physiotherapy, Speech & Language, Orthotics & Dietetics, Prosthetics, Rehab |
| 19 | Clinical Support – Pathology Division – Pathology, Bereavement Services & Mortuary, & Oncology |
| 20 | Clinical Support – Imaging Division – Radiology (including MRI, Ultrasound & CT), Audiology, Medical Physics |
| 21 | Emergency Medicine – Senior Management including Business, HR & Admin support |
| 22 | Emergency Medicine – Adult Majors & Minors & Paediatric ED's, Liaison Psychiatry |
| 23 | Corporate Functions – Estates, Facilities & Development, including, Procurement, Hotel Services, Sustainability, Security & Transport, all contractor staff (eg GFM/OCS etc), HR & Finance |
| 24 | Corporate Functions – Finance and Business - Purchase Accounts, Salaries & Wages |
| 25 | Corporate Functions – Planning & Strategy, Workforce & Organisational Development, Corporate Affairs, Technology & Innovation, Communications |
| 26 | Corporate Functions – Nursing – including all Students, Auxiliary & Staff Nurses, Sister & Charge Nurses, CNS's, Matrons and Nurse Managers. Also the Department of Spiritual & Pastoral Care (Chaplaincy Team), including their bank staff and volunteers |
| 27 | Corporate Functions – Patient Experience, including PALS, Trust volunteers, Young Health Champions |
| 28 | All our patients, their families and friends, outpatients, inpatients; those waiting on tests/procedures or results; all ages, from beginning of life to End of Life. |
| 29 | HYMS medical school & Hull University, and all students including doctors, nurses, therapists, Education & Development |
| 30 | Wider NHS healthcare community and associated partners – including GP's, Clinical Commissioning Groups, Humber Mental Health NHS Trust, District Nurses, Beverley Community Hospital, Ambulance Service/s |
| 31 | Other non-NHS healthcare partner organisations – including Dove House Hospice & local care/nursing/residential homes in Hull & East Riding, Hull & ER Councils Social Services |