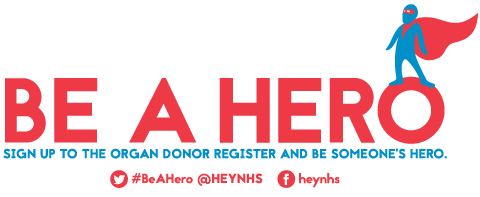 Our #BeAHero campaign continues the search for heroes in Hull and East Yorkshire after successfully signing up 42,000 people to the organ donor register across Yorkshire since launching in July 2015.
You are more likely to need an organ than to give one, but if you do donate, you can save up to nine lives! By signing the register today you could be someone's hero, and it only takes two minutes!
Did you know that last year, 12 people in Hull donated an organ after their death? But that's still not enough! There are currently 26 people in Hull and East Yorkshire waiting for a life-saving transplant.
A hero can come in many forms, whether it's the donor who saved a life after death, the family that consented to it, or the support from someone to advise you. You don't have to be a superhero to save a life.
It only takes two minutes to sign up to Be A Hero and remember to discuss your wishes with your loved ones too.
I would urge everyone to get behind this campaign, I've seen first-hand today just how much of a difference receiving an organ can make. It is a real life changer for so many people.

It's heart-breaking that three people a day die in the UK waiting for an organ. We all need to act now to lower this number. I am really pleased to be the patron for such an important campaign.Sarah Ferguson, Duchess of York
It's all too easy for people to presume that because they've not always had a clean bill of health or they are no longer in their 20s there isn't anything worth keeping and passing on to someone else, but that's far from true. The Be A Hero campaign aims to raise awareness that we all, regardless of age, have the potential to Be A Hero, and ability to save up to nine lives. I hope, just as I have been, many people in Yorkshire will be inspired by this remarkable campaign to take two minutes to sign the donor register.Sir Geoffrey Boycott, cricket commentator and former Yorkshire and England cricketer
I am delighted to be backing this crucial campaign. Anyone can find themselves in a position where they need an organ, so I would encourage everyone in Yorkshire to take two minutes out of their day, sign the organ donor register and Be A Hero. It's remarkable that one person has the potential to save nine lives. Once you've signed up it's really important that you share your wishes with your loved ones, so they know you're on the register.Sir Patrick Stewart OBE, well renowned film, television and stage actor and director
Joining the organ donor register is so important. I was shocked to hear that 3 people a day in the UK die as a result of not getting that lifesaving organ in time. This is a tragedy. We should all take two minutes out of our day and sign the organ donor register. The more people that do this the more people we save, for me it's a no brainer. By signing you can make a difficult decision easier for your loved ones and know you'll have a huge impact on many lives in the future.Maggie Philbin, renowned journalist
Supporting this campaign is so important and joining the Organ Donor Register is quick, simple and can make a real difference to people's lives. There are nearly 800 people across Yorkshire currently waiting for a lifesaving organ and every one of us has the ability to save lives through the simple act of signing the donor register. I would encourage as many people as possible to sign up, speak about their wishes with their loved ones and Be A Hero.Jim Carter, actor and Downton Abbey's Mr Carson
I am delighted and honoured to support the Be A Hero campaign and hope that my fellow Barnsley residents will join me in supporting this tremendous cause.Dickie Bird OBE, international cricket umpire
Did you know...?
Bird joined his former team mates Sir Michael Parkinson and Sir Geoffrey Boycott on the exclusive club of Yorkshire Heroes, to help champion the cause across the county. In Barnsley alone, there are still 43 people on the waiting list for an organ after only 8 deceased patients donated last year.