Reference Number: HEY1183/2020
Departments: Maternity Services
---
You can translate this page by using the headphones button (bottom left) and then select the globe to change the language of the page. Need some help choosing a language? Please refer to Browsealoud Supported Voices and Languages.
---
| | |
| --- | --- |
| Your questions answered | |
Introduction
This leaflet has been produced to give you general information about your team of midwives. Most of your questions should be answered by this leaflet. It is not intended to replace the discussion between you and your midwife but may act as a starting point for discussion.  If after reading it you have any concerns or require further explanation, please discuss this with a member of the healthcare team.
Who will be looking after me during my pregnancy?
The Forget Me Not team is a team of midwives providing care to women who have experienced a third trimester pregnancy loss or neonatal bereavement including care in future pregnancies. They work as part of a wider team including consultant obstetricians, a team of sonographers and midwifery assistants. The aim of this model of care is so you can develop an on-going relationship of trust, have consistency before and after you have your baby and know the midwife who looks after you during birth.
Having continuity of your carer is associated with increased health outcomes for both mothers and babies including being 19% less likely to lose the baby, 24% less likely to have a premature baby, 15% less likely to have regional analgesia and 16% less likely to have an episiotomy.
Midwives in your team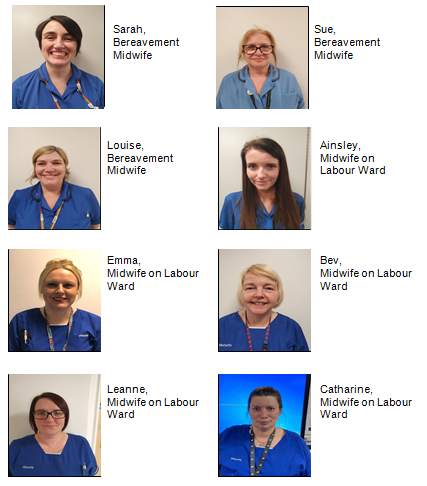 You will also be cared for by a Community Midwife before and after your baby is born who is based near your home.
Other members of your team
You will also be cared for by your consultant obstetrician, the sonographer team in the Ultrasound Department, as well as:
| | |
| --- | --- |
| Gemma |  Midwife on Maple Ward |
| Rebecca, Emma, Clare, Alex & Geraldine |  Midwives who work in all areas of the hospital |
| Angi & Maxine |  Midwifery Assistants in the Antenatal Clinic |
| Carrie |  Midwifery Assistant on Maple Ward |
| Sally-Ann & Jade- |  Midwifery Assistants on Labour Ward |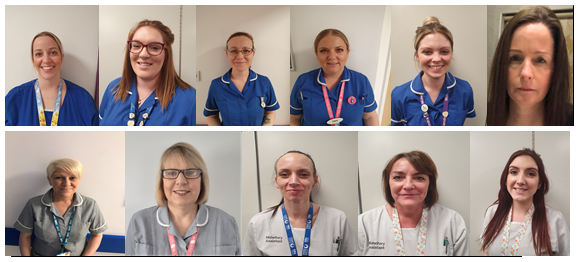 Will my care be different with the Forget Me Not Team?
The aim of the Forget Me Not Team is to provide you with seamless care throughout your pregnancy, labour and birth, as well as visiting you at home after your baby is born. Research shows us that women and babies have improved outcomes if they are cared for in this way.
Your midwife will usually make a referral to the Forget Me Not team at your 16 week appointment and you can expect to see the team midwives from approximately 28 weeks.
When will I see my midwife?
You will have a combination of care between your consultant obstetrician and your team of midwives. You may also have antenatal care in a clinic close to where you live, this will be provided by your community midwife who will be working closely with the rest of the team.
How do I contact the midwives?
 If you have reduced / altered fetal movements or other pregnancy concerns: Call the Antenatal Day Unit on (01482) 382729. The ADU is open 08.30am – 20.00pm Monday to Friday and 08.30am – 17.00pm Saturday and Sunday.  Outside of these hours your call will automatically be diverted to the Antenatal Ward, so you will be able to speak to a midwife 24/7 for help or advice.
If you have an urgent problem: For example, heavy bleeding call Labour Ward on (01482) 384490
If you think you may be in labour: Call Labour Ward on (01482) 384490
 We are looking forward to caring for you in your pregnancy.