Reference Number: HEY-742/2016
Departments: Rehabilitation Medicine
---
You can translate this page by using the headphones button (bottom left) and then select the globe to change the language of the page. Need some help choosing a language? Please refer to Browsealoud Supported Voices and Languages.
---
Introduction
This leaflet has been produced to give you general information about your hospital stay on Ward 29.  If after reading it you have any concerns or require further explanation, please discuss this with a member of the healthcare team who has been caring for you.
Ward 29 at Castle Hill Hospital is a dedicated specialist rehabilitation ward. You have been given this leaflet because you or someone you know has been referred to Ward 29.
During and after any hospital stay, patients may experience significant weakness.  This may be due to their illness and the associated period of inactivity of being hospitalised. Many patients improve after their initial treatment but sometimes patients need further care and support to get back to their previous level of functioning. This is particularly more so in those with complex health conditions, such as after acquired brain injury or other neurological conditions and those patients who require prolonged intensive care treatment. These patients may benefit from specialist rehabilitation provided by the team on Ward 29.
What is specialist rehabilitation?
Rehabilitation is a process of assessment, treatment and management by which the individual (and their family / carers) are supported to achieve their maximum potential.  This could include physical, cognitive, social and psychological functioning, as well as participation in society and quality of living. Rehabilitation goals will vary for each patient according to the severity of their injury or condition.
Specialist rehabilitation is delivered by a multi-disciplinary team who have undergone recognised specialist training in rehabilitation.  The team is led by a consultant in specialist rehabilitation medicine.
Information about Ward 29
Ward 29 is a 15 bedded rehabilitation ward, which admits patients with varying clinical conditions, with a focus on the patient's impairment and disabilities rather than the diagnosis. Rehabilitation focuses on what we can help the patient achieve rather than their diagnosis.
Patients with a variety of conditions will benefit from care on Ward 29.  These conditions include:
Traumatic brain injury
Brain infections e.g. encephalitis
Haemorrhages e.g. Subarachnoid haemorrhage
Brain tumours
Myelitis
Guillain-Barre syndrome
Neuropathy after critical illness
Cerebral Palsy
Progressive conditions, such as multiple sclerosis (MS)
Other types of major trauma including amputations
Within the ward environment there is a variety of multi-purpose facilities for patients and families to utilise. These include private areas such as quiet rooms, a beverage bay, access to the outside environment and therapeutic environments, including a therapy kitchen and a gym.
The Ward 29 multi-disciplinary team includes:
A Rehabilitation Medicine Consultant and junior medical staff
Nursing Staff
Physiotherapists and physiotherapy assistants
Occupational Therapists and occupational therapy assistants
A Consultant Clinical Neuropsychologist and trainee clinical psychologists
Access to a range of other services, including speech and language therapists, dieticians, social workers and orthotics.
Assessment and Rehabilitation
Patients will receive in-depth assessments from the multidisciplinary team focusing on their physical, cognitive and psychological functioning components, as appropriate. This information is used by the team to work with the patient and their family in order to devise individualised treatment plans and set realistic goals for the rehabilitation process.
Assessments may include:
Physical (flexibility or walking).
Functional (skills in self-care or cooking).
Cognitive (memory and thinking skills)
Psychological (coping emotionally and changes in behaviour).
Once initial assessments with the multidisciplinary team have been completed, an individual treatment plan will be developed for the patient.  The intensity of the treatment plan will vary depending on the individual's requirements and tolerance.  If the agreed goals are to be achieved, full engagement with the treatment plan is required from the patient.
All ward activities are aimed at providing patients with the maximum opportunity to participate in rehabilitation.  For example, activities such as washing, dressing and eating a meal are key components of many patients' treatment plans.
The patient, family or carers will be involved in regular goal setting meetings with the multi-disciplinary team. Goal setting meetings are focused on reviewing the patient's progress and setting individualised goals, aimed at maximising their recovery prior to discharge. Length of stay can vary between a few weeks to several months, depending on individual needs.
Hospital Discharge
Preparation for discharge is a continuous process that takes place throughout the patient's hospital stay.  The multi-disciplinary team will work closely with the patient and their family to ensure discharge to an appropriate setting.  This may be the patient's home, or an alternative care setting. Prior to discharge from the ward, weekend leave may be appropriate to provide the patient and the multi-disciplinary team with the confidence that the patient can manage in their own environment. Most patients are discharged to their own home however, in some cases, in order to meet the patient's ongoing needs, alternative placement or support may be required.
Following discharge, patients will have ongoing needs and treatment may continue in the community.  The majority of patients discharged from Ward 29 will be followed up by the Rehabilitation Consultant.  The Consultant Neuropsychologist will also follow up patients that were referred to the neuropsychology service during their stay on Ward 29.  For any additional therapeutic input that is required to help the patient maximise their recovery, referrals will be made to the appropriate community services prior to discharge from the ward.
Where is Ward 29?
Ward 29 is at Castle Hill Hospital, located in the Queen's Centre, Number 17 on the map below.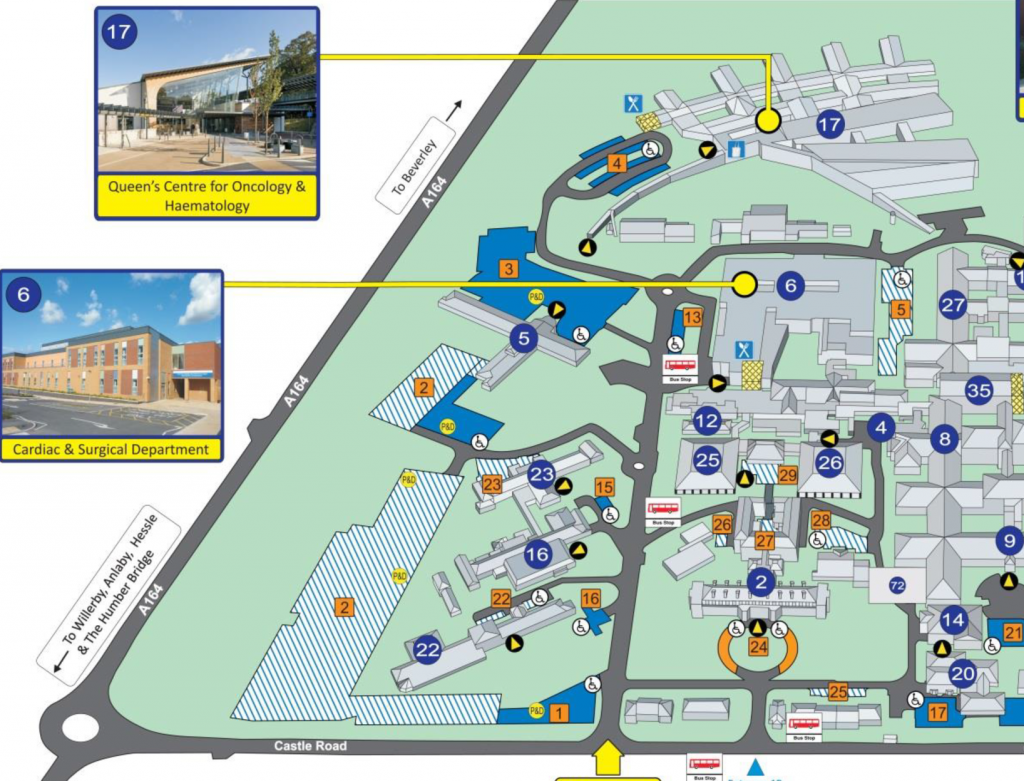 The full address and postcode is:
Castle Hill Hospital
Castle Road
Cottingham
East Yorkshire
HU16 5JQ
By public transport
There are regular bus services for Castle Hill Hospital from Hull bus station
63, 64 and 154
115 – runs via the University of Hull to Castle Hill Hospital
182 from Beverley
Cottingham has a train station about 30 to 40 minutes walk from Castle Hill Hospital. The 154 bus goes from Cottingham train station to Castle Hill Hospital.
Visiting Hours
Ward 29 visiting hours are:
Monday to Friday 4:00pm – 8.00pm
Saturday and Sunday 2:00pn – 8:00pm
Anyone wishing to visit outside of the agreed visiting hours must discuss and agree this with the Ward Sister and Multidisciplinary Team
Should you require further advice on the issues contained in this leaflet, please do not hesitate to contact Ward 29 on telephone number: (01482) 461021
General Advice and Consent

Most of your questions should have been answered by this leaflet, but remember that this is only a starting point for discussion with the healthcare team.

Consent to treatment

Before any doctor, nurse or therapist examines or treats you, they must seek your consent or permission. In order to make a decision, you need to have information from health professionals about the treatment or investigation which is being offered to you. You should always ask them more questions if you do not understand or if you want more information.

The information you receive should be about your condition, the alternatives available to you, and whether it carries risks as well as the benefits. What is important is that your consent is genuine or valid. That means:

you must be able to give your consent
you must be given enough information to enable you to make a decision
you must be acting under your own free will and not under the strong influence of another person

Information about you

We collect and use your information to provide you with care and treatment. As part of your care, information about you will be shared between members of a healthcare team, some of whom you may not meet. Your information may also be used to help train staff, to check the quality of our care, to manage and plan the health service, and to help with research. Wherever possible we use anonymous data.

We may pass on relevant information to other health organisations that provide you with care. All information is treated as strictly confidential and is not given to anyone who does not need it. If you have any concerns please ask your doctor, or the person caring for you.

Under the General Data Protection Regulation and the Data Protection Act 2018 we are responsible for maintaining the confidentiality of any information we hold about you. For further information visit the following page: Confidential Information about You.

If you or your carer needs information about your health and wellbeing and about your care and treatment in a different format, such as large print, braille or audio, due to disability, impairment or sensory loss, please advise a member of staff and this can be arranged.