A nurse who has dedicated 36 years of her life to the NHS is planning to cycle from Land's End to John O'Groats to raise £1,000 for sick children at Hull Royal Infirmary.
Barbara Joy, 55, is taking on the epic sponsored cycling challenge to raise funds for WISHH, the independent charity funding the redecoration of Ward 130 and the Children's High Dependency Unit at Hull Royal Infirmary.
Young patients on the ward and the unit will chart Barbara's progress as she cycles the 940-mile route from June 18 to July 5.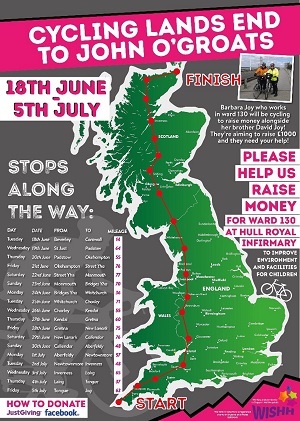 She is aiming to cover between 30 and 77 miles a day with her brother David, who is flying over from his home in Dubai to join his sister on her challenge.
Barbara, who has worked on the children's wards at Hull Royal since 2007, said: "The children, their families and the staff I work with are all excited about me taking part in this challenge. It'll spur me on to know they'll be monitoring our progress every day.
"We've put a gigantic map of the UK on the wall in the ward and the children will be plotting where we have reached every day, learning about each different area as we go along."
WISHH is the independent charity supporting Hull's hospitals by providing "added extras" for patients such as equipment, facilities and services which is not already funded by the NHS.
In its first three years, the charity has paid for a cinema for elderly patients, a mini Tesla car to transport sick children to theatre and is currently funding the redecoration of a children's ward at Hull Royal.
Ward 130 and its neighbouring High Dependency Unit on the top floor of Hull Royal care for children recovering from serious illness, acute and chronic medical conditions such as asthma or epilepsy or life-long conditions such as cystic fibrosis. While some children can be on the wards or High Dependency Unit for days, others can spend weeks or months undergoing treatment.
Barbara, who is now semi-retired but still works on the ward, said she and her brother will undertake the challenge alone, relying on each other rather than a support crew to cover the distance.
She said: "It's going to be really tough but we're both determined to do it. The children looked after by staff on the ward are so brave and many of them have had to endure more than most of us can contemplate so the thought of them will keep us going."
As well as raising money to help improve the ward environment for patients, Barbara will be raising funds to buy toys and entertainment equipment to brighten young patients' days.
Barbara said, "As a British Cycle Ride Leader, cycling is my passion and it seemed the perfect fit to do what I love while raising funds for Ward 130.  Every penny donated though my Just Giving page will go directly to the ward."
Here's how you can support Barbara.