Everyone likes surprises, and that's exactly what young patients, staff and visitors received today as a former boxing world champion paid a visit to Hull Royal Infirmary.
No sooner had Chris Eubank stepped out of the car at the front of the hospital than boxing fans began to stop the former WBO middleweight and super middleweight title holder, asking for photos and saying how well his son, Chris Eubank Jr, is doing.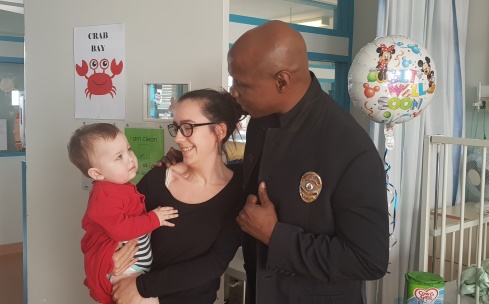 Chris was in Hull having spent last night at a gala dinner in Willerby as an after dinner speaker. Before leaving the city, he was keen to visit the hospital to meet and inspire some of the staff who work so hard and parents going through a tough time.
Chris visited Ward 130, where he met children in their first weeks through to their teens, along with parents and carers, many of whom were also keen to chat about his boxing career and what he's doing now.
One young lady received a personal pep talk about the power of self belief, while another young man literally put his lunch to one side to have his picture taken with Chris, and a five-year-old boy told Chris 'I love you' in sign language.
Junior Sister, Helen Lyon (below, right), was excited to greet her celebrity guest on the ward. She said: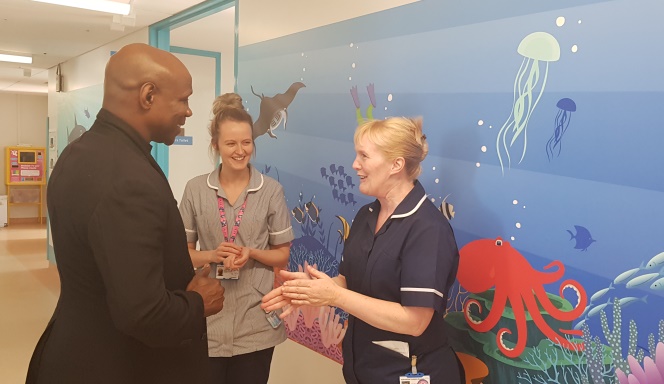 "Chris was incredibly charming and a real pleasure to have visit the ward. We really appreciate him taking time out of his busy schedule to come and see us; it was a great boost for the parents at what can be a very difficult time, and I think some of the staff were pretty star-struck too!"
Chris said:
"I expected to meet older people today, but I met babies mostly with respiratory issues.
"I enjoyed meeting them because it always reminds me to be grateful to the Lord for how lucky we are.
"Meeting the parents was inspiring because they were happy to see a familiar face. It's always gratifying visiting hospitals because it reminds me of the quote: 'Yesterday you were lucky, but it took today for you to realise it. People always want what they had.'
At the end of his visit, an older gentleman joined Chris and his colleagues in the lift, did a double take, and after confirming it really was Chris Eubank, shook his hand and proclaimed "well, that's made my day!"
After a few more snaps with staff, and lots more 'days being made', Chris was on his way back to London.